Why home services startups are finding it difficult to get customers


Until last year, a new startup was springing up in the on-demand home services space every few days, riding on the convenience and instant access that the smartphone provided. These startups promised to send reliable service professionals for every kind of work that an Indian home required – plumbers, electricians, wedding photographers, fitness instructors, home cleaners, tutors and beauticians. According to some estimates, in just about three years, around 100 home and local services firms had emerged. But soon the bubble burst as these startups realised that the road to profitability was an arduous one.
Many are now tweaking their businesses, pressing the pause button on operations or axing jobs as they try to control costs and sustain investor interest, while some have been acquired by bigger rivals.
Anupam Mittal, CEO, People Group, says most of the operators in this space have simply aggregated the demand and passed them on to the workers. The pain points of the customer are not being solved and that is the biggest challenge. "A customer will only come if your platform offers reliable services. If not, the cost of cost of customer acquisition will go up and thus it will difficult to monetise," he says. Mittal backs marketplace app Near.in that connects users with local businesses as well as on-demand home services provider Timesaverz. The former was acquired by Paytm in December 2015.

The high cost of customer acquisition has got these home services startups worried. Amit Kumar, co-founder of Mumbai-based on-demand home services provider Zimmber, operated by Rejuvenate Solutions Pvt Ltd, says startups are closing down because they are spending too much money to acquire a customer. "It all comes to the degree of efficiency in your operations," he said. "The cost of getting a lead is around Rs 200 and if you are getting 10 leads but are able to convert only one into a job, then the cost of customer acquisition will be as high as Rs 2000. And, if you are further inefficient, the cost will be higher," he said. Zimmber had acquired Gurgaon-based FindYahan India Pvt. Ltd in February.
While these startups would like to put an end to the high cash burn, they realise spending on marketing is necessary. "You have to give yourself a one-year window and that is why capital is necessary. Right now, we are squarely focused on quality, but over a period of time we will have other products to bring in more margins," says Saran Chatterjee, co-founder, Housejoy, run by Sarvaloka Services On Call Pvt Ltd.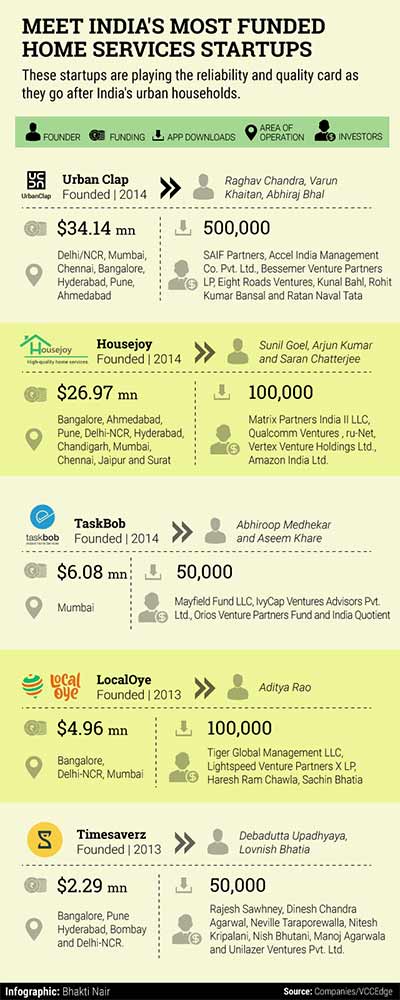 According to him, home service providers need to look beyond the small-ticket jobs such as plumbing and instead focus on high-value jobs. "Customers have the option of a potentially cheaper price for some of the categories hence they are falling back. At some point they will start trusting the services. That inflection point has not come yet." says Chatterjee. However, as yet, customers are unable to see the value of these services and therefore, are reluctant to spend on these. "Once we start demonstrating value, consumer will start trusting these platforms," he adds.

Amidst the shutdowns there are bootstrapped players such as Mr Right that are expanding their customer base. "We tied up with water purifier firm Aquaguard and are providing services to them. We are tying up with more such partners to create channels to provide services to customers," says Prashant Chaudhary, co-founder, Mr. Right.
He adds that there are two ways to go about acquiring customers in this business. "Either you acquire customer organically and open more revenue streams or rely on venture capital for customer acquisition and when the funds dry up you have no option but to shut shop."
That is a reality playing out in these sector. Barring four-five players, none have been able to raise a second round of funding. In the last five months only two firms have raised funds; the last was Gapon  which raised $180,000 in angel funding in March.

Mittal also says that the sector needs to identify more high frequency usage categories such as laundry to generate more revenue. "You don't need a carpenter or a plumber every week," he says. So the way out is to offer branded services that is not focused on the carpenter but on the carpentry job. That way a customer is calling the service provider and not the carpenter, and the frequency of usage also increases. But this will happen only if the firm is reliable and offers quality service," he says.
According to him, the market is big enough for six to eight companies to find their niche and create decent value.
Agrees Chatterjee, but with a rider. "There is an opportunity and demand in this space. You can easily go from zero to 100, but the challenge is how to go beyond that," says Chatterjee.

Like this report? Sign up for our daily newsletter to get our top reports.
---