Internet giant Google said on Tuesday that it was partnering with recruitment portals such as LinkedIn, TimesJobs and Shine.com to add a new functionality to its search engine that will let users see job listings on the results page.
This means that users can search for jobs directly on the Google search bar, which will then list jobs in order of categories, location and other criterion.
Google users can type in for "jobs near me," "jobs for freshers," or similar job-seeking queries and they will see a special module that can be expanded to a more immersive experience.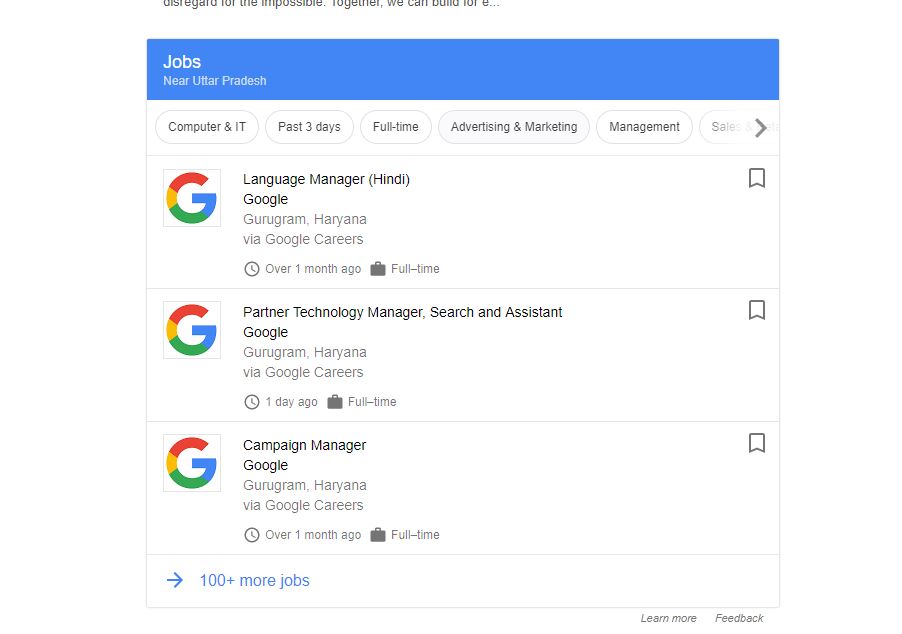 "Users can now search for jobs with the help of filters, save them and also directly jump on to the partner website to apply for the same," said Achint Srivastava, member of Google's software search team. "They can also set up alerts for some jobs or areas that they might be interested in."
Among Google's partners for the service include Aasaanjobs, Freshersworld, Headhonchos, IBM Talent Management Solutions, LinkedIn, Quezx, QuikrJobs, Shine.com, T-Jobs, TimesJobs and Wisdomjobs.
The new tool has been integrated into both the desktop and mobile (Android and iOS) versions of the search engine.
The India launch comes five months after Google pushed out the service to developed markets.
Google said the phenomenal growth in jobs searches last year had prompted it to bring the tool to India.
"In Q4 last year, we saw more than a 45% increase in the number of job search queries, and this number is continuously growing," said Rajan Anandan, Google's vice president, India and Southeast Asia.
The latest tool is different from another product in the tech giant's stable called Google Hire. The company has been working on a product or software suite to help HR teams at big organisations manage their hiring process.
Hire has a few heads under the software suite that involves applicant tracking, applicant-employer relationship management, sourcing of candidates and finally using GSuite for recruitment.
Anandan said that unlike Hire, the jobs tool on the engine directs the user to the partner website for the completion of the registration or application process.
Google also clarified that it has not created any page or profile where the user can upload details and their details simply get passed on to a partner website.
Along with the integration, Google is also offering an open source framework, called Open Documentation, to all companies and portals to markup their jobs so that they appear on Search.
The integration of jobs search doesn't appear to pose a challenge to companies such as LinkedIn but more like a hook to get more data about users in form of metrics such as what kind of jobs and from which region they are searching.
---