* This story is part of a series on accelerators and incubators in which we compile report cards highlighting the successes and failures of the startups they nurtured and spawned.
In 2014, social networking giant Facebook marked its first acquisition in India by buying Little Eye Labs, a little-known startup that created performance analysis tools for developers. The deal, pegged at $15 million, was also a landmark moment for Global Super Angels Forum (GSF), which had incubated Little Eye as part of its inaugural batch.
Those were still early days for Gurugram-based GSF, which operates an early-stage fund with 20 founders and investors, an accelerator and also organises tech conferences.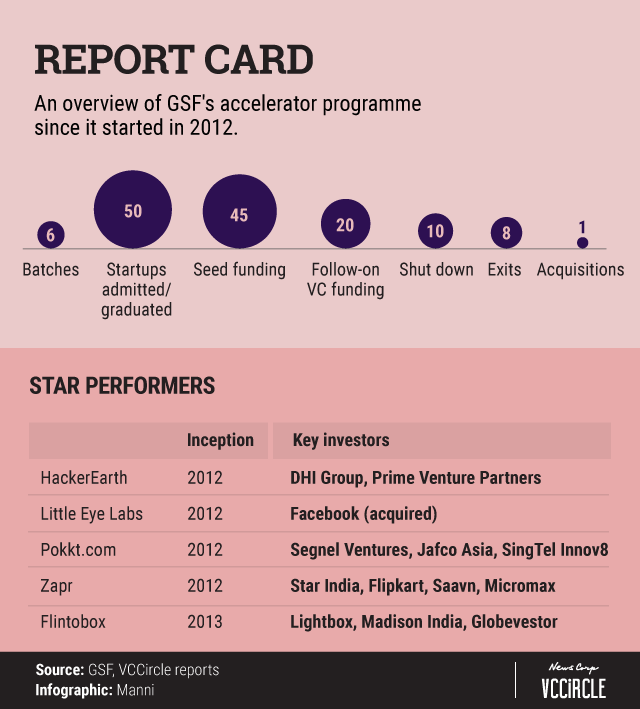 Founded by former Reliance Entertainment president Rajesh Sawhney in 2012, GSF's tech accelerator platform has been backed by the likes of Paytm chief executive officer Vijay Shekhar Sharma, inMobi CEO Naveen Tewari and RedBus co-founder Phanindra Sama. It is now into its sixth batch, where five startups will get a cheque of $200,000 (Rs 1.3 crore) each.
"Our accelerator programme is designed to help startups develop a global network," GSF founder Rajesh Sawhney told TechCircle. "The startups spend a month in the Silicon Valley and two weeks in China/Singapore during the six-month programme."
GSF also subsequently participates in the seed and Series A rounds of companies that they accelerate/incubate.
GSF has so far supported 50 startups, successfully exiting eight of them.
In all, 20 GSF-backed ventures have gone on to raise money from venture capital firms, while 45 of them have raised seed rounds. There were ten casualties - startups which shut down for a variety of reasons. GSF did not disclose the names of these startups.
"It is natural for startups to fail. We believe in the philosophy of 'fail fast'," said Sawhney. "We are working with many founders of such startups to help them start again."
Sawhney, also the founder and chief executive officer of cloud kitchen startup InnerChef, told TechCircle that GSF is now looking to back startups that leverage deep tech in sectors such as financial services, healthcare and education and agriculture.
Six years on, here's a look at some of the startups from GSF's stable that can be deemed successes after having raised significant funding:
HackerEarth: HackerEarth operates an online skill assessment tool to evaluate computer programmers and connect them with potential employers.
The startup secured $500,000 from startup incubator AngelPrime and GSF Accelerator in 2014. Last year, it raised $4.5 million (Rs 30 crore) in a Series A round led by DHI Group Inc.
At the time of that funding, the company said that it made about $350,000 in monthly revenue.
Flintobox: Flintobox is a subscription service offering activity-based learning kits for 2 to 12-year olds. Its other offering, FlintoClass offers, operational support to preschools. Flintobox claims to have more than 4 lakh customers across 700 cities.
The company raised $7 million (about Rs 45 crore) last December in a Series A round led by venture capital firm Lightbox. It claimed to have turned profitable and said it was on track to hit revenue of Rs 40 crore for the financial year 2017-18.
Pokkt.com: The Mumbai-based startup was founded in 2012. Pokkt provides users who want to purchase digital content on web or mobile an opportunity to do it for free by offering multiple alternative payment tools like watching videos, subscribing to services, installing applications and participation in surveys.
In 2015, Pokkt secured $5 million in post-Series A funding from Singapore-based VC firm Segnel Ventures, Shinji Kimura and Sundar Chanrai.
In 2016, Japanese mobile marketing company Adways Inc acquired Pocket Money, an incentivising Android app, from Pokkt.com for an undisclosed amount.
Zapr: Zapr Media Labs graduated from the first batch of GSF Accelerator in 2012. Its technology allows users to connect a TV screen with a mobile screen so that the viewer can be engaged across several mediums. Zapr also claims to have a data repository of media consumption patterns which is 100 times larger than its counterparts in India.
In March last year, 21st Century Fox-owned broadcaster Star India Pvt. Ltd picked up a minority stake in the Bengaluru-based media tech company.
Before that, Flipkart, Saavn, Micromax and Mu Sigma co-founders Dhiraj Rajaram and Ambiga Dhiraj had invested in the firm.
Getting there
These GSF-backed startups have shown promise but are yet to attract significant investor interest.
OroWealth: Founded in 2016, the zero-commission investment platform offers unbiased and low-cost wealth management services to retail customers and financial intermediaries like banks, brokers, and wealth managers.
Silversparro: This startup, founded in 2015, provides deep-learning solutions to help businesses automate their manual processes using AI, saving them time and money in the process.
Gamezop: It is a mobile app-based social network for casual games. Each user is given a handful of new games each week, which can be played without downloading. In 2016, Delhi-based Gamezop raised $350,000 in a seed round led by talent management firm KWAN Entertainment & Marketing Solutions Pvt. Ltd.
---