Can this startup's AI-based quality assessment tool help farmers get a fair price?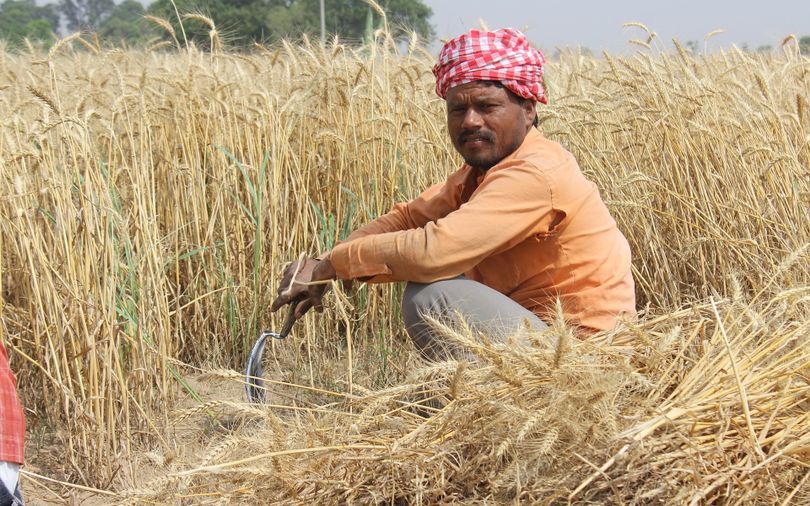 Milan Sharma started Intello Labs by accident. Retail and e-commerce were his specialties — Sharma headed pricing analytics at Snapdeal — so he didn't anticipate that his entrepreneurial journey would lead him to agri-tech.
Sharma and co-founder Nishant Mishra, a big data expert who previously worked at Amazon, wanted to set up a technology firm that would solve problems using artificial intelligence and image analytics. Before Intello Labs was born, the duo used their image processing solutions for comparing products across e-commerce sites as well as helping customers of drill manufacturing companies choose the right specifications.
In 2016, Sharma and Mishra chanced upon agri-tech when the Rajasthan government was seeking ways to test the quality of agricultural commodities. Intello's technology helped assess the quality of wheat.

Realising the immense scope of the underserved sector, they haven't looked back since. While expanding to evaluate more commodities, Intello Labs has so far raised Rs 2.5 crore spread over two rounds of angel investment.
The team has also expanded to include co-founders Himani Shah (chief marketing officer), Devendra Chandani (head of operations and sales), Girish Aivalli (group executive director), and Ramakrishnan M, who looks after marketing, business development, partnerships and alliances.
"Every institution in the agri supply chain, be it the food processor, trader, warehouse, [or the] food retail company, does some form of quality assessment when buying the produce or bringing [it] into their premises," said Ramakrishnan. "That particular process is currently broken—it's manual, subjective, non-sanitised, and there are a lot of malpractices."

Mark Kahn, founder-partner at venture capital firm Omnivore, said that quality assessment in India is largely done through manual inspection, which brings in a very high degree of variability.
"The subjective nature of the manual inspection, in turn, leads to non-uniformity and opacity in pricing for the produce," he said.
Technology at play

To weed out these inefficiencies, Intello has trained its algorithm to identify and classify different types of commodities and their defects. The machines provide a quality score, deeming whether a product is acceptable or not.
A human inspecting a tomato would evaluate it based on visual parameters such as black spots, splits or if it looks pale or sunburnt.
Intello schools its AI platform to scan different kinds of images.

"We'll upload thousands of images, saying this a good tomato, [or this is one] with defect X, this is wheat with a defect Y and so on," said Ramakrishnan. "The next time a fresh sample is uploaded, the platform is able to learn from past images and then classify the new image."
While capable of grading 10-12 commodities, wheat and tomato are its strong suits.
"We do see that these are very heavily-traded commodities and hence we will be able to sell it to a lot more customers," he said. The firm is also working on grading for cauliflower, onion, cardamom, jowar, black gram, green gram and a few other pulses.

The Bengaluru-based company has yet to commercially roll out its product. It recently signed proofs-of-concept (POC) with Reliance Fresh, Olam, and Kerala Cardamom Processing and Marketing Company.
"Once the POC ends, we will get usage-based or recurring revenues [from clients], which will [help us create] a readymade product rather than customising something for [the client]," Ramakrishnan said.
According to Omnivore's Kahn, an image-based autonomous grading of food produce has twin benefits. It will help downstream buyers procure and pay for the quality of produce that they are seeking and can bring fairness and uniformity in the price that the farmer gets for his produce.

Nagaraj Prakasam, an angel investor and partner at New York-based impact fund Acumen, feels most tech startups in the agriculture space do not address the issue of fair pricing for farmers. He said that these startups generally work with mandis and though they claim to work with farmers, few actually understand their plight.
Challenges abound
Besides collecting samples from the client database or client location, the startup sources them from an organisation called Indigram Labs Foundation, which was where Intello Labs was incubated. The organisation provides the startup with field personnel.
But while Intello collects several samples of the same commodity, are they representative enough?
"We need to look at rejected samples. We need to go to a variety of mandis [and] the houses of farmers [and ask them for the defected produce/samples]. That's a bit of a challenge for us," said Ramakrishnan.
Omnivore's Kahn and Acumen's Prakasam, too, believe that a major hurdle for Intello Labs is ensuring that it has a large enough dataset for its algorithm to generate accurate results.
Kahn also thinks Intello could face resistance from players in the supply chain who have benefited from the opacity of the current system and the unequal power it has afforded them.
In addition, he said that standardised pricing based on product quality has been successfully achieved with only one commodity so far — milk.
"It could be a while before a similar system would successfully work for other commodities and would require the will and action of multiple stakeholders in the agri ecosystem," he explained.
For Acumen's Prakasam, one way startups can help farmers is to directly provide them with technology. In the case of Intello Labs, that would be image processing tools. So before even going to the vendor with his produce, a farmer can grade his own commodities and will thus have the power to set the price.
"I would like to see innovations that utilise technologies [that] go to the farmer and this farmer is able to afford this technology and he is able to sort [his produce] himself either through his cooperative or farmer producer company," he said.
---