The startup funding pain that started in 2016, which saw angel and seed investments shrinking, is far from over. First cheques to startups that were flowing as swiftly as one every eight hours just two years back are now down to a trickle with just one startup getting initial funding support a day.
The number of angel/seed deals between January and May 2018 fell 33% to 175 as compared to 261 transactions for the same period in 2017, provisional data from VCCEdge, the data research platform of News Corp VCCircle, showed.
When looking at data for the past five years, deal volume hit a peak of 448 in 2016. From that high, the number of deals has fallen 61% (see graph).
Deal value for the period came down to $101 million in 2018 from $134 million last year. Data over a five-year period shows that deal value touched its zenith in 2016 at $182 million.
According to Shanti Mohan, founder of LetsVenture, a platform that connects startups with early-stage investors, angel investors put in money for some years and then take a wait-and-watch-approach. "One of the important reasons is that angel investments are cyclical. Several of those who were active in 2015 and 2016 have taken a backseat and that is probably reflecting in the number," she explained.
Analysts that TechCircle spoke to say that the angel tax controversy can also be attributed to the slowdown.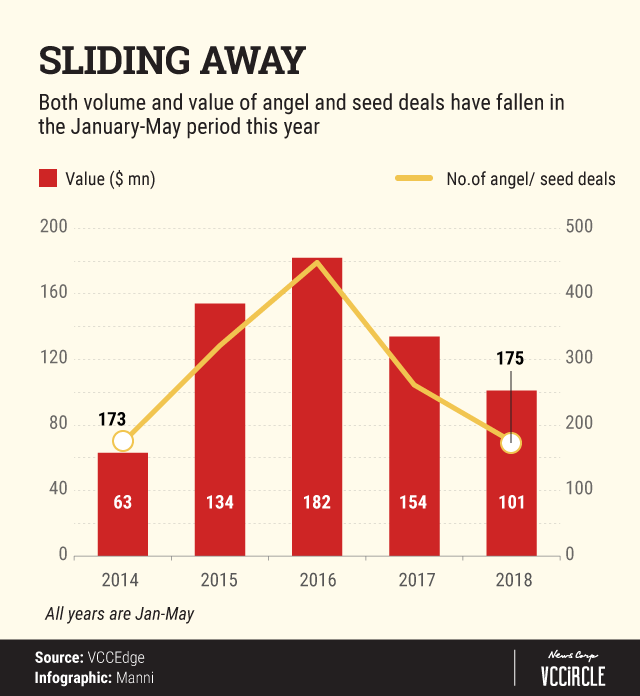 Angel tax has long been a contentious issue in the startup community. Several startups have been hit with tax notices over funds raised from friends, family, and angel or angel networks not registered with the markets regulator or as Alternative Investment Funds (AIFs) and if the infusion is higher than the company's fair market value.
Mohan believes that the silver lining amidst the slowdown is the improved quality of startups.
"Unless you are a serial entrepreneur, nobody is willing to bet on an idea. There is no FOMO (fear of missing out) factor now and most investors are willing to wait or skip a deal unless the valuation is correct. Nobody will invest in a startup if it is valued at more than Rs 15-20 crore at seed/angel stage," she added.
An ongoing trend
The slide in angel/seed deal activity has been continuing since 2016. Overall, the number of startups getting their angel or seed money halved last year.
The number of angel and seed funding deals halved to 435 in 2017 from 901 in 2016. The total disclosed valued of these deals also fell sharply to $245 million from $374 million, data from VCCEdge revealed.
Angel and seed funding are critical for the startup ecosystem as it supports ventures in their infancy – often at the product development stage. It is also the first funding cheque from external investors for most startups.
The fund crunch has also reduced the number of new startups emerging in India, according to a study by tech industry body Nasscom and consulting firm Zinnov last year. Around 1,000 new startups are estimated to have established themselves in 2017, significantly lower than 1,400 in 2016, the study showed.
Does that mean venture capital firms have a shallow pool to choose from?
Samir Kumar, managing director at venture capital firm Inventus Capital Partners thinks not.
"You say there have been 175 deals in the first 5 months of this year. I think if you look at the number of Series A investments that happen in a year, across all funds combined, it would be around 30-40 at most. So, there is still a large enough pool to choose from. Also a lot of Series A investments go to bootstrapped companies," he explained.
---