* This story is part of a fortnightly series on accelerators and incubators in which we compile report cards highlighting the successes and failures of the startups they nurtured and spawned.
Zone Startups India's strategy for straight As involves four Fs - 'founders first' and 'fail fast'. Since being set up in 2014, the Mumbai-based tech accelerator has been applying that approach to the steady stream of startups passing through its doors. It's been a busy four years, with Zone supporting 156 startups during this period.
Ajay Ramasubramaniam, director of Zone Startups India, told TechCircle that what sets the accelerator apart is its aversion to the cohort-based model that most peers follow.
"For accelerators to be successful, the programme has to be iterative to the needs and requirements of startups," said Ramasubramaniam. "Cohort-based models do not allow this, and are largely geared to a demo day where startups graduate."
He said Zone's programmes are based on the pillars of validation, mentorship, industry connect and access to investors.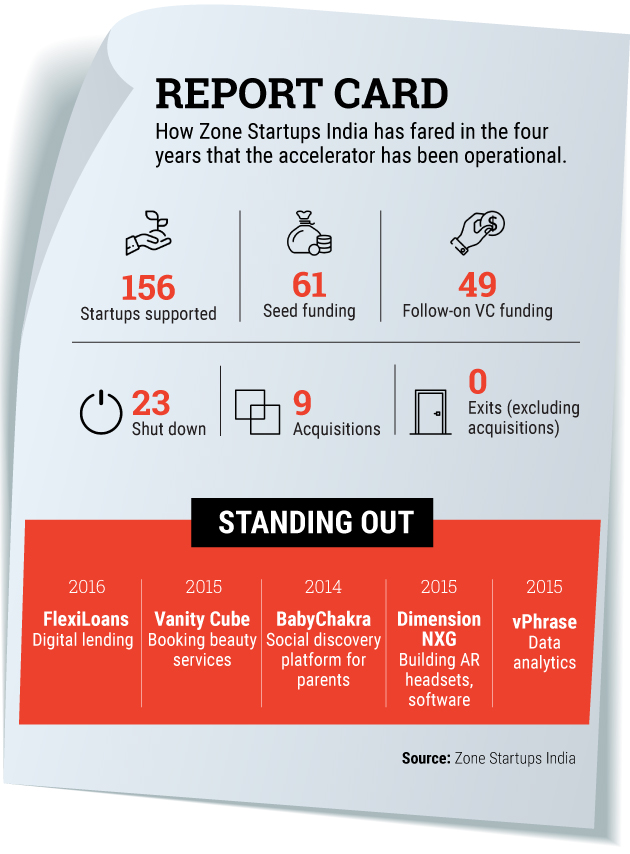 Zone Startups India is part of the global brand of tech accelerators and early-stage venture funds. It was set up in collaboration with BSE Institute Ltd – a wholly-owned subsidiary of Bombay Stock Exchange Ltd – and Canada-headquartered accelerator Ryerson Futures Inc.
Ramasubramaniam said sourcing expert sponsorships for each of Zone's programmes helps it work with more startups.
The accelerator currently runs one programme each with Bombay Stock Exchange, Barclays, Axis Bank, HDFC Bank and Thomson Reuters. It has also set up corporate accelerators with Lodha Group, empoWer (for women entrepreneurs), Shell Foundation and Kerala Startup Mission. In addition, it operates focused initiatives such as Next BIG Idea Contest, which is an annual programme.
Four years on, nearly a third of the startups that have come through Zone's doors have managed to secure seed funding at the very least. Most of these startups have gone to receive follow-on funding from institutional investors.
In all, startups that trace their roots to Zone have raised Rs 335 crore ($49 million at the current exchange rates) in funding till date.
Nine of these ventures have been acquired including Simpel (bought by BillDesk), Vanity Cube (VLCC), AasaanPay (Suvidhaa Infoserve), Aimin (Edelweiss). The deal values for these acquisitions remain undisclosed.
Zone is yet to record an exit outside of these acquisitions. Separately, however, it feels that it has managed to keep the failure rate in check.
"Only 23 startups have closed down. marking a 85% survival rate, which is extremely strong even by global standards," said Ramasubramaniam.
The accelerator is now focusing on innovation programmes with corporates in areas such as fintech, media & entertainment, real estate and energy access.
Stand-out performers
Here's a look at some startups from Zone's stable that have made a splash:
FlexiLoans: FlexiLoans.com was started by Indian School of Business alumni Deepak Jain, Abhishek Kothari, Manish Lunia and Ritesh Jain in 2016. It focuses on disbursing working capital loans to small and medium-sized companies.
Several veterans from the financial services space, including KKR India chief executive Sanjay Nayar and former Citibank executive Vikram Sud had invested Rs 100 crore in FlexiLoans in late-2016.
In May last year, FlexiLoans acquired Mumbai-based supply chain financing platform CreditPeriod.com for an undisclosed sum.
Vanity Cube: An online platform for booking beauty services, Vanity Cube was founded by Renu Bisht and Pragya Upadhyay. Zone Startups had picked Vanity Cube for its women entrepreneurship programme, 'empoWer'.
Months after securing $300,000 in seed funding, Vanity Cube was acquired by homegrown health and wellness brand VLCC Health Care Ltd in April last year.
BabyChakra: Founded by Harvard graduate Naiyya Saggi, this Mumbai-based company operates a social-discovery and commerce platform for young parents.
In 2016, it raised a Series A round from Seattle-based RoundGlass Partners and has thus far raised Rs 25 crore.
Dimension NXG: Founded by Abhijit Patil, Pankaj Raut, and Gaurav Godbole, this startup claims to have created India's first augmented reality headset AjnaLens and the software behind it.
Earlier this year, Dimension raised an undisclosed amount in angel investment from a group of investors including Paytm founder Vijay Shekhar Sharma.
Getting There
Zone's Ramasubramaniam has identified a couple of early-stage startups that have the potential to make it big.
Rockmetric: Mumbai-based Rockmetric was founded by Nimish Mehta. It uses algorithms to create improved and real-time search capabilities for structured data.
Firmway: The brainchild of two chartered accountants – Prashant Gupta and - Vivek Chandan, Firmway digitises the third-party confirmation process through a web-based interface. This includes automated follow-ups on SMS and emails, direct access of confirmation to auditors, among other features.
---