YES BANK launches YES SCALE to accelerate startup solutions for building a smarter nation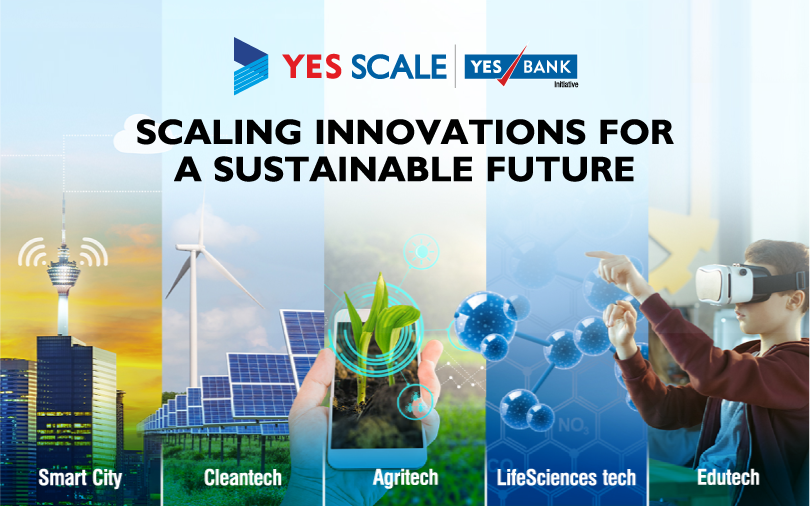 Targeting disruptive ideas in Smart City, AgriTech, CleanTech, Life Sciences Tech, and EduTech
An idea needs the right amount of nurturing to scale and transform into an impactful solution. Recently, YES FINTECH, an initiative by YES BANK for startups in the fintech space, successfully rolled out two cohorts through its accelerator program. To scale up startups with ideas beyond the fintech domain, YES BANK has introduced YES SCALE. It is a multi-sector accelerator program for startups operating in Smart City, AgriTech, CleanTech, Life Sciences Tech, and EduTech.
The Accelerator is currently accepting applications for Smart City, AgriTech & CleanTech.

Apply now – http://www.yesfintech.com/yesscale/apply/
Benefits for startups
Startups face a myriad of problems that hinder them to make their solutions widely available. Getting early stage funding is a key issue faced by startups, especially in the sunrise sectors of Indian economy like Clean Technology. Another crippling setback faced by startups are commercialization opportunities. While the companies are expertly working on their solutions, they often lack the mentorship and assistance to scale up those solutions. Accelerators and incubators have grown by leaps and bounds but some of these problems still persist.

To solve the most common startup challenge of idea validation, YES SCALE provides access to APIs through its industry partners for the startups to test their ideas and validate them in a sandbox environment. Additionally, the accelerator gives startups the opportunity to commercialize their solutions in just 15 weeks. Startups are also eligible for a PoC funding of USD 30000 from YES BANK. Funding partners back startups with a financial cushion of up to USD 1 million.
Focused mentorship is invaluable to startup entrepreneurs. To further refine their ideas and solve their challenges, the accelerator provides startups with inputs from 100+ sectoral experts and other members of the ecosystem. Additionally, expansion to international markets is made possible for startups by opening doors to 20+ geographies through the ecosystem partner network.
Apply now – http://www.yesfintech.com/yesscale/apply/

Enabling ecosystem for startups
Unique to the program is the presence of global industry leaders, Govt. bodies, Indian & international incubators and accelerators and mentors who have come together to build an ecosystem in order to provide startups a bridge from idea to implementation.
YES SCALE Smart City is an innovation ecosystem created by YES BANK in partnership with 10+ Indian Smart Cities (Chandigarh, Gurgaon, Warangal, Rajkot, Puducherry, Surat, Nashik, Vadodara, Aurangabad, Karimnagar (Hyderabad) among others) and Technology leaders like Bosch and Dell EMC. This is the first such program where in Smart Cities and their PMC and Technology partners are together seeking solutions from startups on definitive use cases like traffic management, smart transit, waste management, smart meters, data analytics dashboard, smart lights, energy management among others.

YES SCALE Cleantech brings together industry partners like First Solar, Freyr Energy, Grasim, Dell EMC, Tata Power who are seeking solutions from startups on use cases like recycling and waste management solution focused on the solar industry, smart leakage management, predictive maintenance solution for large-scale solar power plants, reduction in effluent discharge, cost effective & alternate solutions for achieving zero liquid discharge, drone inspection & analysis in the energy sector, among others.
YES SCALE Agritech brings together corporate leaders like Mahindra & Mahindra, MTR Foods, Amul, Nestle, Big Basket among others. The program also brings together leading Govt. bodies like FSSAI and MoFPI for providing the necessary compliance and regulatory support to Agritech startups. The partners are seeking solutions in the areas of mechanisation/precision farming, produce safety, handling & intelligence, food processing automation, storage & logistics among others.
Some of the other notable partners include Ministry of New and Renewable Energy, NASSCOM, Anthill, UK India Innovation fund, Unitus Ventures, Villgro, Artha India Ventures among others.

YES SCALE Accelerator- Unique aspects
Unique to the YES SCALE accelerator program is the opportunity for startups to pre-pitch their product or solutions to industry partners. This means that the startups who succeed in the pre-pitch stage shall surpass the shortlisting and selection process. Additionally, the startups who don't make it at this stage will still get a chance to participate in the shortlisting process.
Apply now – http://www.yesfintech.com/yesscale/apply/

YES SCALE team is also visiting various cities along with its industry partners to interact with startups and address any queries on the program. Bangalore recently witnessed YES SCALE roadshow on July 27, 2018 and some of the upcoming roadshows across India are on the following dates:
Delhi (17th Aug)
Mumbai (23rd Aug)
Register for the roadshows here- http://www.yesfintech.com/yesscale/roadshow/ Viny Velayudhan
---