IT research and advisory firm Gartner Inc. on Thursday said that global spending on information security will reach more than $114 billion in 2018, an increase of 12.4% from last year, driven by skill shortages and rules like the EU's Global Data Protection Regulation (GDPR).
In 2019, the market is forecast to grow 8.7% to $124 billion, said the report, which saw 480 respondents from eight countries: Australia, Canada, France, Germany, India, Singapore, the UK and the US.
In 2019, privacy concerns will drive at least 10% of the demand for security services, impacting a variety of segments, such as identity and access management, identity governance and administration, and data-loss prevention, said the study.
Moreover, highly publicised data breaches, like the recent attack on SingHealth that compromised the records of 1.5 million patients in Singapore, reinforce the need to view sensitive data and IT systems as critical infrastructure, said Siddharth Deshpande, research director at Gartner.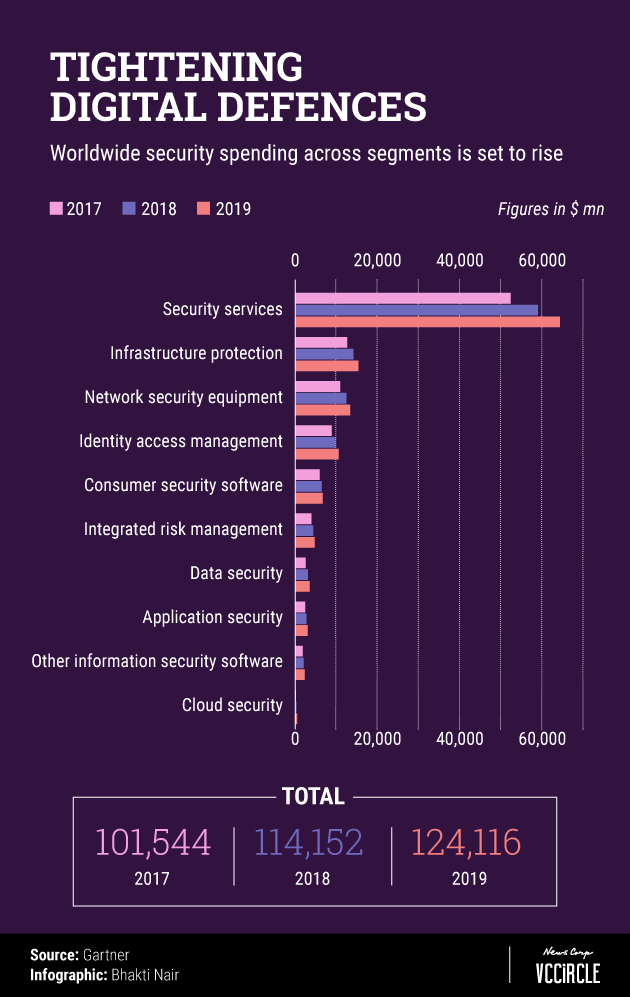 In 2019, Deshpande said that an increased focus on building detection and response capabilities, privacy regulations such as GDPR, and the need to address digital business risks would be the main drivers for growth in expenditure.
At least 30% of organisations will spend on GDPR-related consulting and implementation services through 2019, the firm said, adding that risk management and privacy concerns within digital transformation initiatives will drive additional security service spending through 2020 for more than 40% of organisations.
The firm predicts that services (subscription and managed) will represent at least 50% of security software delivery by 2020. "Security as a service (cloud) is on the way to surpassing on-premises deployments, and hybrid deployments are enticing buyers," Deshpande said.
According to a 2017 Gartner survey, the top three drivers for security spending were security risks, business needs and industry changes.
---