Fantasy sport platform Dream11 raises $100 mn from Tencent, others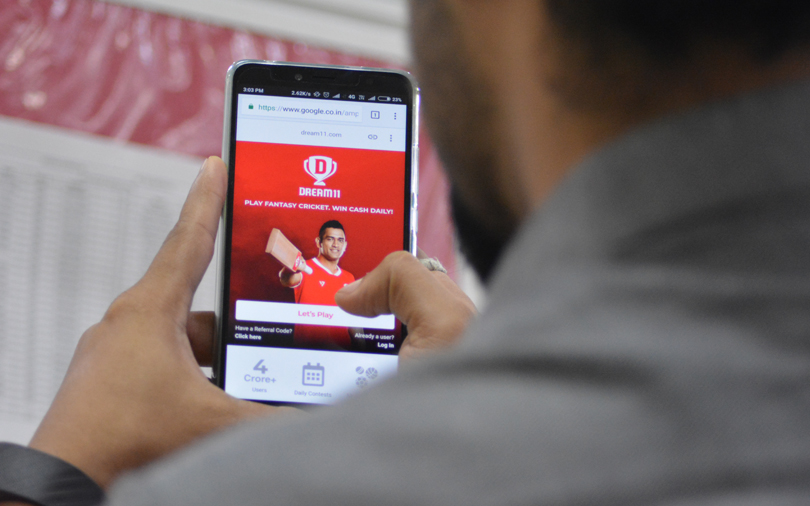 Tencent Holdings Ltd has led a large investment round in Mumbai-based Dream11 Fantasy Pvt. Ltd, as China's biggest gaming and social media company ramps up its India bets amid intensifying pressures at home.
The Chinese company invested in Dream11 Fantasy, which operates an eponymous fantasy sport website, as part of its Series D funding, an executive at the Indian company told TechCircle, asking not to be named.
The company's existing investors, which include venture capital firm Kalaari Capital and private equity firm Multiples Alternate Asset Management, also put money in this round, the executive said.

A second person, who also wished to remain anonymous, said the total funding is slightly higher than $100 million (Rs 720 crore at current exchange rates) but the transaction hasn't been completed yet.
A spokesperson for Dream11 confirmed that Tencent and existing investors participated in the Series D round, but refused to comment on the sum raised.
In April, The Economic Times had reported that the fantasy sport platform was in talks with Tencent to raise as much as $100 million at a pre-money valuation of $450-500 million.

Tencent has been looking to step up its India presence by betting on its biggest global money-spinner: gaming. The company is planning to invest up to $200 million (Rs 1,300 crore) in its India gaming business in the first year and aims to own at least a third of India's gaming user base in two years, TechCircle reported in March.
Apart from Dream11, Tencent has invested in various online platforms in India including music app Gaana. It has also backed Indic language app Newsdog and social messaging app Hike, among others.
Tencent's India investments come at a time when it has been facing increased pressure in China, where the government has started a campaign to fight gaming addiction in children citing rising levels of myopia.

Shares of Tencent have lost a third of their value on the Hong Kong stock exchange since January. The company, part-owned by South African internet conglomerate Naspers, is now valued around 3 trillion Hong Kong dollars (about $380 billion). That's far below the valuation of more than $500 billion early this year. Still, Tencent remains Asia's second-most-valued company, after peer Alibaba Group.
Dream11 was incorporated in 2007. It had raised an undisclosed amount from Kalaari Capital in 2015 and from Multiples PE in December 2017. The fantasy sport platform offers content in vernacular languages. It allows users to create virtual teams comprising real-life players and lets them organise a match based on statistical performances of those players in actual games. The platform offers fantasy cricket, football, kabaddi and basketball.
The company spokesperson said Dream11 has around 41 million users and aims to grow to 100 million users by 2019. "Our goal is to create awareness around fantasy sport in the country and keep getting more of India's 800 million sport fans to play fantasy sport on Dream11," the spokesperson said.

Close to 100 million Indians will play fantasy sport by 2019, according to a joint report by Indian Federation of Sports Gaming (IFSG) and market research firm AC Nielsen. Dream11 chief executive Harsh Jain is also the chairman of IFSG.
---