Should B2B marketplaces look beyond SMEs to stay in business?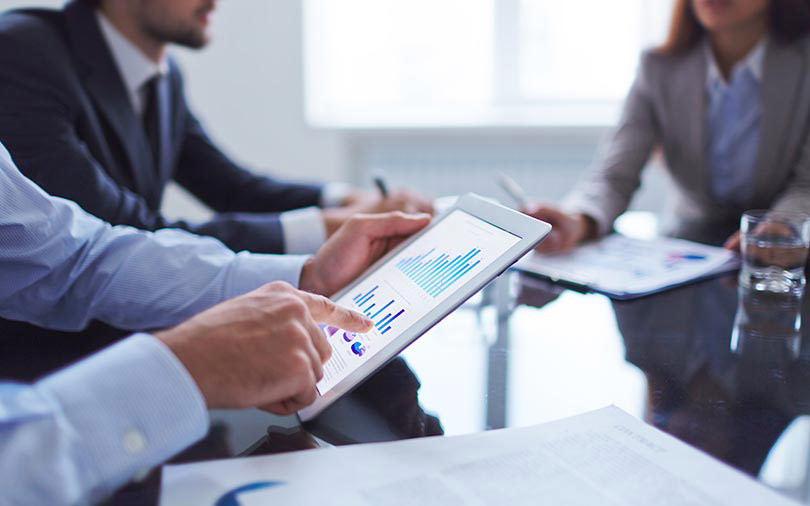 Over the past three months, business-to-business (B2B) e-commerce marketplace Industrybuying has slashed its workforce to fewer than 300 - less than half of what it was a year ago - people close to the development told TechCircle. Three top executives have also put in their papers in the recent past.
Clearly, all is not well at the Delhi-based company, which is backed by institutional investors such as venture capital firms SAIF Partners and Kalaari Capital. But chief executive Swati Gupta denied this. She told TechCircle that there had been no downsizing activity or senior-level exits since last November, adding that the company continues to hire across functions.
In general, however, B2B e-commerce players such as Industrybuying that focus on selling business staples to small- and medium enterprises (SMEs) are facing niggling problems of thin margins, a system dependent on credit and small ticket sizes.

"Around 90-95% of the business with SMEs works on credit," said an executive from a B2B marketplace who requested anonymity. "Payments are made over 45-60 day cycles. That is how traditional distributors or sellers operate. It becomes difficult to sell a basket of goods worth Rs 10,000 at prices that remain competitive with those offered by traditional distributors while waiting for payments to be settled."
Swati Gupta and her brother Rahul Gupta founded Industrybuying in 2013. The firm enables SMEs to buy business staples such as office supplies, electrical equipment and power tools from sellers registered on its platform. Industrybuying charges a 2-4% commission on every sale, according to an industry expert who did not wish to be named. In comparison, business-to-consumer (B2C) e-commerce companies make margins of anywhere between 5-50% on mobiles and fashion products which are also easier to ship. The disparity is evident.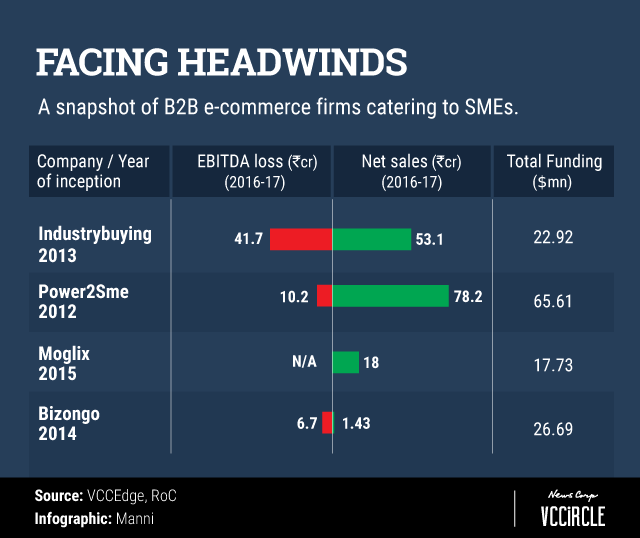 "The B2B business has much lower margins and the cost associated with the entire workflow makes it difficult to make this business viable," said Vikram Gupta, founder and managing partner at IvyCap ventures.
Industrybuying's gross merchandise value - GMV, or total value of goods sold on the platform - has halved from October 2017, a person familiar with the company's financial performance told TechCircle.
The company's financials for the 2017-18 fiscal are not available, but it posted an EBITDA loss of Rs 41.7 crore in the year before that (see graph). EBITDA stands for earnings before interest, taxation, depreciation and amortisation.

It has also taken a while to recover from the impact of Goods and Services Tax (GST). The indirect tax regime introduced by the government in July last year led to an increase in prices and reduced margins on items sold by firms such as Industrybuying.
That in turn has affected the company's plans to add to the $22.9 million in institutional funding it has raised so far. Industrybuying was in the market to raise capital from new investors earlier this year and is now in talks with existing investors for a bridge round, said the person cited above.
"The company has lost out considerably on its sales to SMEs," said a senior Industrybuying executive who did not wish to be named. "Sales to large enterprises though remain steady and currently make up half of its revenue stream. However, the lack of focus on growing a specific line of business and the absence of senior leadership has cost the company."

Again, Gupta remained unmoved. "We have grown 50% over the last financial year and our GMV is Rs 25 crore per month," she said. "We are EBITDA profitable. We are focused on both SMEs and enterprises while our competitors have picked one or the other."
Pivots and shutdowns
Industrybuying isn't the only B2B marketplace in India to run into rough weather and remain in the red.

Tolexo, a similar marketplace promoted by Noida-based wholesale B2B platform IndiaMART, had wound up operations last year. Its sales had fallen drastically on the back of the government's demonetisation exercise.
In 2016, Gurugram-based OFB Tech Pvt. Ltd, which owns and operates OfBusiness, pivoted from a business supplies marketplace soon after it raised a Series A round led by Matrix Partners.
In its new avatar, the firm switched sides and sought to tackle an issue that was hurting it, Industrybuying and other such players - credit. OfBusiness now offers financing products to SMEs for the procurement of raw materials. In addition, it offers sourcing of raw materials as a service.

The firm received a non-banking financial company (NBFC) licence in 2017 to strengthen its new stream of business. The pivot has resonated with investors as OfBusiness recently raised Rs 200 crore ($29 million) from private equity firm Creation Investments and hedge fund Falcon Edge Capital.
Apart from the issue of credit, logistics is another big challenge for B2B marketplaces that cater to SMEs.
B2C e-commerce players can choose between a plethora of companies such as Ecom Express and Xpressbees for last-mile delivery. B2B e-commerce players, however, aren't as fortunate with no dedicated logistics player to handle their small shipments. Their packages typically contain a few tools or equipment but are heavy.
"If you are selling to SMEs, they don't buy in large quantities and some of them might be standalone businesses," said the B2B executive cited earlier. "It does not make sense to ship few pairs of safety shoes, for instance, by air. It increases logistics costs and becomes unviable for the marketplace."
Industrybuying's Gupta said the firm has started charging for shipping while eliminating low-value orders of Rs 2,000 or below from the SME channel to boost profitability.
Different approaches
Despite the many hurdles, it's not all doom and gloom for B2B e-commerce marketplaces.
Like OfBusiness, other B2B players have also tasted success by either building on alternative business models or diversifying their existing operations.
Bizongo, for instance, pivoted to designing, manufacturing and selling packaging material required by e-commerce companies. It raised $22 million earlier this year in Series B funding raised from B Capital and International Finance Corporation (IFC) as well as existing investors Accel Partners and IDG Ventures.
Power2sme Pvt. Ltd (formerly BEBB India Pvt Ltd), has managed to keep growth on track because of its diversified products which include raw material bulk-buying platform Power2sme, credit platform FinanSME and tools and equipment platform SMEshops.
The company has so far raised $36 million from IFC, Kalaari Capital, Accel India, and InnoVen Capital, among others.
Singapore-based Moglix, which also backed by IFC, has shown promise as well. Moglix offers large enterprise customers business supplies and maintenance, repair and overhaul services.
"Our repeat rates are 100% because we work only with large enterprises," said Moglix chief executive Rahul Garg. "Since GST, logistics is also getting reimagined in the sector."
Business consumables typically make up 5% of the requirements of a large enterprise and close to 60% of their spends are concentrated on sourcing raw materials such as steel, iron and other components. The cost of customer acquisition with respect to large enterprises is around Rs 10,000 on average, which is higher compared to SMEs but guarantees big-ticket monthly orders and ensures high returns on investment.
Moglix has so far raised $18 million from investors such as IFC and VC firm Accel Partners. Garg said that the firm will add five warehouses over the next years and plans to strengthen its supply chain.
A big positive for B2B marketplaces in general is that investor interest in such businesses remains fairly strong. Since the start of 2018, at least 30 deals worth more than $350 million have been struck in the space.
The biggest and most recent of them came earlier this week and served as another reminder that an alternative business model could be the solution. Udaan, which sells apparel, mobiles and kitchen essentials to kirana and mom-and-pop stores, raised $225 million (Rs 1,593 crore at current exchange rates) in its Series C round of funding from DST Global and Lightspeed Venture Partners.
The deal ranked among the largest infusions into an Indian startup still in the relatively early stages of operations.
"There may be an opportunity for someone to build a brand if firms commit large amount of capital and build specific platforms for different product categories like FMCG," said IvyCap's Gupta. "It will take time and large investments for this sector to grow, just like B2C. Had Tiger Global not committed large capital early on for Flipkart, it would not have been possible for the company to grow."
---