* This story is part of a fortnightly series on accelerators and incubators in which TechCircle compiles report cards highlighting the successes and failures of the startups nurtured and spawned.
Medical-technology startup SigTuple was already an established player when it was chosen for the second cohort of NetApp Excellerator, the accelerator programme run by US-based data storage and management firm NetApp Inc.
A few months of mentorship and training at the programme helped SigTuple, which builds cloud-based solutions for medical diagnosis, take things up a notch. In June, SigTuple announced that it had secured $19 million (Rs 130 crore) in a Series B funding round led by venture capital firms Accel Partners and IDG Ventures.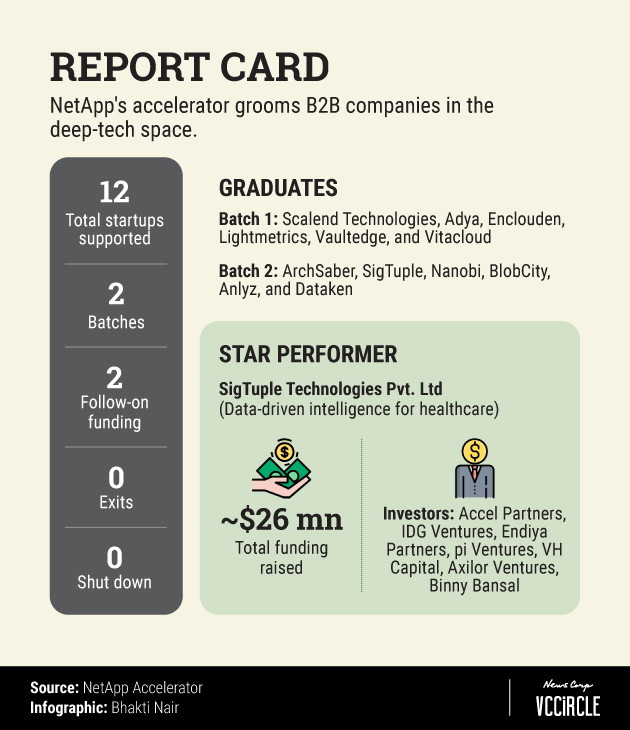 For the fledgling NetApp Excellerator, SigTuple is its standout performer.
The accelerator programme was started last year to support emerging business-to-business (B2B) ventures operating in the deep-tech space. The programme aims to leverage NetApp's expertise in the field of data, cloud and hybrid cloud to educate startups working with data-driven technologies.
"The accelerator was founded to foster innovation in the ecosystem," said Ajeya Motaganahalli, senior director of engineering programs and leader of NetApp Excellerator. "We felt the need to do that because there aren't many accelerators who were doing this."
NetApp selects six startups for each of its cohorts based on a mix of factors including the number of founders, relevant technology, product viability, revenue performance, and market exposure. Most of these startups deal with the applications of artificial intelligence, machine learning and cybersecurity across industries.
The selection process consists of three stages: screening, interview and a boot camp. After shortlisting a handful of startups from a pool of close to 300-400 applicants, the founders are interviewed to get a sense of their business and technology, product feasibility, among other aspects.
Thereafter, a few selected startups partake in a two-day intensive boot camp to refine their value proposition.
The boot camp has "specialised courses/mentors who travel from Silicon Valley and come here to teach techniques such as attaining product-market fit," said Motaganahalli.
The selected startups get access to collaboration and productivity tools, a co-working space out of NetApp's global centre of excellence in Bengaluru as well as networking opportunities with potential investors, partners, and customers.
In addition, the programme offers each startup equity-free funding of $15,000 to spend when they are on-site.
Two batches have graduated so far - one in December 2017 and the other in June this year.
Adya, a Bengaluru-based company which helps enterprises manage and secure their software-as-a-service (SaaS) applications, is one of two startups from NetApp's stable to receive follow-funding, having raised around $250,000 from angel investors outside India.
NetApp Excellerator earlier this month announced the six startups entering its third cohort. The line-up includes CloudOptimo, FirstHive, InstaSafe, Praktice.ai, Uber Diagnostics, and ZScore Technologies. These startups work in areas such as reducing the cost of cloud infrastructure, building medical artificial intelligence engines and assessing data quality.
Motaganahalli believes that venture capital firms are quickly shifting focus from business-to-consumer (B2C) players to deep-tech startups, thereby helping accelerators such as NetApp Excellerator sustain and evolve.
"We are going to launch a programme towards the end of this year that is focused on companies and startups that are slightly bigger, purely looking for pure collaboration on the go-to-market stage," he said.
---