A striking aspect of WhatsApp's appointment of Abhijit Bose as the head of its Indian operations was that the instant messaging platform managed to prise away a founder from his startup.
Bose has been with Ezetap since co-founding it seven years ago, building a platform that now enables mobile payments for more than 200,000 merchants across India. With Bose as its chief executive officer, Ezetap has also managed to secure more than $50 million in institutional funding along the way. And with the boom in digital payments since demonetisation, it begs the question why he chose not to stay put and ride the wave.
"This was something of an unusual opportunity that came by as an accident," says Sanjay Swamy, managing partner at Prime Venture Partners, an investor in Ezetap. "They reached out to him and it worked out for him. WhatsApp is a very powerful and impactful company. You don't plan for these things and one-off event you don't want to miss. He took a personal decision."
The move to Facebook-owned WhatsApp marks a big jump, but Bose will in many ways be sticking what he knows best — digital payments, working with small business owners and starting from scratch.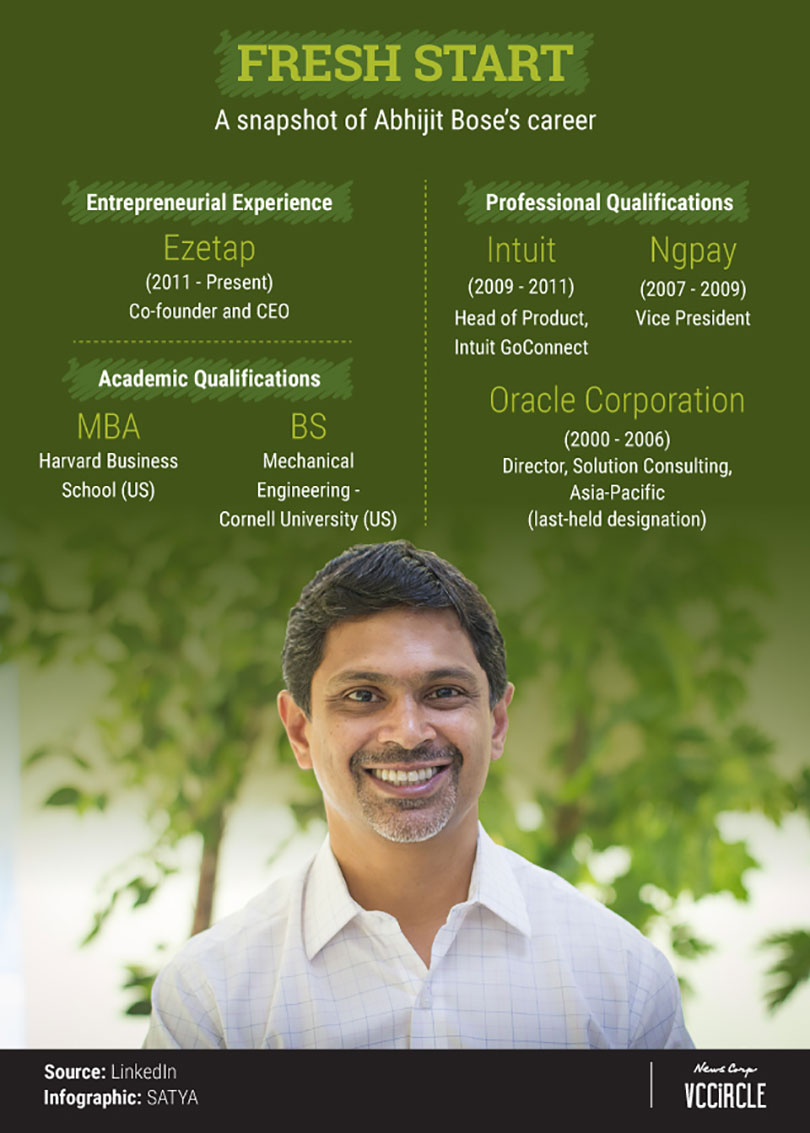 While instant messaging remains its bread and butter, WhatsApp has spent most of 2018 unsuccessfully trying to roll out its digital payments service in India. It released a beta of the feature in February, but multiple hurdles ranging from data privacy to fake news have kept its full-scale launch in abeyance.
Among the pre-conditions put forth by the Indian government was that WhatsApp should set up a local entity. Bose's appointment is a step in that direction. On taking over early next year, he will be tasked with building US-headquartered WhatsApp's first country-specific team from the ground up in a market where it already has more than 200 million users.
American dream
Bose, of course, is no stranger to American companies and their work culture.
In fact, a venture capital investor who did not wish to be named told TechCircle that Bose's American accent is the first thing you will notice on meeting him.
He is, after all, among the first batch of second-generation Indian-Americans who came back to India, the investor added.
A Harvard Business School and Cornell University graduate, Bose was head of product at California-based software firm Intuit and also worked for more than six years in Bengaluru and US at software firm Oracle.
The investor mentioned above said that Bose is a "hardcore product guy".
Anshuman Das, who has known "Bobby" since his Intuit days, said that Bose ventured into fintech much before anyone else.
"What WhatsApp is looking to build is an enterprise-focussed tech play from a payment point of view. I believe that WhatsApp will learn of a lot of things from Abhijit (Bose) about India," said Das, who is also the managing partner at executive search firm Longhouse Consulting. "He has a combination of startup thinking and global thinking."
While announcing his appointment, WhatsApp said that Bose would focus on helping businesses connect with their customers. The company had earlier this year launched WhatsApp Business, an app aimed at small business owners — a community Bose is well-versed with given his experience at Ezetap.
WhatsApp's baggage
But Bose will have much more on his plate from the get-go, including some of WhatsApp's old demons to contend with.
The messaging app has run into multiple hurdles with the government on curbing the spread of fake news through its platform.
Following a spate of mob lynching incidents triggered by rumours circulated on WhatsApp, IT minister Ravi Shankar Prasad had met the instant messenger's chief executive Chris Daniels in August and asked him to take several remedial measures.
These included appointing a grievance officer to check lewd messages and inflammatory content along with publishing advertisements to spread awareness — requests that WhatsApp has since complied with.
The government had also asked WhatsApp to ensure traceability of messages being circulated at a mass level in an area at a particular time. It has since made a couple of tweaks on this platform in this regard.
Data localisation has been another sticking point as India's central bank has mandated that all payments-related data should be stored only within the country.
WhatsApp said last month that it had built a system that stores payments-related data locally in India. It also updated its privacy policy to note that it does not share data for commercial purposes with parent Facebook.
With Bose's appointment, WhatsApp will hope that it has the right man for the job as it looks to finally rollout its payments service in India.
The investor cited above said that Bose is "honest and genuine" in operational matters.
"If there is some bad news about his company, you will know from him first," the investor added.
(With inputs from Anand J)
---