Flashback 2018: Cloud's popularity soars but policy challenges are on the horizon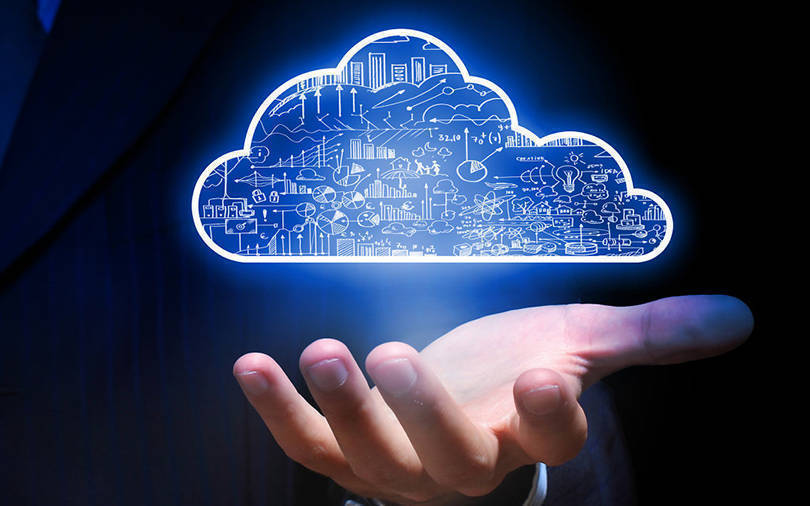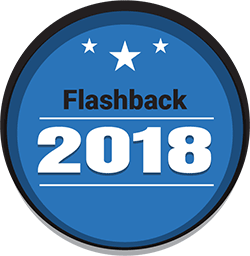 Cloud computing has been among the biggest talking points in technology this year, as large Indian enterprises embarked on digital transformation journeys driven by the promise of higher revenues and improved productivity, lead generation, customer satisfaction and business intelligence.
Several startups, too, were born in the cloud in the year gone by. Simply put, this means they started their operations in the cloud after being lured by service providers such as Amazon Web Services (AWS), Microsoft Azure, IBM, Google, Oracle and Alibaba, among others.
These services ranged from storage to computing and analytics for business intelligence, with nimbleness being the overarching theme.

Abbas Godhrawala, partner-advisory services at EY, said that cloud computing had indeed taken off in India during 2018.
"Cloud customers now include everyone from startups to large Indian corporations," Godhrawala told TechCircle. "The biggest advantage of cloud for organisations is the cost benefit due to resource pooling. We believe cloud will continue to accelerate in India and gather momentum owing to the growing trend of digital adoption."
Market research firm Gartner had projected that India's public cloud services revenue would grow 37.5% in 2018 to nearly $2.5 billion. This would see India outpace the global market, which was expected to grow 21% to reach $175.8 billion in 2018.

Godhrawala said that there has been a rapid rise in enterprise spend on public cloud, notably Azure and AWS, while private cloud spending has been declining.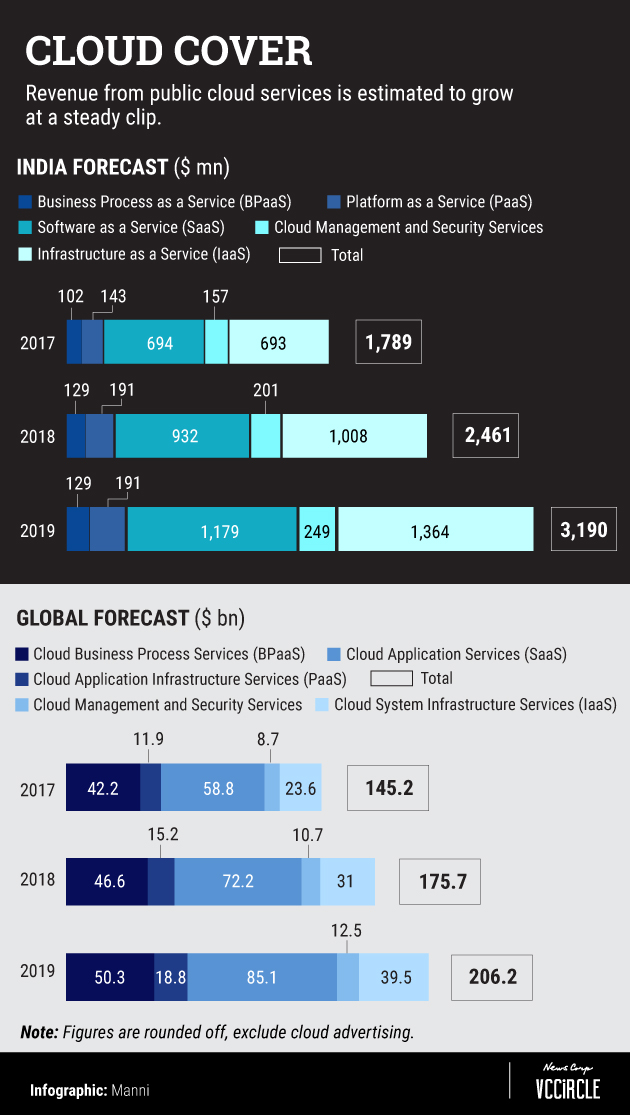 Tushar Agarwal, senior solutions architect at IT services firm GlobalLogic's India division, told TechCircle that cloud adoption had been gradually gathering momentum since early-2012 with quite a few startups using cloud services during that time.

"In the last two years, all major cloud service providers (CSPs) have set up centres in India, enabling enterprises to consider using cloud services, especially in regulated sectors," Agarwal said.
Before 2016, the nearest cloud location regions were AWS and Azure in Singapore, he added.
Phanikishore Burre, CSS Corp senior vice president and global delivery head-networks, cloud, infrastructure & security services, said that cloud has certainly gone mainstream in India in terms of adoption.

"Migrating to cloud has created a paradigm shift in enabling organisations to launch businesses faster and smarter," Burre explained. "Cloud has emerged as a critical business driver for more and more businesses seeking to achieve competitive differentiation and faster time-to-market."
Switch to hybrid
AWS chief executive Andy Jassy told Indian reporters at the company's annual event, Re:Invent, that the public cloud adoption opportunity was huge as only 10-15% of the market had just begun to move to cloud. He also said that developing economies such as India were roughly 5% off the pace in terms of adoption when compared to developed markets such as the US.

But there are still concerns around public cloud adoption, which according to experts and analysts is leading to a hybrid approach for a lot of companies.
EY's Godhrawala explained that data security concerns in the public cloud has been forcing companies to adopt a hybrid strategy.
"For large Indian organisations, company data is critical and confidentiality is the topmost priority. Hence, we are seeing large organisations adopt the private cloud model which helps them implement their own set of security controls, gives them a sense of ownership and increased governance," Godhrawala explained.

Public cloud, on the other hand, is more popular among small organisations and startups, he added.
"The biggest benefit for them is that public cloud is an easy, scalable and inexpensive setup. In terms of percentage level of cloud adoption, I would say that 25% of organisations are on private cloud, 20% of organisations are on public cloud and the rest 55% are on hybrid cloud," he said.
Kashi Reddy, office principal at US-based consulting and services firm ThoughtWorks' India division. said that while digital-native organisations across sectors have instantly adopted a cloud-first approach, data privacy is a huge worry for the financial sector, which hesitates when it comes to putting their data outside environments controlled by them.
IBM India and South Asia's chief strategy officer Shailesh Agarwal told TechCircle that while maturity about cloud computing had spread across all organisations of all sizes in all industry sectors, public cloud adoption will face challenges in the future.
This, he said, will lead to a lot of large enterprises adopting the hybrid model with them running multi-cloud environments.
EY's Godhrawala also pointed out that the Indian government's policy decisions might play a crucial role in terms of cloud adoption in general.
"The panel working on cloud computing policy in India recently stated that they want data to be stored within the country. This has led to a lot of challenges among cloud service providers," he said. "It would lead to an increasing requirement of local data centres which may slow down the overall cloud momentum."
Outlook
As more enterprises continue on their multi-year cloud adoption journeys, experts and analysts believe that the momentum is only going to increase in 2019.
"In 2019, cloud will secure its rightful place as the foundation of futuristic enterprise application platforms," said Moushumee Basu Roy, head of SAP SuccessFactors India.
A recent IDC report stated that enterprise spending on cloud services and infrastructure will touch more than $530 billion by 2021 and more than 90% of enterprises will use multiple cloud services and platforms.
"With continued rise in hybrid IT environments, Indian businesses are realising the importance and value of upgrading to tomorrow's technology today," said Shailender Kumar, regional managing director at Oracle India.
GlobalLogic's Agarwal said that enterprises are also looking to leverage cloud-based analytics and machine learning offerings in diverse areas such as financial fraud detection, security analytics, customer retention and improving user experience.
"While this will not become the bread and butter for CSPs anytime soon, ML services will help them achieve customer stickiness to their platforms," he added.
In terms of security, Agarwal said that owing to a few high-profile data breaches in the last few years, enterprises are waking up to the need to have comprehensive ML/AI-driven security management and governance platforms that can help them detect and prevent threats ranging from data leakage to insider threats.
"The solutions available in the market today form pieces to the puzzle, with some enterprises trying to build their homegrown systems. However, this is still an evolving space, and we will see mergers and acquisitions over the next two years as cloud service providers consolidate their security architectures and services," he said.
---