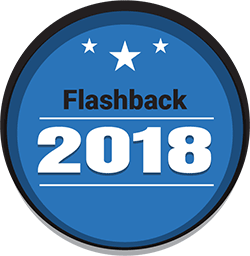 Anyone looking close enough would hardly miss the seemingly snaky trend health-tech investments had assumed over the past few years. The sector, having registered contrasting investment trends in consecutive years, had been making it difficult for experts to understand the inconsistent sentiments associated with the industry.
Year 2018, however, has presented a happy deflection from the vexing zigzag, with companies in the segment raising a total of $367 million, show provisional data from VCCEdge, the research arm of News Corp VCCircle. This is 55% higher than the previous year's $237 million. Funding had slumped in 2016 after the boom year of 2015. In terms of transaction volume, the sector recorded 45 deals in 2018, down from 65 last year, indicating that fewer startups received bigger cheques.
The most sought-after profiles by investors this year were startups that offer artificial intelligence (AI)-based solutions. Ramesh Byrapaneni, co-founder of early-stage investor Endiya Partners, said: "The so-called Uber-isation is not enough in health-tech. It's not enough to just connect to a doctor. It doesn't help. Businesses these days should be doing more than that, using emerging technologies like AI and Deep Learning."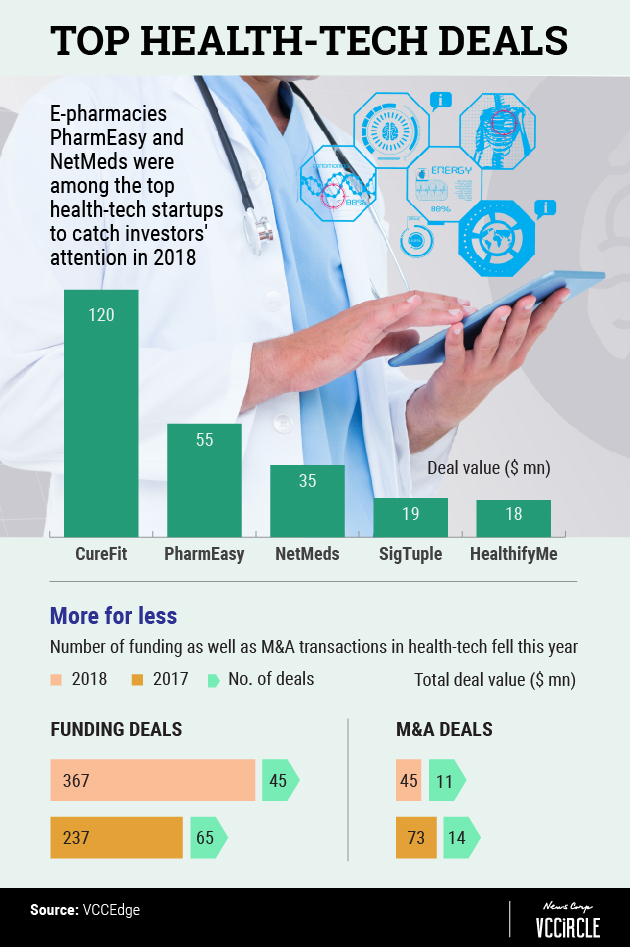 Endiya Partners has a diverse portfolio that includes health-tech startups SigTuple and eKincare. "In AI, a lot of investment has gone into chatbots for mental health and into companies that are using AI and Machine Learning for drug discovery," Byrapaneni added.
Ample funds have also been poured into online pharmacies. Three among the top five funded firms this year sell drugs and other healthcare products online. In December, $300 million of venture capital was put at risk by a Delhi High Court ruling prohibiting e-pharmacies from selling medicines online without a valid licence across the country.
Topping the funding chart for 2018 is Bengaluru-based health and fitness startup CureFit, which scooped up $120 million in a Series C funding round in July led by existing investors IDG Ventures, Accel (formerly Accel Partners) and Kalaari Capital. CureFit's flagship offering Cult.fit runs offline centres that offer equipment-less workout solutions, including mixed martial arts, zumba and yoga. Founded by Myntra co-founder Mukesh Bansal and former Flipkart executive Ankit Nagori, CureFit has so far raised $174.6 million. It has made five acquisitions, of which the most recent was in November 2018, when it bought the mental wellness platform Seraniti.
An apostle of the sector's shift into digital, Nagori said, "If you look at health as a category in India, it has been doing a bricks-and-mortar kind of play with large hospitals and other facilities and infrastructure. But very little has been done digitally. Our first step is to bridge this gap."
Another patron on the list is Chennai-based online pharmacy NetMeds Marketplace Pvt. Ltd. Founded in 2010 by Pradeep Dadha, NetMeds offers prescription medicine and over-the-counter (OTC) products as well as an electronic health records storage app. In its most recent fundraising in September 2018, the company secured $35 million in a Series C round from Southeast Asian business conglomerate Daun Penh Cambodia Group and existing investors.
Pradeep Dadha, founder and chief executive of NetMeds, said, "E-pharmacy has seen a wider adoption than other areas in thehealth-tech space in 2018. In the last three years, it has gained a significant market share. Next year, we are looking at expanding our offline stores, encouraging new processes and technology, and how to improve usage of data and Deep Learning. Various other services are in the works."
Other well-funded firms, after CureFit and NetMeds, include Mumbai-based online drug delivery platform PharmEasy and Bengaluru-based smart-tech diagnostics startup SigTuple, both of which raised $55 million and $19 million, respectively.
The sector gained funding momentum, with existing and new investors pouring out into these technology-led health startups.
Among the top venture capital funds this year, the ones leading the number of deals made in the health-tech sector are Accel, with three transactions, and Kalaari Capital, Sequoia Capital India, IDG Ventures India and pi Ventures with two deals each. Accel led the Series C funding round for CureFit this year, along with other existing investors IDG Ventures and Kalaari Capital.
Apart from funding deals, another trend is shaping up in terms of mergers and acquisitions for the sector, with 11 deals registered in 2018 with total value of $45 million, VCCEdge data reveal. This is three deals shy of the last year's score of 14, amounting to $73 million.
In addition to venture capital funds, the sector also saw participation from angel investors this year. Among the leading funders were Flipkart co-founder Binny Bansal and Google India managing director Rajan Anandan. Bansal has picked up stakes in three firms: CureFit, SigTuple and Niramai. Anandan invested in two firms including AI-powered maternal care firm PregBuddy.
The health-tech sector is also rapidly wising up to businesses adopting emerging technologies. There is a noticeable nudge from the investors to that end.
Commenting on the need for the space to tap into these technologies, Manish Singhal, founding partner of pi Ventures, said, "There is a large gap that exists (in healthcare). We can't train enough people or buy enough equipment to fill the gap. That's where technology has to form the middle layer. We believe that AI-driven solutions are going to bridge that gap to a large extent and that is the critical trend."
"I also think that AI and Internet of Things will go hand in hand for a distinguished time going ahead," Singhal added.
Although not without challenges, the Indian health-tech space does seem to have matured and the traction noted this year alone is testament to that fact. The prospects lie majorly in how well the industry adapts to shifting trends and regulations. The sector is late to the party as it was almost the last among sectors like e-commerce and logistics to be impacted by emerging technologies," said Geetha Manjunath, co-founder of health-tech startup Niramai. "But it sure is here to stay."
---