Flashback 2018: Regulations, automation give logistics-tech startups a leg-up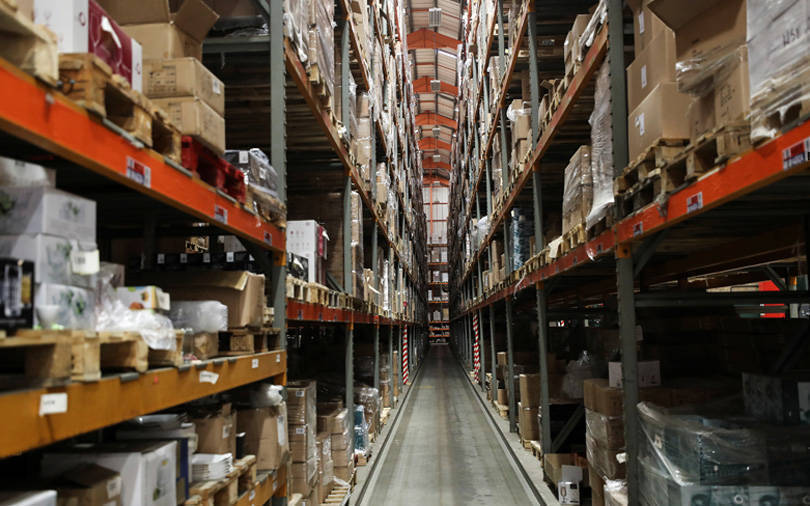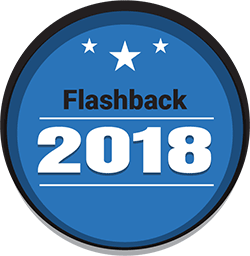 A combination of technology adoption, cheap data tariffs and favourable regulations helped disrupt and organise India's modern logistics sector in 2018.
"The logistics industry had an exciting journey in 2018," said Nishith Rastogi, co-founder and chief executive of logistics-tech startup Locus, which provides route planning, optimisation and supply chain solutions. "From passing the e-way bill, rolling out GST [Goods and Services Tax], granting 'infrastructure' status and passing drone regulations 1.0, India indeed focussed on the sector this year."
Besides, the proliferation of trade agreements among various nations means that the market is rapidly changing, he added.

Locus raised a pre-Series B funding round earlier this year and has so far secured close to $7 million from investors such as Japan's Recruit Holdings, pi Ventures, Blume Ventures, Beenext, Exfinity Venture Partners and Microsoft Accelerator among others.
Cautious investors
Industry observers say that change in the logistics sector, whose operations have traditionally been fragmented and unorganised for decades, is generally slow. The sector focuses more on marginal improvements across the value chain, and any venture that can do this offers a differentiated value proposition.

Throughout 2018, investors were cautiously optimistic about the sector. Experts say while logistics-technology startups have access to capital, several entrepreneurs who recently set up ventures did not have a differentiated business model and proposition. The sector also witnessed shutdowns.
According to a recent TechCircle analysis, at least 11 logistics-tech startups including Turant Delivery, Ezytruck, GoGo Truck, Loadkhoj, Portdesk and Truckmandi have either shut shop or suspended operations over the past two years.
Anil Joshi, managing partner at Unicorn India Ventures, said that those firms with a differentiated business model will receive funding.

"Several startups offering the same solution may not really elicit investor interest in this space," he added.
There is a broad perception that the sector is undergoing consolidation, with few players receiving more money, and clear market leaders will emerge in the next two years.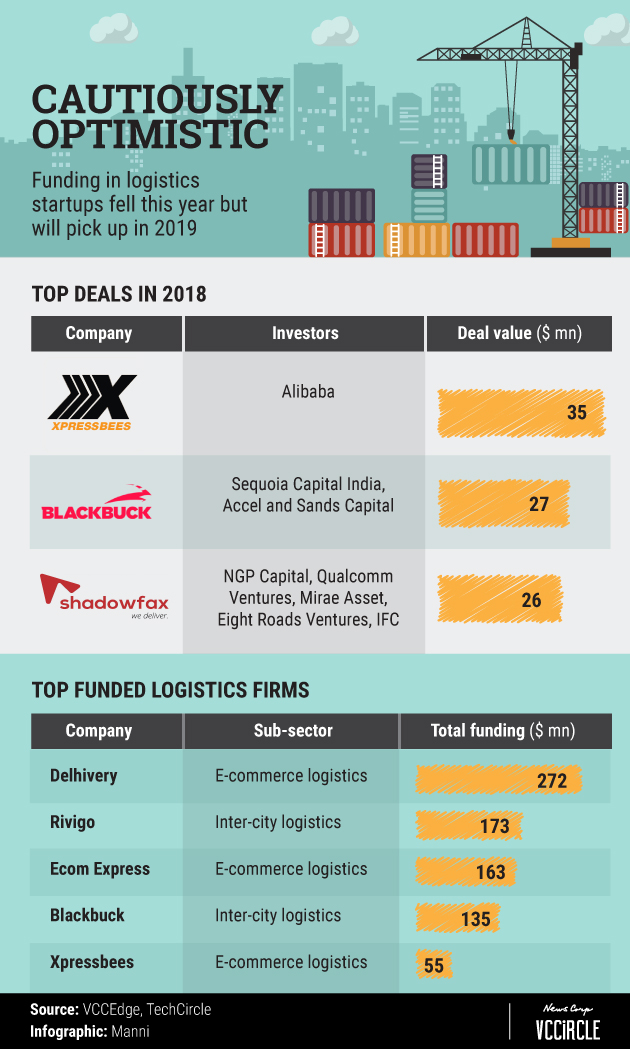 Industry experts also say that the sector needs thesis-driven investors who can look at logistics-tech startups with greater empathy.
According to Mithun Srivatsa, co-founder and CEO of intra-city logistics marketplace Blowhorn, notwithstanding the problem of exits, the Indian VC landscape, including logistics, is headed for exciting times as the first wave of entrepreneurs who have had exits have begun to set up funds. These investors are likely to look at companies through a different lens, he added.
Organising the unorganised

Innovation in the logistics space has given rise to huge market opportunities in sub-sectors within it -- primarily e-commerce, inter-city and intra-city.
"Until four years ago, the intra-city logistics space did not have a reliable spot market. Now, within a 30-minute wait time, you get a vehicle at your doorstep," said Srivatsa.
According to him, intra-city logistics is tech-driven while innovations in inter-city logistics are tied to regulations.

For example, companies such as Blackbuck and Blowhorn operate on an asset-light model and offer pure play technology solutions for inter-city and intra-city logistics services, respectively, while Rivigo is more asset-heavy and involves itself in the operations.
Players in the logistics sector have been disrupted by e-commerce companies like Flipkart and Amazon, while firms like GreyOrange, which operate broadly in warehousing, offer automation.
Similarly, companies like Locus, Loadshare, Loginext and Shipsy digitise procurement and supply chain processes. Some of the startups that operate in other sectors such as food delivery, e-pharmacies and B2B agri-tech, to name a few, have logistics as an inherent part of their business model. In a sense, these companies can also be called as logistics companies, according to industry experts.
Automation has not only brought about increased efficiency and reduced costs but has also resulted in better utilisation of human resources in decision-making, Locus' Rastogi said.
According to Blowhorn's Srivatsa, the sector has also taken advantage of the cascading effect of low-cost tariffs introduced by Reliance Jio and the deep penetration of smartphones. These factors were catalysts in technology adoption for companies on the supply side.
"Until now, the logistics sector was operationally-heavy, and technology augmented efficiency in only a few parts of the operations. Now, it is increasingly making all parts efficient," Srivatsa explained.
Blowhorn has raised close to $5 million from investors like Michael and Susan Dell Foundation, Unitus Ventures, Draper Associates, Chiratae Ventures (formerly IDG Ventures) and InnoVen Capital.
Challenges
What makes the logistics-tech sector complex is the multiple layers and processes involved across the whole value chain. These fragmented processes offer a huge market opportunity.
Through tech-based solutions, incumbents have been trying to solve or improve some of the sector's inefficiencies by digitising processes or by involving themselves in the operations. Cxperts feel that the number of companies which have logistics as a crucial component should also be counted as incumbents.
"A number of business-to-consumer firms are inherently logistics companies by virtue of their business models, like e-commerce firms Flipkart and Amazon, e-pharma aggregators, food delivery ventures like Swiggy and Zomato, on-demand delivery companies like Dunzo, (online grocer) BigBasket, which can be termed as both a warehouse and logistics player," explained Anup Jain, partner at venture capital firm Orios Venture Partners.
Industry observers also point out that scaling up, from 1x to 100x, in the sector is tremendously challenging.
Outlook 2019
Though the market size and opportunity in logistics are huge, it has a long way to go in terms of overall disruption. To provide perspective, trucking alone is a $150-billion industry, Rajesh Yabaji, founder and CEO of inter-city logistics marketplace Blackbuck told TechCircle in an earlier interaction.
Hence, industry experts feel that the next wave of disruption could come from the primary and secondary components of logistics fulfillment.
"There should now be focus on creating solutions that help in the decision-making processes of the supply chain. Solutions that aid managers as well as resources to make better business/on-ground decisions and empower them, are the need of the hour," said Locus' Rastogi.
Jain of Orios feels that cold-chain logistics could see the next wave of disruption due to the proliferation of processed and ready-to-eat foods, fast-moving consumer goods, food products and meat.
"Food transport, private warehousing and refrigeration infrastructure are areas that need more solutions," Jain added.
According to Unicorn India's Joshi, security is a huge market opportunity as pilferage and theft are genuine pain points industry incumbents face. Likewise, Internet of Things-based logistics solutions is another interesting area, he added.
That said, the sector will see more capital going into it in 2019 as market leaders will likely receive big-ticket funding. Media reports have stated that Delhivery will get $200-450 million from Japanese internet conglomerate SoftBank, while the firm is also said to be exploring an initial public offering (IPO)
For Srivatsa, 2019 will be the year of logistics with big market leaders receiving large capital infusions.
"Every year we see sustainable growth in e-commerce despite a mellowing market. This will drive volumes," he added.
For Orios' Jain, investment will be concentrated in warehousing and logistics services related to agriculture, among others.
Similarly, emerging technologies like artificial intelligence and machine learning are expected to solve inefficiencies and optimise costs.
"2019 is going to be the year of AI-based solutions, which will revolutionise the decision-making process and will help organisations scale up their businesses, cut down on the cost of operations and adhere to the service-level agreements," Rastogi said.
---