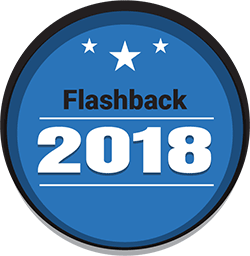 It has been a year of mixed fortunes for blockchain in India. In the build-up to the new year, the distributed ledger technology had garnered a lot of attention, and was considered a panacea for trust deficit and security threats.
Early in 2018, however, the technology was called into question -- especially in the context of cryptocurrencies or crypto-assets for which blockchain is the underlying system -- and this set the tone for the rest of the year.
Tough stance
Countries such as Estonia, Georgia, the UAE, Sweden, the US and the UK had already taken the lead in pioneering blockchain applications in the public sector in 2017. According to a PwC-Ficci report, Dubai, which recently committed to transitioning all government transactions to blockchain by 2020, estimated that, using the technology, it could save nearly 100 million pages of documents generated in paperwork each year, 25.1 million hours of productive time and nearly 411 million kilometres of travel time for its citizens.
Buoyed by the global success of blockchain-led governance and public-sector programmes, the Indian government's think tank, Niti Aayog, had already started looking into India-based applications of blockchain.
Some states in the country were also looking at developing state-level public programmes based on the technology. Andhra Pradesh, for example, announced a partnership with the Swedish firm ChromaWay11 to secure citizen data on a blockchain, besides exploring blockchain use in various other fields such as smart cities and transport.
The Institute for Development and Research in Banking Technology (IDRBT), established by the Reserve Bank of India, had published a white paper on the application of blockchain technology in the banking and financial sectors in the country.
However, on 1 February, Union finance minister Arun Jaitley's comments during his annual Budget speech evoked mixed reactions from developers, customers and marketers of the technology.
"The government does not consider cryptocurrencies legal tender or coin and will take all measures to eliminate use of these crypto-assets in financing illegitimate activities or as part of the payment system," he said in his Budget speech in Parliament.
But Jaitley also said that the government would explore the use of blockchain technology proactively for ushering in a digital economy.
If the finance minister's comments on cryptocurrencies were not enough, India's banking regulator, the Reserve Bank of India, announced a couple of months later that it would penalise any bank working with cryptocurrency companies.
This not only created struggles for crypto-exchanges but also halted a lot of public blockchain projects which were being piloted because most needed to assign a cryptocurrency value to validate a transaction.
The crypto negative
According to a global study conducted by accounting firm EY in the first half of 2018, 86% of the leading initial coin offerings (ICOs) that listed on a cryptocurrency exchange in 2017 were below their initial listing price.
The study found that 30% of ICOs have lost nearly all their value, though the value of ICOs raised in 2018 saw a meteoric rise to $15 billion in 2018 from just $4 billion in 2017.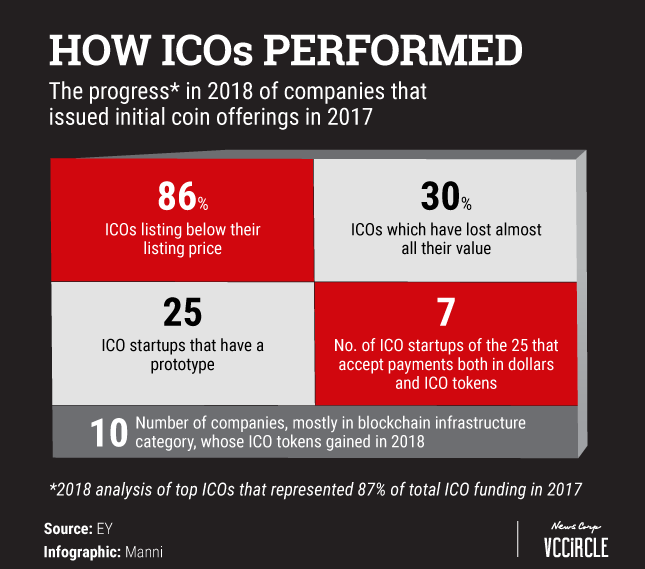 Brody also pointed out that only 29% (25) of the 2017 ICO projects that EY had assessed have progressed to prototypes or working products – an increase of just 13% from December 2017. The remaining 71% had no offering in the market, he added.
Indian crypto-exchanges also saw their fair share of challenges, with one of the largest exchanges, Zebpay, shutting trade operations, due to the Reserve Bank of India's restrictions on cryptocurrencies. Other exchanges have moved court and are awaiting hearings.
Kashi Reddy, office principal at the India division of US-based tech consulting company ThoughtWorks, said: "The blockchain or any peer-to-peer network technology is not widespread because of socio-economic reasons rather than technological ones. This is because current policies and regulations are not geared towards the decentralisation of data, power and control that the tech proposes."
He added, "Given the recent cryptocurrency ban in India, technologists and businesses are being watchful of how administrative measures evolve to either embrace, denounce or compromise."
But it wasn't only India where cryptocurrencies were facing a tough time.
The most prominent of them -- bitcoin -- has lost more than 80% of its value over the past one year, falling from a peak of $18,972 to a low of $3,513, according to data sourced from cryptocurrency news portal Cointelegraph. It is currently trading at around the $4,000 mark. The likes of Ethereum and Ripple also suffered a similar fate amid a crackdown in several countries on virtual coins and persistent questions over their legitimacy.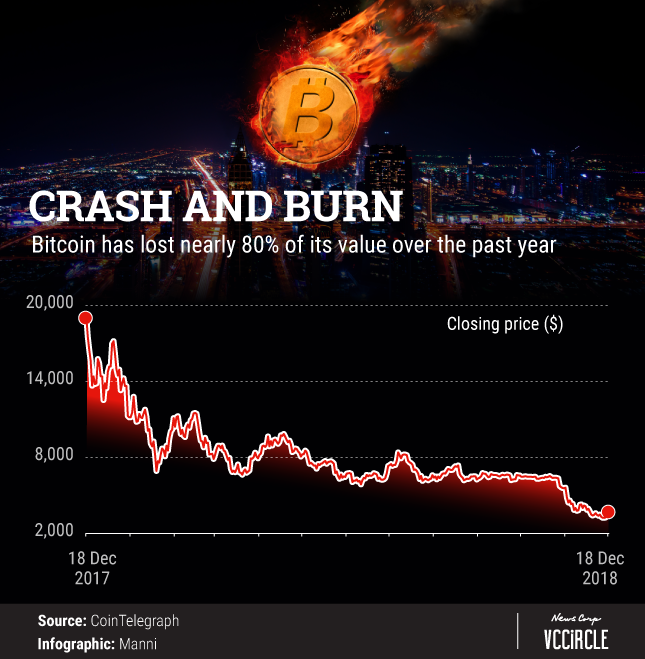 Public blockchains make way for private blockchains
Due to uncertainty in policy and regulations in the country, analysts and experts believe that private blockchains, mostly enterprise blockchains, will gain more prominence rather than public blockchains.
"India will follow the global example to see largely enterprise blockchains making real headway in sectors such as finance, insurance and government in the near term," said Pandurang Kamat, chief technologist and associate chief tech officer of Pune-based technology services company Persistent Systems.
"The public blockchain space is rapidly improving both on the infrastructure and user experience side. However, its adoption and traction will happen on a longer curve," he added.
Mahesh Makhija, partner and leader of EY's digital and emerging tech division, also said that enterprise or private blockchains will emerge faster.
"I think it is essential to demarcate crypto and blockchain from the hype perspective. While cryptocurrencies have immensely contributed to the buzz, be it on account of their meteoric rise in 2017 or crypto-calyspe in 2018, we have to remember that cryptocurrency is just one of the applications of blockchain technology," Makhija told TechCircle.
Explaining further, he said that the wider blockchain applications will do for networks of enterprises and business ecosystems what enterprise resource planning did for the single company.
However, Sanjeev Narsipur, managing director, blockchain, Accenture Advanced Technology Centers, said that in the long run, the key to blockchain adoption will be interoperability between multiple public and private blockchains.
Accenture has extensively worked on interoperability and has filed for a patent on this, he added.
In terms of the technology being adopted, Makhija said that Indian companies have moved from understanding the technology to initial implementation.
"Financial services, consumer product/retail and the government sector are the early movers. Blockchain is an ecosystem play and these sectors have had more influence over the ecosystem to push adoption," he added.
According to a Research and Markets report, nearly 56% of Indian businesses are moving towards blockchain technology, making it a part of their core operations.
The report claims that Indian banks are increasingly expected to adopt blockchain.
The key areas where the technology is expected to make its utmost impact are payment and fund transfer, post-trade settlements, and digital identity, it added.
Private-sector lenders such as ICICI Bank and HDFC Bank have already started running pilot programmes using the technology. ICICI Bank has, in fact, used the technology to settle foreign trade payments, which otherwise took longer durations.
Narsipur said that India was seeing a lot of blockchain traction in sectors such as government, financial services, land registry, agriculture, food safety, identity, and supply chain.
"The first Nasscom Industry Partnership Program Blockchain Challenge, one of the country's biggest idea challenges and hackathon for enterprise blockchain solutions, was also introduced this year, showing the growing interest in this technology," he added.
Kamat, too, said that 2019 will see a lot of improvement in the technology.
"In the private blockchain space, we will have more consortiums not only piloting but running stable business processes and deriving tangible value from blockchains," he added.
IBM is already working with banks, financial institutions and other tech companies in India to form a private blockchain for information-sharing.
---