Digital transformation is now a more strategic discussion, beyond just the ambit of information technology (IT). Every chief executive officer I met in the last six months expressed a desire to fast-track their organisation's digital journey. Because modernising business processes, accelerating innovation, and delivering top-notch customer experience every time are core business prerogatives that are compelling Indian organisations to transform into digital-first businesses sooner rather than later.
In the digital economy, the world is becoming one hyper-connected place, redefining the way we live our lives and do business. To keep pace, Indian enterprises are looking to new ways to accelerate digital transformation, with cloud as the foundation, and create personalised, 'live' experiences for their customers or end-consumers.
Enterprise digital transformation could pose a number of challenges though: Rewiring processes and systems, strengthening the security fabric, and fast-tracking innovation, amongst others -- all the while not losing sight of the customer. Here are four ways to make your digital transformation journey smoother and successful:
1. Connecting the dots
Two key pillars could well define how successful your digital transformation journey is: Digital business and customer experience. In order to connect, monetise, and engage your customers to create new digital experiences, it's essential to ensure your transformation efforts encompass these two pillars in a holistic way.
2. Integrating for the future
As more people, devices, and "things" connect, communicate, and transact with each other, the importance of integrated cloud and platforms, infrastructure, and services with service-based architectures and open application programming interfaces become all the more important. This requires that you virtualise, simplify, automate, and integrate IT operational processes in an on-premises, private, hybrid or public cloud environment. Security at every layer is a pre-requisite – from the data centre to the silicon chip, from the database to the network and all the way through applications, encompassing complete monitoring as well as self-remediation in line with security policies of the organisation. The final piece in the integration puzzle should be the integration of customer experience, Internet of Things (IoT) platforms and your enterprise resource planning engine to connect the entire business -- people, processes, and things -- in order to successfully deliver top-quality digital services.
3. Customer experience journey is a full circle
In today's digital world, from competition to technology, everything is changing to become more agile and flexible. Against this backdrop, any organisation looking to become successful digitally should start with placing customer experience at the centre of every process and operation. Such organisations can then deliver a hyper-personalised, meaningful yet contextual experience at every touchpoint, making the entire customer engagement lifecycle a delightful one for the customer.
4. Encourage innovation across the board
Innovation is key for designing the digital economy, and we are seeing enterprise innovation cycles getting shorter and shorter, thanks to consumers' fast-changing preferences. Incremental innovation alone will not suffice; transformational innovation is fast becoming the new normal. To keep pace, enterprises are trying to foster innovation at every level, with the workforce being encouraged to think beyond their regular run-of-the-mill work and use their creativity and imagination. This will not only help unearth strong ideas that can change the game amidst changing market conditions, but also have a multiplier effect on employee morale and self-worth, leading to productivity gains and reduced employee attrition.
Instead of a piecemeal approach, the trick lies in figuring out the chemistry of emerging technologies -- an integrated approach to leveraging artificial intelligence/machine learning, blockchain, and IoT -- in a way that allows you to fast-track the organisation's digital transformation journey and future-proof the business.
Shailender Kumar is regional managing director at Oracle India. Views are his own.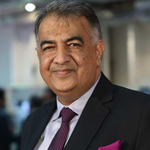 Shailender Kumar
---
Shailender Kumar is Regional Managing Director, Oracle India. The views in this article are his own.
---