A record year for fundraising in the Indian startup ecosystem has made entrepreneurs bullish about their prospects of raising fresh capital — particularly from foreign investors — according to a survey conducted by TechCircle.
More than 60% of the startup founders interviewed across segments such as fintech, food-tech and ed-tech said they expected global investors — both venture capital firms and strategics — to show the most interest in backing their ventures in 2019.
After a two-year lull, funding into Indian startups surged to a new high last year, with more than 750 deals being sealed with a total deal value of over $6 billion, according to VCCEdge, the data research platform of News Corp VCCircle.
Foreign institutional investors led the charge, with the likes of Japanese investment giant SoftBank and Chinese VC firms pouring large sums into Indian startups. SoftBank led a $1-billion investment in budget hotel chain OYO last September to go with its other big-ticket bets on startups such as PolicyBazaar.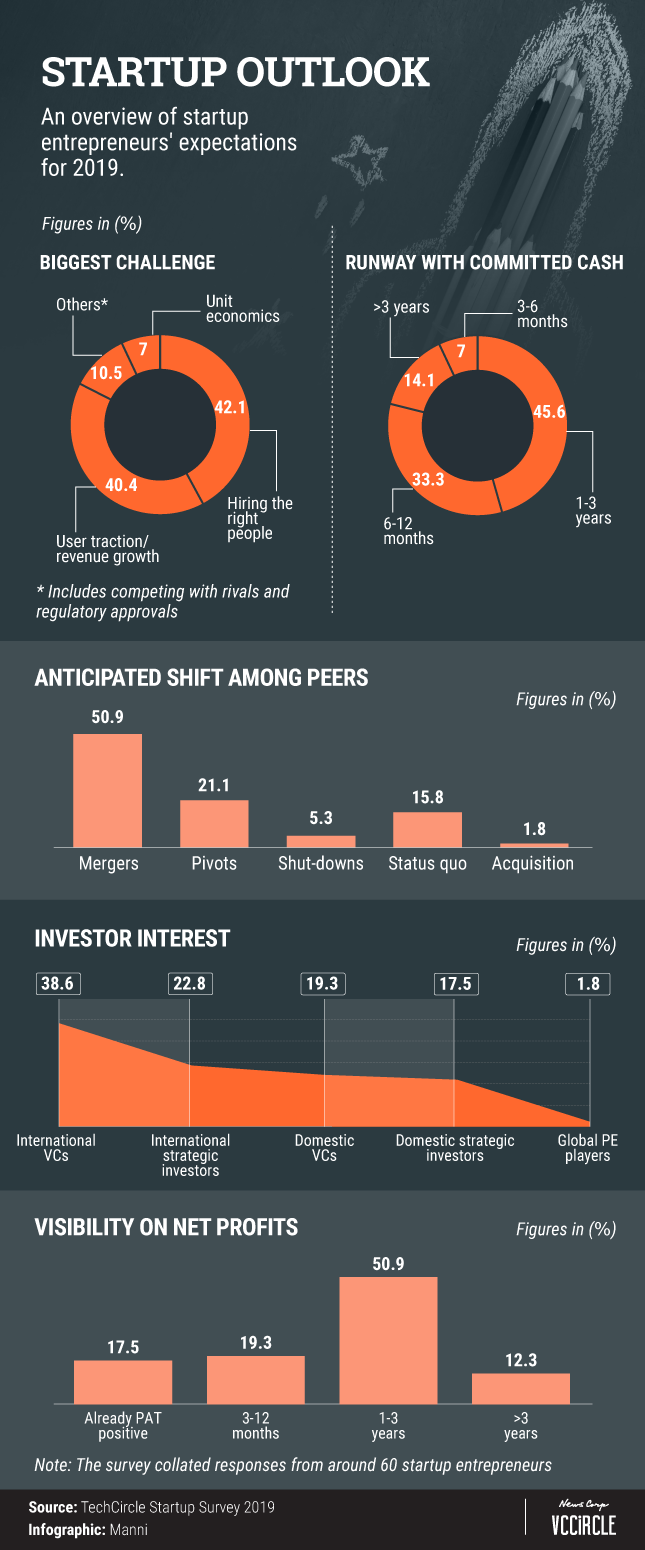 Nearly 40% of the respondents saw the main interest coming from international VCs while close to a quarter spotted growing interest from global strategic investors. Domestic VCs lagged behind at less than 20%.
In many ways, strategic investors were the flavour of 2018. South African conglomerate Naspers led a $1 billion investment in food-tech unicorn Swiggy just days after leading ed-tech startup Byju's $540 million funding round.
Likewise, Chinese e-commerce giant Alibaba's payments affiliate Ant Financial pumped more than $400 million into Swiggy's rival Zomato in two separate transactions last year.
Nearly half of the startup founders surveyed expected their next funding round to close in the next six months, while 85% anticipated getting fresh capital within the next year. The vast majority saw new investors leading their next round.
And amid fears that lofty valuations could create a bubble, only 21% of the entrepreneurs interviewed said that valuations in their segment were inflated.
Challenges and consolidation
But while fundraising was not a concern, hiring the right talent remained the biggest challenge for startup founders. This echoed a trend that was captured in last year's TechCircle survey as well.
Nearly as many respondents (40%) said that user traction and revenue growth would be major challenges in the year ahead while a far small number were worried about unit economics, taking on the competition and the regularly environment.
In another trend reminiscent of last year's survey, nearly 80% of the entrepreneurs said they expected their peers to either merge, pivot or shut down this year.
In fact, more than half the respondents concurred that mergers would be the most anticipated shift among their peers.
Several segments have been showing signs of consolidation. For instance, e-commerce has emerged as a two-horse race between Flipkart and Amazon while the same goes for Uber and Ola in ride-hailing. OYO is way ahead of rivals in the budget hotels space, BigBasket leads in online groceries while food delivery has four well-funded players—Swiggy, Zomato, Foodpanda and Uber Eats.
Among other trends captured by the survey, a third of entrepreneurs say that they have already achieved operational profitability while a slightly higher number expect to be EBITDA-positive between one and three years from now. EBITDA stands for earnings before interest, tax, depreciation and amortisation.
Also, with venture debt offering the promise of giving companies a longer runway to grow, 40% of the respondents said they would turn to providers such as InnoVen Capital, Alteria Capital and Trifecta Capital in the year ahead.
---