Earlier this month, Rebel Foods, the internet-first restaurant platform best known for its wraps and rolls brand Faasos, secured about $15 million from existing investors including Sequoia Capital India as part of an ongoing fundraise. The Mumbai-based company hopes to raise up to $100 million by the time its closes the Series D round.
But, will $100 million be enough?
The cloud kitchen gold rush
In the last 12-18 months, the cloud kitchens business, up until now the preserve of a handful of internet-first restaurant players such as Rebel Foods, have become the new growth frontier for India's biggest and most-heavily funded food ordering and delivery players. Today, a number of such players are pumping in millions of dollars to muscle their way into the cloud kitchens business with varying strategies.
Here's a quick look at some of the recent moves that such players have made:
# Bengaluru-based food delivery platform Swiggy got off the mark with its cloud kitchens programme 'Swiggy Access' as early as November 2017. The company's strategy is to offer partner restaurants a supply-only kitchen facility for faster delivery. It currently houses 30 partner restaurants with 35 kitchens across four cities. Flush with capital from a recent $1 billion funding round, it plans to scale the business to 300 restaurants in the next 6-9 months and create a presence in up to 10 cities and further expand to 30-40 cities by 2020. It charges a higher commission for restaurants under its Access programme.
# Zomato, the Gurugram-based restaurant discovery and food delivery platform, is taking a different approach. In June last year, it invested in a third-party cloud kitchen company Loyal Hospitality, which provides ready-to-occupy kitchens to restaurants. The company is currently in the market to raise up to $1 billion. In 2018, it raised over $400 million from investors led by Alibaba's payments affiliate.
# Uber Eats, San Francisco-based ride-hailing giant Uber's food delivery arm, has partnered with retail coffee chain Cafe Coffee Day to launch its first virtual restaurant. Uber counts Japanese internet and media conglomerate SoftBank among its investors.
# Ola, the Bengaluru-based ride-hailing unicorn that competes with Uber, is driving its cloud kitchens strategy through Foodpanda, which it acquired in late-2017. Foodpanda is leveraging Ola's user base to grow its private label brands such as The Great Khichdi Experiment, Lovemade and FLRT. Ola also counts SoftBank among its investors.
# The most recent entrant to the cloud kitchens segment is budget hospitality chain OYO. The Gurugram-based company recently forayed into the online food business with the launch of a couple of private labels on existing food delivery platforms. The SoftBank-backed firm is reportedly in talks to buy cloud kitchen and food delivery platform FreshMenu.
Given these developments, there isn't any doubt that the cloud kitchens business is in line for some significant disruption. But this also brings into question the future viability of standalone internet-first restaurant chains such as Rebel Foods that have built their value proposition around cloud kitchens.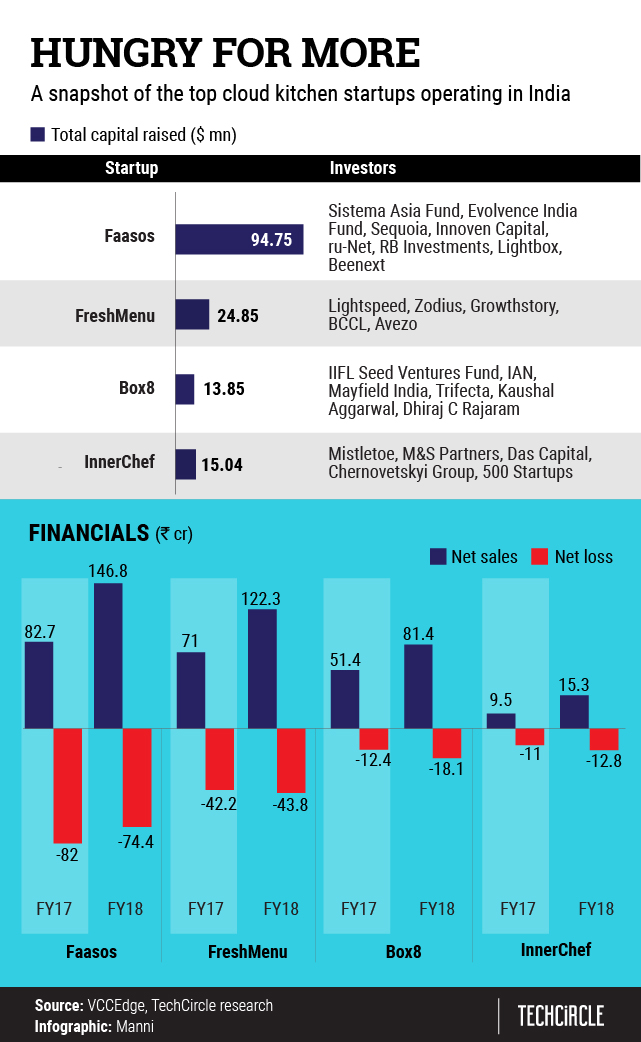 Can Rebel Foods survive with its multi-brand strategy?
Rebel Foods gained a head start as it pivoted from being a quick service restaurant (QSR) chain to a pure-play cloud kitchen model comparatively early on. The company has since built 10 brands each serving different target segments -- Behrouz Biryani, Faasos, Oven Story Pizza, Mandarin Oaks, Firangi Bake, Sweet Truth, Kettle & Keg, Lunch Box, The Good Bowl and Navarasam. It is looking at creating at least 15 large categories in five years.
According to co-founder and chief executive Jaydeep Barman, Behrouz Biryani and Faasos -- Rebel Food's first product that specialises on wraps and rolls -- are Rs 150 crore brands on their own today.
Currently, the company runs 1,455 restaurants in over 200 kitchens across 15 cities. It considers each brand a restaurant, and each of its kitchens houses multiple restaurants or brands (up to 10).
Rebel Foods aims to create 10,000 such virtual restaurants in about 1,000 kitchens in the next five years. Barman said the company will also launch its first overseas operations in Dubai this month and will expand to Indonesia by the end of next quarter before spreading its wings to other Southeast Asian markets by the end of the year.
"Multi-brand has two tremendous advantages," Barman told TechCircle. "Firstly, it caters to different customer missions and hence can garner a larger share of the wallet across different days of the week, different seasons, different occasions etc. Secondly, it creates tremendous operating leverage at a per kitchen level with many levels of growth from a single unit. Hence, this is the most powerful model in cloud kitchen."
Rebel Foods does about 1.25 million orders a month currently and expects to close this year with revenues of $50 million. Barman said the company has an ambitious target of hitting $120 million for next year and $500 million in five years from India alone. Its net sales stood at less than $25 million in the financial year 2017-18.
"The beauty of the concept is that you can start five or seven restaurants in a single kitchen at the cost of one. In the customer's mind, each brand is a different restaurant," said Revant Bhate, partner at VC firm Kalaari Capital's seed fund Kstart.
He added that the economics are better with multiple brands because startups can generate additional demand from the same supply mechanism and keep their average order value at a certain profitable threshold.
Rebel Foods' rivals Innerchef and Box8 have also embraced the multi-brand idea while FreshMenu continues to operate as a single-brand cloud kitchen.
InnerChef, which recently raised around $6.5 million led by Japanese venture capital firm-cum-accelerator Mistletoe, offers do-it-yourself food kits — ready-to-eat meals and ready-to-cook meals and desserts. It also operates Indulge, a hyperlocal desserts marketplace where home bakers and neighbourhood bakeries can offer their products to customers.
A related offering, Indulge+, focuses on healthy eats. Besides, the company has also launched two food brands named Healthie.in and Yum Yum South.
Box8 launched its pizza brand Mojo, which is sold under a separate brand with a dedicated website and mobile app.
"Single-brand cloud kitchen model is unlikely to work in the long run," said an industry expert who did not wish to be named. "Food is anti-habits, unlike pro-habits like taxi-hailing. Therefore, the biggest threat that single-brand cloud kitchens face is food fatigue.To eliminate that, they will have to introduce new menu every day and that increases wastage and unpredictability, stops them from settling down on a supply chain, and can topple their inventory management; it's a vicious cycle."
"Multi-brand cloud kitchens can grow perpetually because they have the flexibility to change and innovate. If they find people are eating less biryanis and more salads, they could create a salads brand," he added.
Standardisation holds the key
The biggest challenge for food chains is ensuring their dishes taste the same across its outlets. Standardisation of taste is essential in creating brands and the fundamental requirement here is effective backend infrastructure to deliver ingredients across outlets or innovate around food products to ensure longer life span for the product.
"We focus massively on de-skilling, supply chain innovation and standardisation, raw ingredients, rigorous SOP-driven (standard operating procedures) training, custom equipment and automation to ensure our brands have standard tastes across our outlets," Barman said.
Bengaluru-based QSR chain Petoo assessed early on that the biggest challenge for scaling cloud kitchens was the unavailability of effective backend logistics infrastructure. The company spent a few years on research and development to innovate solutions to keep food last longer without the need of preservatives or refrigeration. Petoo pivoted to an offline QSR from being an on-demand internet restaurant.
"Typical model of cooking in one place and supplying to different outlets is not scalable in the Indian cuisine space because of which we do not have big Indian brands. You need an effective cold-chain network to supply food across your outlets from a central kitchen. It's just not possible to ensure that when your network is spread to tier II cities and regional places," Kumar Setu, co-founder of Petoo, said.
Echoing Setu's views, Sonal Minhas, co-founder of now-defunct internet restaurant Twigly, said the basic survival of cloud kitchen startups lies in their ability to invest in equipment and technology to ensure standardisation. Twigly had ventured into multi-brand strategy before closing down. It launched a pizza sub-brand called Pie.
"The model that will scale in the cloud kitchen business is the Domino's or McDonald's model wherein food is prepared in mass production bases and is assembled at the kitchens. It ensures consistency in terms of the quality of food. If the food tastes differently every day, the brand will fail," said Kstart's Bhate.
For his part, Barman is confident about his ambitious targets. He strongly believes in his multi-brand strategy and is not worried about the growing competition.
"Can the arrival of biggies cannibalise the business of standalone cloud kitchens? No. Retailers across industry, both offline and online, have built private labels but we do not see those destroying brand owners. We also don't see them building category leading brands. Actually, these initiatives only expand the markets which is good for everyone," he said.
---