Mindtree's Natarajan on opposing L&T's bid and how the IT services market is changing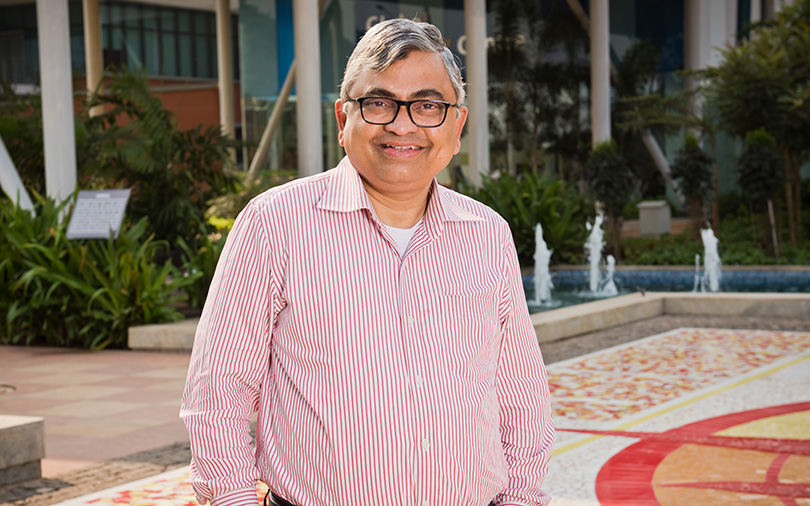 Last week, Mumbai-based engineering giant Larsen & Toubro Ltd (L&T) made a hostile bid to acquire Bengaluru-based software services company Mindtree Ltd for as much as $1.6 billion. It has already bought a 20.32% stake from Coffee Day Enterprises founder VG Siddhartha. In addition, it has made an open offer to buy up to 31% from public shareholders and is looking to purchase another 15% from the secondary market.
However, L&T's overtures have not been met with enthusiasm by Mindtree's founders, who own a 13.33% stake in the company. At a press conference last week in Bengaluru, presided over by executive chairman Krishnakumar Natarajan, non-executive director Subroto Bagchi and chief executive Rostow Ravanan, the founders termed the hostile bid "value destructive for all the stakeholders".
In an interview with TechCircle, Krishnakumar spoke about how the company and its leadership is dealing with the challenge. Edited excerpts:

Why has L&T's bid taken you by surprise? Didn't Siddhartha signal his intention to sell his stake a while ago?
A large stakeholder wanting to divest has the right to do that. In early December, he (Siddhartha) told us about it. He also appointed a merchant banker, Kotak Mahindra, to do that job. We were supportive of that and wherever there were interested investors we would meet them.
We were not aware that there were discussions going on with L&T. We did think that we will find a common ground. But for whatever reasons, maybe because of pressure from debtors or lenders, it [the stake sale] happened in a hurry.

In the past, Mindtree has been open to private equity investors buying into the company. Is it just L&T or are you generally opposed to strategic buyers?
No, you are completely wrong. This is because you miss the basic fundamental that this is an organisation built with a certain ethos. For instance, in Tech Mahindra, there are some basic values and systems that Anand Mahindra envisages and that is what goes through the operating companies. In HCL, what Shiv Nadar decides as the vision and values is translated across all HCL group companies. In Wipro, Azim Premji gives the vision.
So, conglomerates behave in a way where the corporate entity decides on the values, vision on how they will do business and operating companies will follow that. To that extent, you are trying to build something for 20 years in a very different way and suddenly find yourself being force fitted into something.

The fact is that the founders always thought Mindtree needs to be created as a perpetual asset which needs to live beyond the founders. Again, I will correct you that it is not that we went seeking private equity investors. The seller (VG Siddhartha) brought some private equity investors to us and we met with them. They are not untouchables!
What steps is the board taking to deal with L&T's bid? Are you in talks with private equity investors?
It is something the board is actively engaged in, but it will be difficult to share in detail what we are doing.

For now, it is back to business and we are focussing on customers and employees and ensuring that we don't miss a beat in our business. Obviously, we need to see how the new stakeholder coming in will pan out. Finally, it is the shareholders' decision.
Several media reports suggest that you are indeed in talks with other prospective buyers...
That is a part of our outreach. Generally, what we believe is, I think we have done a lot of investments in the last few years to get to a position of leadership, so the ground has been tilled well, it has been made fertile, plants have been put which are coming up well. So our stakeholders will gain the maximum for the next two to three years if none of the current things are disturbed. It (the L&T bid) is like a wind coming and blowing away during fruit formation time, it will hamper and bring down productivity. You know the mango production has dropped by 30% due to certain environmental conditions!

An organisation is very much like a human or a living organism. If you disturb the parameters, the output will also reduce. That is the fundamental thing. Humans, plants and organisations are not different. All of us have a fundamental way in which we gave an input-output ratio.
But, isn't consolidation inevitable in the IT services business, especially for Tier II players in a market that's dominated by five-six large players?
The fundamental premise of saying size as a differentiator in the IT services business at this point in time is a flawed assumption. If you look at the growth rates of all the big companies which you mentioned, except for Accenture and TCS, almost all of them are going through ups and downs in terms of growth.

I think the market has changed. The client is demanding expertise, partnership, innovation and a proactive attitude. Companies of a smaller size, who have invested in building capabilities in new areas, are able to cater to those demands better. Which is why over the years, or at least the past few years, companies which are smaller and nimbler have been able to make greater strides because the market is changing dramatically.
The size of a company was important when it was engaged in providing static services such as application management and maintenance. These services don't change over five or 10 years. But today the nature of services is dynamic. A client wants a lot of services to be completed in a shorter time span, deliver it closer to where he is located. Some of the premises of the business have moved and size is not a differentiator. It is the ability of the organisation to be deeply invested in new emerging areas, really have a focus on customer backwards approach.
Why do you think the L&T bid will disturb the equilibrium of Mindtree?
We have done a lot of investments in the last few years to get to a position of leadership. Our stakeholders will gain the maximum for the next two to three years if none of the current things are disturbed. It [the L&T bid] brings down productivity.
L&T has said that this is an investment and that they will keep it separate. But in every conglomerate, there is a certain basic ethos. We have grown in a different ethos and a value system. How is that going to align with the new ethos, new values? That has to be understood and sorted out.
As you said earlier, Mindtree will eventually outlive its founders. What kind of leadership then do you see running the company at that juncture?
When I said we wanted to build Mindtree as a perpetual asset, that is the intention. It has to live beyond us and that's important. A lot of times, people without knowing our history tend to say that this is another case of musical chairs like Infosys. What people don't understand is that when I became the CEO in 2007, Subroto (Bagchi) did not want to become the CEO.
There were several founders older than Rostow (Ravanan) but the board chose him for his capabilities and what he could bring to the table. It was not because he was a founder. The board had looked external candidates as well.
If the L&T bid does go through, will you continue to lead Mindtree along with the other founders?
That's a theoretical question. Right now, we are not even into the process. The offer document will be made public today. Then it needs to go to SEBI, which will take two weeks or so and then there are some processes involved. The open offer might start sometime around the third week of May and close by the end of May.
Let's see the outcome of the process because the most important stakeholders in this process are public shareholders. We should just sort of leave it to them to decide what's really best for the company.
In hindsight, do you think the founders should have retained more control of the company?
Yes, you might say giving away 17% of equity when we started maybe was too large and nobody gives that sort of equity to employees. We don't believe that. We did something we believed in and don't regret that. We are proud of the number of rupee millionaires we made.
Is there anything else that you would have liked to do differently?
There are a number of things I would want to change. As an organisation, there are many errors. In fact, both Subroto and I give talks to entrepreneurs on some of these errors.
The key thing is how we see it as a learning approach. There are multiple things that we could have done better. There could be operational elements and strategic elements that we did wrong. Maybe our decision to launch manufacturing during that time or any other time was not necessarily a good decision.
---