The third week of May saw muted funding activity, with the total investment value falling by almost a third from a week earlier.
Nearly $256 million was invested across nine deals in sectors that include online grocery, logistics, vernacular content and agritech.
This is in stark contrast to the earlier week, when more than a dozen startups raised nearly $800 million across sectors: Grocery, insurance, health and fitness, fintech, mobility and hyperlocal services, among others.
Even on the consolidation front, there was just one development this week in comparison with the three announced in the previous week.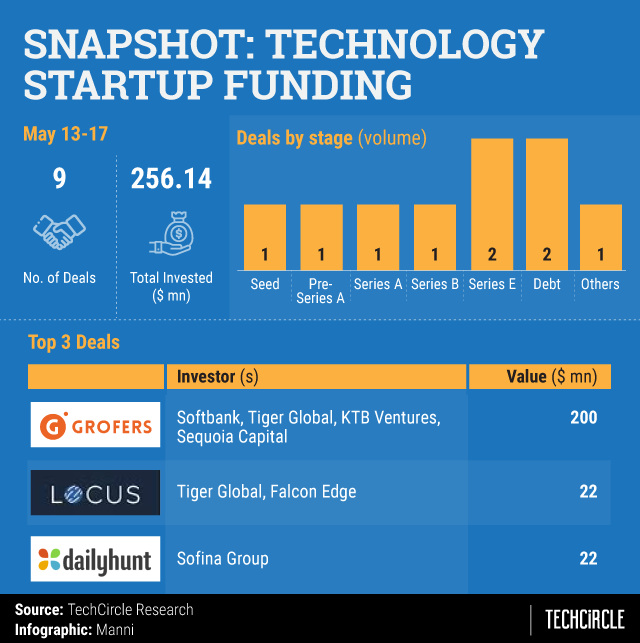 Grofers bags $200 mn in SoftBank-led deal
Online grocer Grofers India Pvt. Ltd raised more than $200 million in a funding round led by previous backer SoftBank. This single investment deal accounted for 80% of the total fund flow into startups this week.
The round saw other previous backers Tiger Global Management and Sequoia Capital. Korea-based investment firm KTB Ventures came in as a new investor. The new round takes the total funding raised by Grofers to around $430 million.
Grofers will use the latest round of funding to build out its supply chain and expand into three new cities.
The new round comes more than a year after Grofers had raised Rs 400 crore (around $62 million) in a Series E round led by SoftBank, and joined by other previous investors Tiger Global and Apoletto Managers, which is a fund backed by Russian billionaire Yuri Milner.
The new round of funding also heats up the competition in the online grocery space, where Bigbasket raised funding recently and Walmart and Amazon are ramping up their operations.
Tiger Global, Falcon back logistics manager Locus
Mara Labs Inc., a Delaware- and Bengaluru-based startup that provides logistics management solutions under the brand Locus, raised nearly $22 million in its Series B round.
The round was led by Tiger Global and New York-headquartered Falcon Edge and joined by previous backers Exfinity Venture Partners and Blume Ventures. Of late, there's rarely a month that goes by without an investment from Tiger Global, which seems to be loving the business-to-business space.
The funds will be utilised to penetrate deeper into its new markets North America and Southeast Asia, which it entered last year. The money will also be used for enhancing geography-based products and solutions, apart from expanding local teams.
While the deal is significant in size, it is markedly less than what competitors like Delhivery, BlackBuck and Rivigo have raised in recent times.
Belgium's Sofina invests $22 mn in Dailyhunt
Local language content and news aggregator Dailyhunt raised $22 million in a fresh round of funding from Sofina SA, a Belgium-based holding company that invests, directly and indirectly, in firms from various sectors.
Dailyhunt, owned by Bengaluru-based Versé Innovation Pvt. Ltd, raised this sum last month at a post-money valuation of $534 million. The fresh infusion is likely to be a part of its larger Series-E round.
The development comes two months after TechCircle had reported that Dailyhunt is raising $173 million in a fresh round of funding from New York-based investment bank Goldman Sachs' hedge fund.
Media reports have also suggested that Dailyhunt is in talks to raise $150 million from SoftBank.
StoreKing, LeadSquared
Bengaluru-based e-commerce enabler StoreKing, which helps small town retailers offer digital services, has raised $3 million from British Virgin Islands-based investor Silver Cap Ltd.
Founded in 2012 by Sridhar Gundaiah and Govardhan Krishnappa, the seven-year-old company offers retail store owners in small towns an array of over 40 digital services including e-commerce shopping, payments, logistics, insurance, lending and travel services.
A recent CNBC TV18 report said that Walmart is in talks to acquire the e-commerce enabler.
Interestingly, in 2016 StoreKing struck a partnership with Amazon as part of Project Udaan, the Seattle-based e-commerce major's assisted shopping project aimed at serving Indian consumers in the hinterland.
Bengaluru-based sales execution and automation platform LeadSquared secured $3 million in a Series A funding round led by private equity firm Stakeboat Capital, launched by Chennai-based serial healthcare entrepreneur GSK Velu.
Jyoti Bansal, a previous investor in LeadSquared and founder of IT firms AppDynamics and Harness.io, has participated in this round. LeadSquared plans to use the fresh funding to expand its operations and customer acquisition initiatives in the US, Southeast Asia and the Middle East.
LeadSquared is an artificial intelligence-powered sales execution, customer-relationship management and marketing platform. , Owned by MarketXpander Services Pvt. Ltd, LeadSquared was co-founded in 2012 by Patel, Sudhakar Gorti, Prashant Singh, Sukhbir Kalsi and Anand Kumar, and launched in 2013.
Other deals
Consolidation
The lone consolidation deal of the week took place in the gaming sector.
New York-based games developer Rockstar Games, maker of GTA, agreed to acquire Dhruva Infotech Pvt. Ltd's Indian game developer and game art production studio Dhruva Interactive from Swedish games developer Starbreeze AB.
---