Meet the Amazon-backed startup hitting the right notes with its payment solutions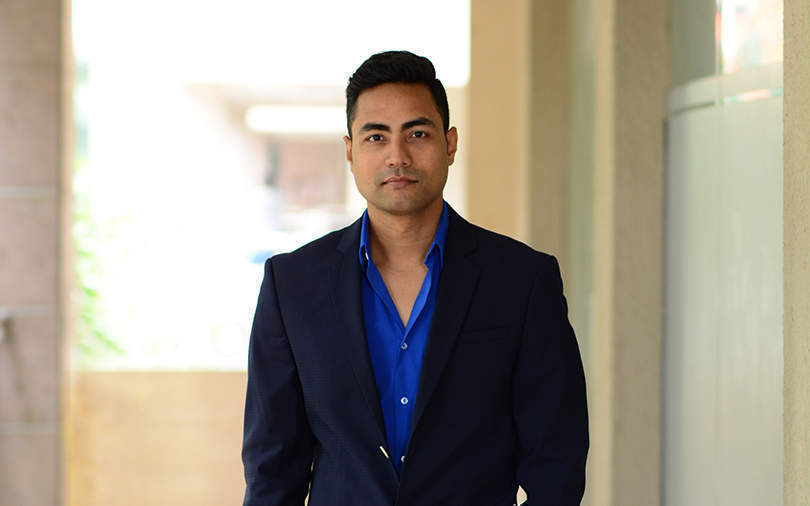 If ToneTag has its way, you may soon be able to walk out of a restaurant or alight a bus without anyone actually seeing you pay for those services.
Kumar Abhishek, ToneTag's co-founder and chief executive officer, told TechCircle that it's all about gathering ambient sound energy and creating what the company terms as a 'sound zone', where the transaction between two parties takes place with the help of a mobile phone as a payment form factor.
"The information related to the merchant ID is circulated in the open space by harvesting the sound energy, thus creating a sound zone," said Abhishek. "The moment you enter, your phone captures the sound ID, which it maps with your card data and to the bank."

Sounds complicated? You're right. As you can imagine, ToneTag is heavy on intellectual property (IP), with 16 patents in its kitty. In fact, around 40% of its outlay is set aside for research and development (R&D).
The Bengaluru-based startup, which counts Amazon and Mastercard among its investors, evaluated various protocols such as NFC (near-field communication), RFID (radio-frequency identification) and magnetic waves for its products. However, it eventually zeroed in on light and sound before focusing on the latter.
"Light needs more time and effort. Scientifically, even QR code scanning is light-based," said Abhishek. "With sound, we realised we could build a product that could work on both smart and feature phones. However, the biggest challenge was to make the existing infrastructure smart with sound waves and that's where a lot of our patents are focused."

The aforementioned sound zones are still some time away. In its current avatar, ToneTag is essentially a mobile payments platform that uses a combination of sound (tone) and NFC tags, thereby enabling any mobile device to make payments without Internet. It integrates its proprietary software development kit at both merchant (mobile, point-of-sale) and customer interaction points (m-wallet, m-banking apps).
The company's ToneTag Retail Pod for retailers is a device that looks like a round portable Bluetooth speaker. Customers merely have to tap their phones on the device, which then emits a sound wave carrying data that is received by the mobile phone. Once this happens, the payment is complete.
Story so far

Founded by Abhishek and Vivek Kumar Singh (finance and product chief), ToneTag commenced commercial operations three years ago.
For ToneTag, Abhishek drew on his experience at Finacle, IT services giant Infosys' core banking product.
"If a mobile phone is going to be the mode of financial services delivery, the experience around it has to be very different so that the consumer sees a compelling reason to move away from card and cash. Secondly, the solution has to work on every phone," said Abhishek, who has also worked with IBM and Mindtree in the past.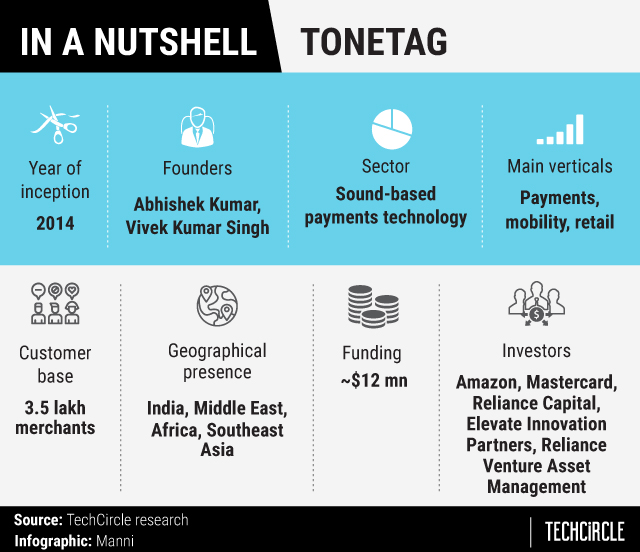 It was slow-going early on as the founders spent a lot of their time just explaining the product to customers. But things started to pick up in 2017.
Among ToneTag's value propositions is that its product is 80 times cheaper than setting up infrastructure for a point-of-sale (PoS) machine. It also foresees mobile phones becoming the medium for most payments and is banking on the fact that the number of feature phone users in India is thrice as many as the number of smartphone users. That's why ToneTag's solutions are being designed to work on both mediums.

Any digital payment provider can potentially tie up with ToneTag and reach out to feature phone users to expand their reach.
"We currently have 3.5 lakh merchants on our platform. We hope to touch 5 lakh merchants within the next couple of quarters going by the deals we have inked recently," Abhishek added.
According to Abhishek, all the action lies in offline payments as cash is still a dominant force.

"Even after installing three million QR codes across the country, payments companies are yet to see traction on that front. This is the market on which we are training our guns," said Abhishek.
Overseas clients (60%) dominate ToneTag's roster, with the Middle East, Africa and Southeast Asia accounting for a large chunk. Essentially a business-to-business (B2B) company, its 75-member team works with around two dozen large brands which roll out ToneTag's product to their respective merchant and customer networks.
While payments were a perfect use case for ToneTag's technology, it also sees potential in contactless cash withdrawals from ATMs, among other uses. Retail and mobility (payments on the go) are the other core focus areas for which ToneTag is currently developing solutions for commercial rollout.
"Our stack has become a huge ecosystem platform. Some of the clients even view the company as an IoT [Internet of Things] platform," said Abhishek.
For example, a Taiwanese company has been using ToneTag's solution to configure and authenticate passwords for all WiFi devices as well as authentication at its factory.
Game plan
In all, ToneTag has raised close to $12 million (Rs 84 crore) till date, with its most recent fundraise taking place last May. Apart from Amazon and Mastercard, its investor pool also comprises Reliance Venture Asset Management Aditya Birla Group and 3one4 Capital.
While he did not disclose specific numbers, Abhishek said that ToneTag was profitable in terms of unit economics.
"Being largely a B2B software company, we don't even have the need to spend a lot on marketing and branding,' he said.
Going forward, ToneTag will launch its sound zone-based solutions abroad before bringing them to India. However, it will conduct experiments here in the interim.
"We are moving towards an era where the entire experience around commerce is going to get redefined," Abhishek added.
In India, where it has attracted the likes of ICICI Bank, ToneTag's focus is to expand the growth of its retail pod vertical.
While Abhishek claimed that ToneTag does not have any direct competitors, technology giants including Google, Alipay and its investor Amazon are at various stages of developing sound-based payment products.
"Is this just a trend or is it an evolution? One can question the evolution, but there's no denying it. If not us, someone else is definitely going to do it," Abhishek said.
---