Jeff Bezos-led Amazon and Chinese company Alibaba are best suited to take advantage in the semiconductor space when it comes to 'pick and go commerce', otherwise known as ambient commerce, data and analytics firm GlobalData has said.
Ambient commerce describes a new form of shopping which makes use of sensors coupled with AI to help customers select and pay for their goods without the need for keyboards or cash registers. The best example is Amazon's Go stores, which are also leaders in the space, besides Alibaba's Hema stores that offer new retail services under which customers use smartphone apps in combination with QR Codes to shop and go, the firm said.
"Ambient commerce is important for the semiconductor sector, which makes sensors and microprocessors. Sensors and cameras can be deployed across stores and warehouses to assist retailers in their drive towards a single view of store inventory," Cyrus Mewawalla, GlobalData head of thematic research, said.
"Many big-name retailers have been left behind in the e-commerce boom, but ambient computing offers physical retailers a way onto the technology ladder. With a well-thought-out plan, many of them can enable a totally different and infinitely richer experience for individuals, families and other groups in connected, smart stores and malls," Mewawalla explained.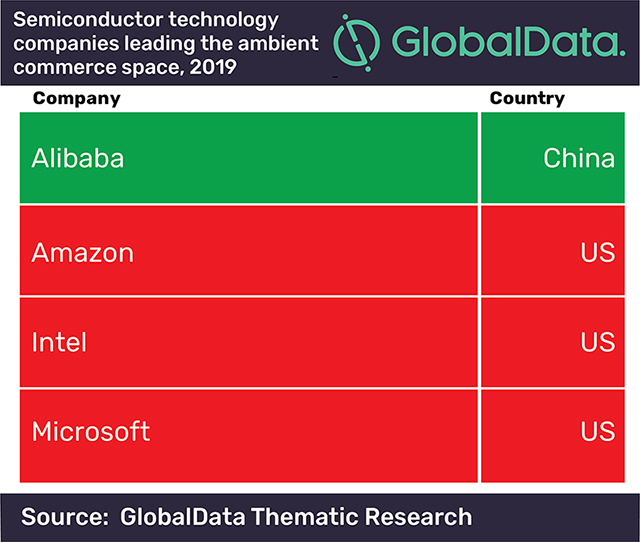 He added that retailers like Amazon and Walmart will increasingly use IoT to increase sales both online and offline.
"In 2019, the leaders in ambient commerce will typically embed ambient computing and vast arrays of sensors in their stores linked to analytical and machine learning algorithms," he said, adding that companies which have the most up-to-date datasets about human shopping behaviour in general will taste success.
The company also said Intel and Microsoft are the other two companies which will take advantage of the growing ambient commerce space.
However, the firm warned that these kind of stores require significant investment and hence imminent rollout at scale could be some time away.
According to the firm, ambient commerce is one of the top ten themes that will impact the semiconductor sector, alongside data centres, high-performance computing, artificial intelligence (AI), autonomous vehicles, industrial internet, gaming, 5G, and geopolitics.
---