HR is synonymous with processes. These cut across promotions, demotions, layoffs, salary hikes, attrition and transfers, among others. The larger the organisation, the larger the scale of such process. In a data-driven world, gathering insights about the organisation's workforce is a key requirement. But as the founders of Darwinbox found out, this is easier said than done.
Chaitanya Peddi, Jayant Paleti and Rohit Chennamaneni were surprised to learn that obtaining this data was difficult even in large enterprises with fairly evolved HR practices.
At the time, Peddi and Paleti were colleagues at consulting giant EY in the roles of a consultant and an investment banker respectively. Chennamaneni was with consulting giant McKinsey,
The trio began to observe a pattern as part of the due diligence exercise associated with any merger and acquisition (M&A) deal. By nature, the process requires a lot of data to be sourced from both parties in order to conduct an audit and examine the health of the companies involved.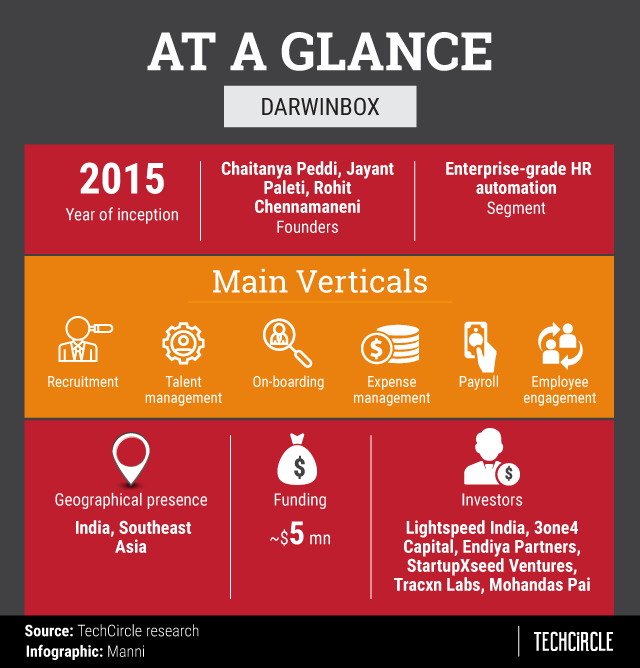 "While it was easy to obtain data related to sales, finance and CRM (customer relationship management), getting HR-related data was always a problem," said Peddi. "We dug deeper and identified the problem. Suddenly, we realised that there was an opportunity. That's when we decided to start Darwinbox in October 2015 to digitally revolutionise the HR segment."
But identifying the problem was the easy part. Addressing the challenges was another matter.
Digging deeper
Based on their findings, the founders realised that the HR-tech ecosystem at enterprises was fragmented and broken, with multiple software platforms being used for different functions. Also, when large companies acquired smaller firms, integration of platforms often emerged as a challenge.
"The enterprise HR-tech ecosystem needed a truly integrated software platform that was intuitive and inclusive at the same time," said Peddi.
Hyderabad-based Darwinbox's founders wanted certain boxes to be checked. These included automating the complete employee lifecycle and producing concrete insights while not requiring the support of IT personnel or a consultant.
"Since the data was being automated, the biggest challenge was providing valuable insights out of the box for enterprises," said Peddi.
After tapping the founders' professional network, Darwinbox managed to sell its product to a few customers even before the commercial launch.
"Making headway into the enterprise market is very difficult as most enterprises are risk-averse by nature," Peddi said. "The growth was incremental. Initially, we focused on automating very basic transactional functions like leave and attendance. Subsequently, we added a flagship module in the form of talent management and acquisition. Project management and rewards were recently added too."
The company now offers its cloud-based management platform on a software-as-a-service (SaaS) model. It automates HR processes such as recruitment, onboarding, time and attendance, expense management, payroll, employee engagement, performance management and people analytics, across the entire employee life cycle.
On paper, Darwinbox caters to organisations of every size. However, mid-to-large-sized companies with a workforce of at least 300 employees are best placed to derive maximum value from Darwinbox's offerings.
It counts nearly 200 enterprises, which have a combined headcount of 4.5 lakh, as clients. These include Arvind Ltd, Bisleri, Dr. Reddy's Laboratories, Myntra, Nivea, Swiggy, and Paytm among others.
According to Peddi, the HR-tech market is crowded but many new entrants are targeting solutions for specific problems. While the majority are addressing hiring needs, employee engagement is also a popular theme.
Peddi said there is a market opportunity of around $1 billion in India alone with regard to HR-related enterprise software for white-collar workers.
While he said that the company has no direct competition in India, the likes of Successfactors, Oracle's Fusion platform, Workday and Zenefits offer similar services overseas.
Way forward
Darwinbox's founding team had only seven members. Today, the startup's headcount stands at nearly 200, with nearly half this number belonging to the engineering vertical.
This growth has been fuelled by the $5 million (around Rs 35 crore) that Darwinbox has raised across two rounds from investment firms such as Lightspeed India Partners, Endiya Partners, 3one4 Capital Advisors and Startupxseed Ventures LLP. For Lightspeed, the bet on Darwinbox represented its first investment in India's enterprise-technology segment.
Going forward, the company plans to add more modules to its technology stack. Surveys, assessments and travel are on the agenda for now.
The company, which claims to have clocked rapid growth over the last three years, has also trained its guns on expanding to Southeast Asia. It set up shop in Singapore earlier this year.
"HR is very culture-driven and it is only natural that products in the segment are also influenced by it. Hence, we find a lot of similarities in terms of the market vagaries and use cases for HR-tech in Southeast Asia," said Peddi.
He added that Darwinbox plans to take its offerings to the US and Europe after a couple of years, subject to market conditions.
"We want to build a big company. We did get acquisition offers during the first couple of years of our operations, but our focus is not on getting acquired. This is why we are very frugal in the way we operate," Peddi said.
---