Investments in technology startups fell short of a billion-dollar mark in June even as the bull-run witnessed in May for late and growth stage funding continued.
As many as 51 startups secured $915 million (Rs 6,305.03 crore at the current rates), which is 24% lower than $1.2 billion raised from the same number of deals in May.
While growth stage funding accounted for $1.01 billion out of the $1.2 billion in May, the major chunk of funding in June was spread across growth, Series-C and Series-B stages in June, accounting for $800.91 million (Rs 5,518.87 crore). This represents nearly 87% of the total funding secured.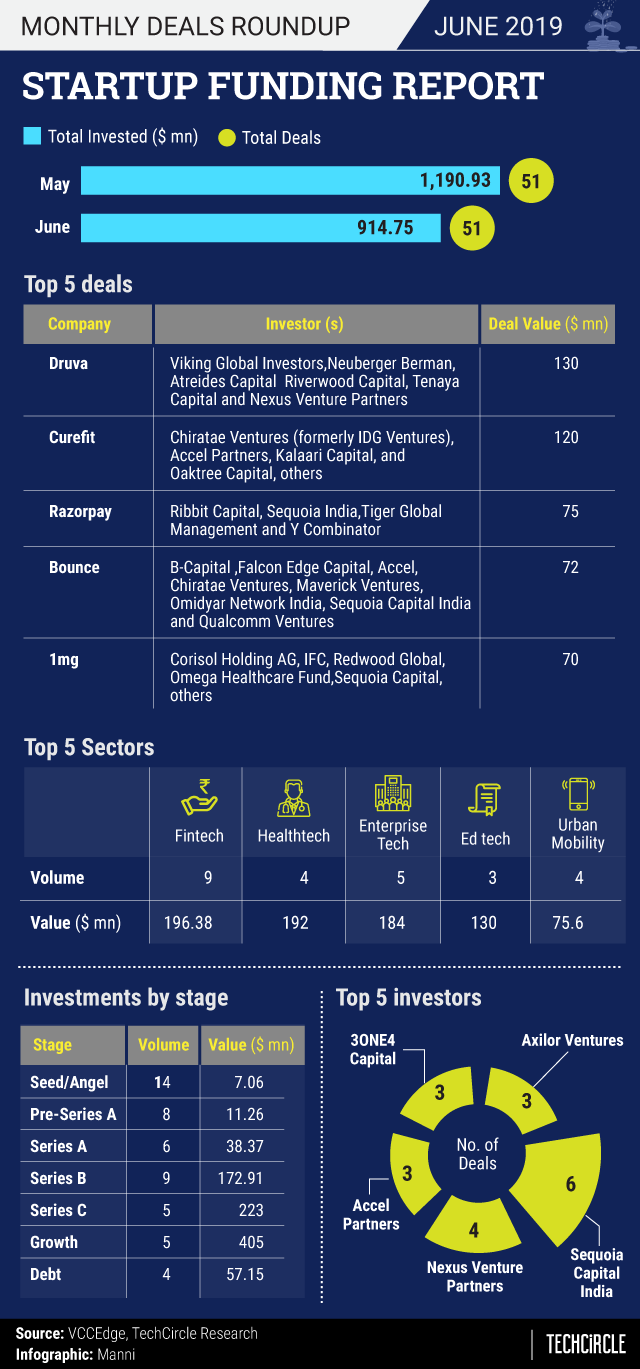 At the early stage, comprising the seed/angel, Pre-Series-A and Series A, there were 28 deals, raising $56.69 million (Rs 391 crore). Funding at the Pre-Series A and Series A, with 14 deals, brought in $49.63 million.
This perhaps is a recurring theme seen in the Indian funding landscape where funds are backing startups at seed and late stage while there is a noticeable shortage at the Series-A stage.
Growth stage funding dominates proceedings
Funding at the growth stage, which usually represents funding activity beyond the Series-C stage, continued to prop up the deal figures and numbers, a trend witnessed in May.
Five deals at this stage raised $405 million, accounting for a little over 50% of the funding secured. Health-tech, enterprise-tech and ed-tech accounted for the top deals at this stage.
US and India-based Druva Inc's $130 million (around Rs 902.5 crore) round made it the second software-as-a-service (SaaS) company to achieve the coveted unicorn status in India after Chennai-headquartered Freshworks.
Curefit and 1mg, raised $120 million and $70 million, respectively, to expand operations.
Two ed-tech startups, Unacademy and Degreed, raised $85 million collectively in equity financing. US-based Degreed, which hopes to expand India operations, also raised an additional $40 million in debt taking the total round size to $75 million.
Fin-tech continues dream run; Tiger Global makes two investments
Securing $196.38 million in nine deals, the fin-tech sector, which has been raising funding at regular intervals over the past couple of years, once again grabbed investor interest in June.
Online lending and digital payments accounted for most of the deals. Online payment gateway startup, Razorpay Software Pvt Ltd, was the pick of the deals in this space with a $75 million Series-C round co-led by Ribbit Capital and Sequoia India. Existing investors Tiger Global Management and Y Combinator also participated.
The other notable deals in the space were by online lending platforms Biz2credit and Lendingkart.
In a departure from the popular investment themes, neo-banking startup for SMEs (small & medium enterprises) Open and accounting applications provider OkCredit bagged significant sums in funding. Interestingly, Tiger Global, which is back in the hunt with a B2B focus this time, led the funding round in both the startups.
Health-tech, Enterprise-tech and ed-tech attract significant funding
While fin-tech bagged the maximum funding as a standalone sector in June, health-tech ($192 million), enterprise technology ($184 million) and ed-tech ($130 million) collectively secured $506 million among themselves.
Some of the notable deals include US- and India-based enterprise tech startup Postman' s $50 million and smart wearables maker Goqii's Series-C round raised from Indian film actor Akshay Kumar.
Bounce bags big ticket Series-C round
Bengaluru-based Bounce, a dockless scooter and bicycle-sharing platform, formally closed a $72 million (Rs 504 crore) Series-C round, months after multiple media reports which said that it was in the midst of raising $70-$80 million.
The investment was led by Facebook co-founder Eduardo Saverin's venture capital firm B Capital and New York-based hedge fund Falcon Edge Capital.
Bounce along with Vogo, another player in the urban mobility space, collectively raised around $75.6 million.
Consolidation
In terms of consolidation, around eight deals were struck across diverse sectors including digital advertising, vernacular content, blockchain, HR-tech, fin-tech, auto services and digital marketing.
Dailyhunt acquired fellow content platform LocalPlay to ramp up its hyperlocal presence and increase offering to core users in tier-2 cities and beyond.
Indonesian unicorn Go-Jek, diversifying from ride-hailing to food delivery, courier and hairdresser services, acqui-hired Bengaluru-based artificial intelligence (AI) powered recruitment platform AirCTO.
Digital insurance platform Acko Technology and Services Pvt. Ltd acqui-hired car-retailing platform VLer Technology to improve customer experience throughout the lifecycle of car purchase and usage.
---