Samsung Venture Investment, a wholly-owned subsidiary of South Korea-based Samsung Group, in collaboration with Samsung Electronics India, said today that it had made investments of $8.5 million (Rs 58 crore at current exchange rate) in four Indian startups in the last four-to-six months.
"The investments in these four startups are strategic in nature, and we will make at least 100 such investments in the next three to five years, typically of a ticket size between $1 million and $5 million," Aloknath De, chief technology officer at Samsung's R&D Institute in Bengaluru, told TechCircle.
De added that Samsung's strategy for investments in the country will be two-pronged: focus on core frontier technologies like artificial intelligence (AI), natural language processing (NLP), internet of things (IoT), virtual and augmented reality (AR/VR) and data security, and the services sector with a focus on healthtech and insuretech.
The company has no plans for an incubator or an accelerator, De said but added that they it will support the startups it was investing in by helping them with validation, tech licensing and a go- to-market strategy in local and global markets.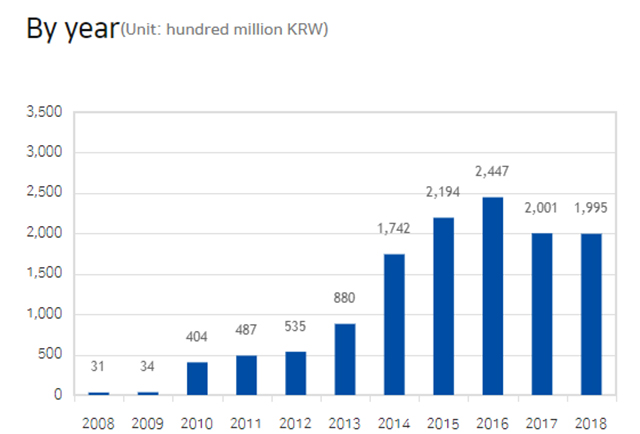 Samsung Venture Investment
The picture shows Samsung Venture Investment's funds infusion into startups over the years
He further said that there will be a commercialisation plan for the startups. "Either there will be a revenue sharing model or a licensing model, depending on the solutions or services we have jointly developed or released in the market," De said.
Samsung has invested in three startups, operating system firm Indus OS (systems app company), speech recognition firm Gnani.ai and IoT solutions provider Silvan Labs. It has also invested in a fourth startup that specialises in computer vision technology.
Speaking about Indus OS, De said Samsung will take advantage of the startup's app bazaar, which houses 400,000 apps, most of them in regional languages.
"Samsung devices have their own app store called Galaxy Store. We will fuse the app bazaar with the Galaxy Store to ensure that people get access to apps in regional languages. This is a part of Samsung's plan to offer regional language apps globally," De said.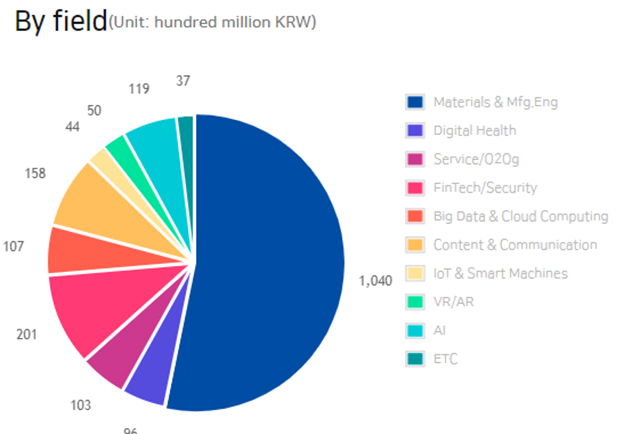 Samsung Venture Investment
The picture shows Samsung Venture Investment's portfolio division in terms of technologies
While Samsung has not disclosed investments in Indus OS, incorporated as Systems App Company, the Omidyar-based startup had raised $4 million (around Rs 26 crore) in a pre-Series B funding round in December 2017.
The company, which was first called Firstouch, had raised $5 million in January 2016 in a funding round led by Omidyar Network. It has also raised capital from investment firm VenturEast and JSW Ventures, the VC arm of JSW Group. The company was founded by IIT-Bombay alumni Rakesh Deshmukh, Akash Dongre and Sudhir Deshmukh.
Speaking about Gnani.ai, De said Samsung had made the investment to take advantage of speech recognition technologies developed by the startup to boost its own digital assistant Bixby's natural language processing abilities.
"Gnani.ai has the technology to understand close to 10 regional languages, and this will go a long way in boosting Bixby's experience in India," he said.
The investment in Silvan Labs, an IoT firm, was driven by the company's plan to use the startup solutions to boost its IoT offerings in the country, according to De. Samsung offers IoT solutions under its SmartThings brand. "Silvan, which is in the home automation B2B space and has some enterprise offerings, will strengthen our efforts to offer more IoT solutions in the country," De said.
Bengaluru-based Silvan Labs, which was founded in 2008 by former Texas Instruments employees Avinash Gautam, Giri Krishna, Mohan Gopalakrishna and Ajay Gupta, had raised Rs 4.5 crore (around $650,000) in a bridge round from equity crowdfunding platform 1Crowd and existing investor Infuse Ventures.
After bootstrapping for nearly eight years, Silvan Labs raised Rs 9.5 crore in 2016 in its first-ever round of funding from institutional investors. Infuse Ventures and The Chennai Angels had backed the company on that occasion.
Later, it raised Rs 4 crore in debt from Technology Development Board, which is part of the Indian government's department of science and technology.
The fourth investment into the unknown startup, as per De, was made to boost Bixby's computer vision abilities.
Interestingly, Samsung has another investment arm called Samsung Next that makes investments in frontier technologies like AI, IoT, Blockchain and AR and VR. De said Samsung Next was not involved in the investments at all.
He said while Samsung Next 's ticket size is small, Samsung Venture's ticket sizes are bigger.
Samsung Venture Investment, as per De, has $2.2 billion worth of assets under management.
---