More maturity needed within enterprises about AI in India: Huma Abidi, Intel Corp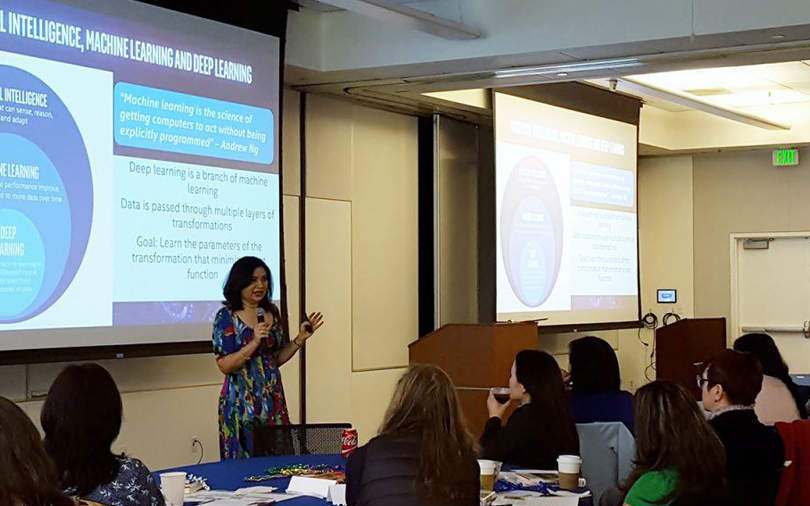 Chip maker Intel Corporation is lining up a major push for its AI (artificial intelligence) enabled chips in India buoyed by the success it has seen globally. Separately, the Santa Clara, California-based firm has also drawn up plans to leverage the country's startup ecosystem to accelerate its AI initiative here.
"India represents a unique opportunity because of the sheer size of data that is generated and can be collected, structured and analysed by businesses and government for multiple use cases," Huma Abidi, director of machine learning and deep learning, told TechCircle in an interview.
Lucknow-born Abidi, who has been with the chipmaker for over two decades, leads the firm's AI-related initiatives out of its headquarters in California. She was in the country recently to understand what kind of India-specific AI use cases Intel could cater to.

Back in California, Abidi and her team work on software optimisation for Intel's Xeon processors and ensure that the chips are able to execute AI workloads for customers. She said that the Xeon processors had generated $1 billion in revenues for AI applications in 2017, about a year after the company acquired San Diego, California-based deep learning AI startup Nervana Systems for a reported $350 million. Abidi said the company was well positioned to capitalize on more of an expanding $300 billion data-driven market opportunity that encompasses technologies such as cloud, network infrastructure, AI and 5G.
Elaborating on how her team was optimising the processors, she said that the company was producing toolkits and accelerators for different use-cases and functions.
"We have a compiler called n-graph that can work with any Intel processor or help in machine communication between a stack of different Intel processors such as FPGAs and neural network processors," she said. The company, she added, was working on a project called One API that would enable customers to install one software to run various kinds of Intel solutions.

An equally important part of the agenda of Abidi's visit was also to engage with the country's startup ecosystem.
"Indian startups are already working in areas such as machine learning, deep learning and AI. They can be leveraged to find quicker solutions for social good in the country," she said while citing the example of a Kerala-based startup that annotates data for autonomous driving for local and global customers.
Intel India has been running a startup incubation programme since 2016, dubbed Intel India Maker Lab. So far, the programme has supported more than 60 startups across sectors such as manufacturing, retail, healthcare, agriculture, banking and financial services and e-governance, across technologies such as AI, cloud and IoT (internet of things).

The programme also hosts a demo day for startups which it calls Plugin. This year, Plugin showcased 11 startups that have gone on to raise Rs 22 crore in funding from external investors. Out of the 11 startups, five claim to have generated combined revenues at Rs 24 crore. These include computer vision startups such as Kaenaat, Combat Robotics and Entropik Tech, IoT startups such as Cyrupp and NOOS Technologies, and healthcare AI startups such as Uber Diagnostics and SkinCurate Research.
Apart from engaging with startups, Abidi said that the company was also looking to extend its global student ambassador programme for AI in India. The programme offers select graduate and PhD students an opportunity to research in the area.
While Intel is bullish about its AI agenda for India, Abidi also conceded that there are challenges. "There needs to be more maturity about AI in the country. Enterprises need to understand how they can leverage it properly and CEOs should get a basic understanding of the technology," she said, adding that another issue was the way data is being collected in the country leading to unstructured datasets.

---