In a big boost for third-party sellers, online marketplace Amazon India will now give a 30-day notice before terminating agreements, effective August as against the earlier practice of blocking any seller without notice. The move was confirmed by the All India Online Vendors Association (AIOVA).
Previously, the third-party sellers would have to appeal to Amazon to get their accounts unblocked, along with a clear plan to address any issues flagged by the company.
The time period to end agreement will be shortened by Amazon to seven days for sellers found breaching contract terms.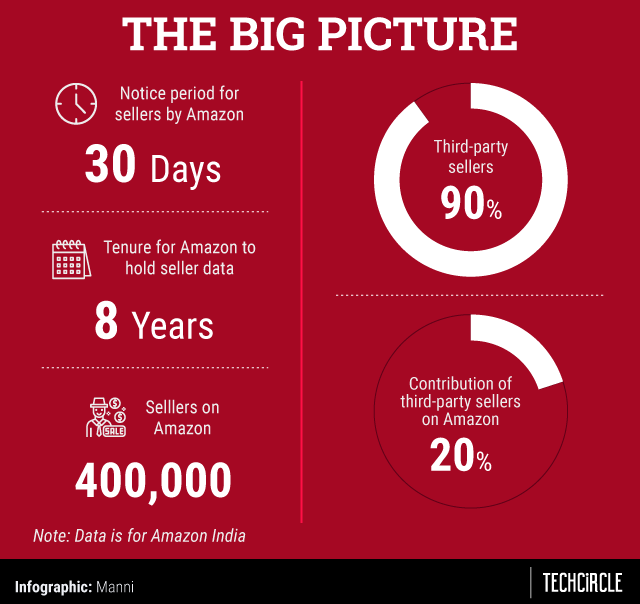 The development comes days after the company negotiated a settlement with anti-trust authorities in Germany on complaints filed by third-party sellers. The complaints flagged how Amazon Inc was competing with sellers on its platform due to multiple private label brands the retailer owns and hosts on its marketplace.
The development was first reported by the Times of India, which was confirmed by an Amazon spokesperson.
On Wednesday, the German anti-trust authority Bundeskartellmat settled months-long investigation against the US-headquartered company which agreed to a 30-day notice to sellers before termination in Germany and opening up its customer rating platform Vine to sellers.
Specific queries sent to Amazon India on the developments did not elicit a response till the time of publishing the article.
The new agreement also emphasises that Amazon India will own all confidential information till eight years after termination of a seller except for personal data of the customer.
This becomes especially relevant in the light of the current data privacy norms that are part of the draft national ecommerce policy and the personal data protection bill. It also puts the onus of protecting personal data of the customer and prevents the seller from sharing the same in a way which is inconsistent with the law.
The European Union has also initiated investigations against Amazon Inc on the ground that it undercuts its third-party sellers, using their data to decide what products to build and retail in bulk under its private labels.
In May, AIOVA had appealed to the National Company Law Appellate Tribunal (NCLAT) against the clean chit to Flipkart by Competition Commission of India on its complaint stating that the marketplace was exploiting its dominant position in India by creating favourable commission structures for certain sellers.
---