Exclusive: Norwest to sell stakes in six India portfolio companies to HarbourVest for $180-190 mn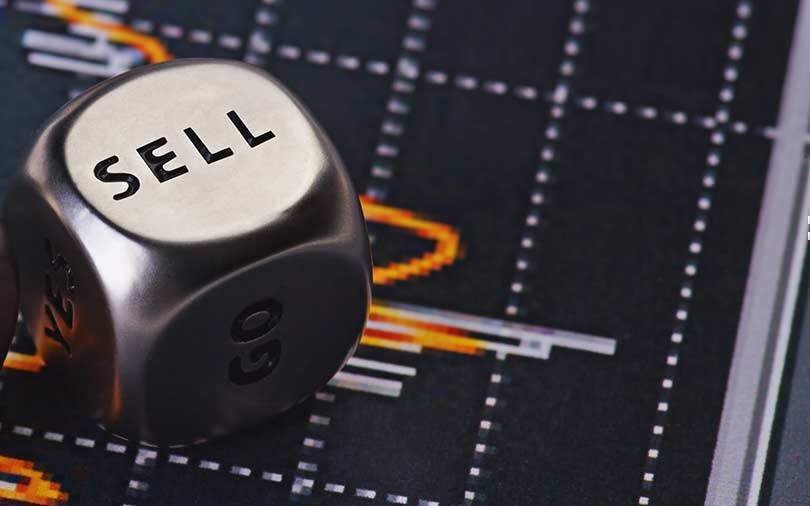 Norwest Venture Partners is selling its stakes in six enterprise technology companies from its India portfolio to Boston headquartered private equity fund-of-funds HarbourVest Partners in a secondary transaction worth $180-190 million. The deal is expected to be announced in a couple of weeks, two people privy to the development told TechCircle.
The six investments being sold are machine learning enabled IT performance management solutions provider Appnomic Systems; logistics technology startup ElasticRun; Zenoti, a cloud based business software used by spas and salons; customer relationship management systems provider CRMNext; Manthan Systems, which provides artificial intelligence (AI) powered analytics solutions for the retail and consumer packaged goods sectors; and retail sector focused software-as-a-service (SaaS) provider Capillary Technologies.
The secondary portfolio sale is expected to fetch Palo Alto, California headquartered Norwest a 3X return in dollar terms, one of the two people cited above said, requesting anonymity. "It would certainly be one of the few profitable block secondary exits in the Indian venture capital market," the person said. Norwest's total investment across the six companies could not be ascertained at the time of filing this report.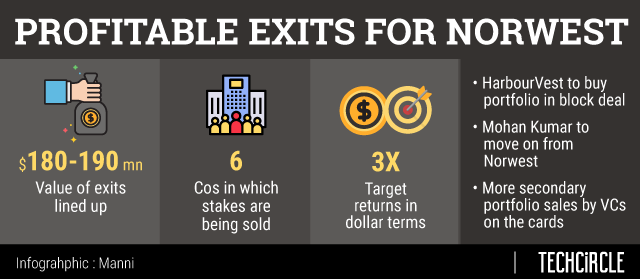 Separately, Norwest partner Mohan Kumar, who is based in Bengaluru, will be leaving the firm but will continue to manage the portfolio of investments. "The investments that are being sold will be housed in a separate entity by HarbourVest and he (Mohan Kumar) will continue to manage the portfolio," the second of the two people cited earlier said, also requesting anonymity.
While there has been speculation about Kumar moving on to start a venture capital on his own to focus on early stage enterprise technology investments, it wasn't clear whether the Norwest portfolio that is being sold would be part of those plans. Barring Appnomic Systems, all the companies that are part of the transaction were investments that Kumar led and managed at the firm.

Responding to email queries from TechCircle, Kumar said "The facts are not correct and not true." HarbourVest declined to comment.
The Norwest portfolio sale isn't the first instance of a secondary transaction of this nature in the Indian venture capital market.
In early 2014, Mumbai-based venture capital firm Lightbox acquired a part of the portfolios of Kleiner Perkins and Sherpalo Ventures, both well known venture capital firms from Silicon Valley. The following year, Canaan Partners, another Silicon Valley based firm, sold its entire portfolio of 15-odd companies to JP Morgan Asset Management in a reported $200 million transaction. In 2016, Menlo Park, California-based Draper Fisher Jurvetson (DFJ) sold its stakes in about 10 portfolio companies here to Hong Kong based secondaries specialist NewQuest Capital Partners. The same year, Sequoia Capital India reportedly sold stakes in eight portfolio companies to Madison Capital for a total consideration of $180 million.

Norwest's portfolio sale is, however, is a bit different from the ones by Kleiner Perkins, Sherpalo Ventures, Canaan and DFJ. All four put their portfolios on sale as part of an overall strategy to exit the Indian market completely. Like Sequoia, Norwest's move is driven by a need to generate liquidity from long-serving investments. The firm, said both the people cited earlier, intends to continue to invest aggressively in India across stages and sectors.
The next couple of years, the two people added, will also see several more venture capital firms who have built up sizable portfolios over the last 10-15 years, seek to push through similar block portfolio sales. Multiple media reports have said that firms such as Kalaari Capital, Nexus Venture Partners and IDG Ventures India have been in talks with secondary specialists such as NewQuest and HarbourVest to divest stakes in older portfolio companies.
Norwest started investing in this market around 2007 and has since put more than $1 billion to work across early and growth stage companies. Apart from enterprise technology startups it has also made early stage bets in consumer internet startups such as foodtech unicorn Swiggy, furniture etailer Pepperfry, online travel services company Yatra and online classifieds platform Quikr. The firm's India operations are headquartered in Mumbai and led by Niren Shah, managing director and head of NVP India.

---