Content is the new hook when it comes to cheaper data plans and cutting across language barriers. Lately, bite-sized videos have become a natural extension of offering from media and messaging apps. While DailyHunt and ShareChat are examples of well-funded apps that have taken that route, file-sharing platform SHAREit entered the space with its acquisition of South Indian film screening app FastFilmz in May 2018 for $13 million.
The entry into the crowded video content market has seen engagement spike on the app, though the monetisation strategy still needs to be thought through carefully, Karam Malhotra, chief executive of India and vice president at SHAREit, said in an interview with TechCircle.
The big focus now, Malhotra added, is on gaming for the Indian market, targeting native language users and the beginnings of a monetisation strategy.
"Our users have pivoted and so have we. Over the last three years, they have moved to better 'phones and better connections, and they are looking for a lot more," he said over a Skype call from Singapore. Malhotra was earlier the founder of FastFilmz and moved to SHAREit after the acquisition. He has since been at the helm of the company's shift towards a video content integrated platform.
He further adds that 65-70% of SHAREit's users have moved online, instead of using the app for transferring content, games and files offline.
According to data sourced from AppAnnie, in terms of MAUs among smartphone users in India, SHAREit has acceded market share to Truecaller for the first half of calendar year 2019, apart from WhatsApp Messenger and Facebook, which maintained their leads. The data excludes pre-installs.
The move towards bite-sized content has seen usage time triple and a 20% growth in daily active users (DAU) and MAUs, bringing on board 80-100 million users in India who watch some form of content on the app at least once a month, says Malhotra.
Founded in 2012 as part of Lenovo, SHAREit became a separate entity in 2015. India has been the primary market for the app used for sharing heavy files, movies and games among users in areas where data speeds are unreliable. This gives it an early mover advantage as it already has a user base of close to 180 million MAUs in the country.
"Though the quality of videos, especially movies, which is one of the types of content on SHAREit, does well, it still has a long way to go before it gets at par with Amazon Prime or Netflix. What works for SHAREit is that their primary market base is in Tier 2 and smaller cities where consumers get highly personalized content," says Nikhil Dalal, associate consultant at market research and consulting firm Redseer Consulting. According to estimates, close to 85% of SHAREit's user base lives outside the metros and Tier 1 cities.
Content curation strategy
While the numbers are impressive, an obvious question would be why users would seek out SHAREit as a platform to find content.
By Malhotra's admission, content is not the USP of the app and the only content that the platform wants to dabble in right now is professionally generated content (PGC) as opposed to user generated content (UGC), popular on short video apps such as Bytedance-owned TikTok.
In order to do that, SHAREit has bought content from ALT Balaji, Voot and Hungama. It has also entered into a distribution partnership with the likes of Hotstar for cricket and Wynk for music and music video content. The platform has also renewed its contract with Viacom and is cutting down its content to one-minute bites to hook users.
The platform targets language users based on the file names which are shared, the kind of apps used and other factors. Interestingly using SHAREit also involves letting the app peek into your usage of other apps on the phone, helping the company zero in on the location and language specifics of the user.
"We do not require users to sign in on SHAREit to start using it. We look at the file names, also history when users migrate from phone A to B and transfer their apps as to how to target these users," said Malhotra, adding that the algorithm on language is what the platform gets right most of the time though targeting is something it has to build over time.
Gaming is another area where SHAREit sees stickiness and a lot of games get swapped on the file sharing platform which are unavailable for download due to policy restrictions on the Google Play store. "We are open to mergers and acquisitions in the gaming space to grow a platform into the next big company. Why should a chess or carrom game for India be developed outside?," he added.
"The expenditure on content no longer showcases our ability to curate it. Hotstar and Wynk are not content partnerships in the traditional sense. They look at us as a unique distribution channel, leading to a spike in viewership," he said.
The rabbit hole
While Malhotra claims that SHAREit has consciously stayed away from UGC , a cursory glance at the available content on the app shows that current content suggestions still border on the sensational. This has been an ongoing problem with the majority of Indian short video apps including TikTok and Kwai, which had to shut down due to content that bordered on child pornography.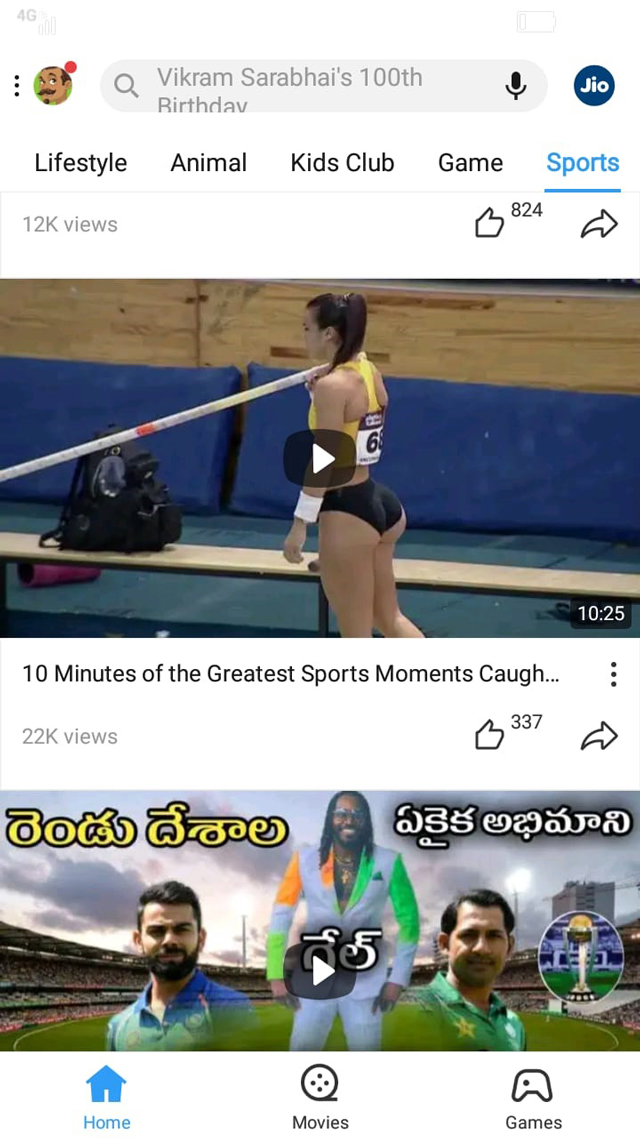 "We are building a 1000 member team for content curation, tagging and profanity checks. This started six months back and it is a mix of contract and full time employees. SHAREit is making a serious investment in India and we will go through a few iterations to get it right," said Malhotra.
Monetisation challenges
Generating returns from investments in short content videos will continue to be a challenge as the monetisation models have just started to take shape. The likes of TikTok and Bigo Live allow for micro payments such as gifts and charging commissions from the content creator. Others in the media and content play such as POPxo and MissMalini are looking at an additional layer of revenues through ecommerce.
For SHAREit, it is early days. "India is 40% of our global user base and we are being very thoughtful about monetisation," says Malhotra, adding that the India content playbook is also being replicated in the United Arab Emirates, Philippines and Indonesia, among other parts of the world. The platform introduced banner ads and video ads close to 5-6 months back and, according to industry experts, is also considering in-app purchases.
"SHAREit started its monetization through ads close to six months back. One of the recent trends that we are seeing in new age content players like SHAREit, TikTok, etc. exploring the option of micro-payments on the app and also tying up with payment players. Another aspect of monetization the players seem to be exploring is the in-app purchase model where you have the option of purchasing products, services while consuming content," says Redseer's Dalal.
With the likes of Flipkart getting into the OTT content game and market leaders such as Hotstar, which has a monetisation model in place, it would be interesting to see who can capture the imagination of the 500 million 'Bharat' users who will plug into the internet over the next few years.
---