Dailyhunt banks on Bharat to fuel the content platform's immersive video ambitions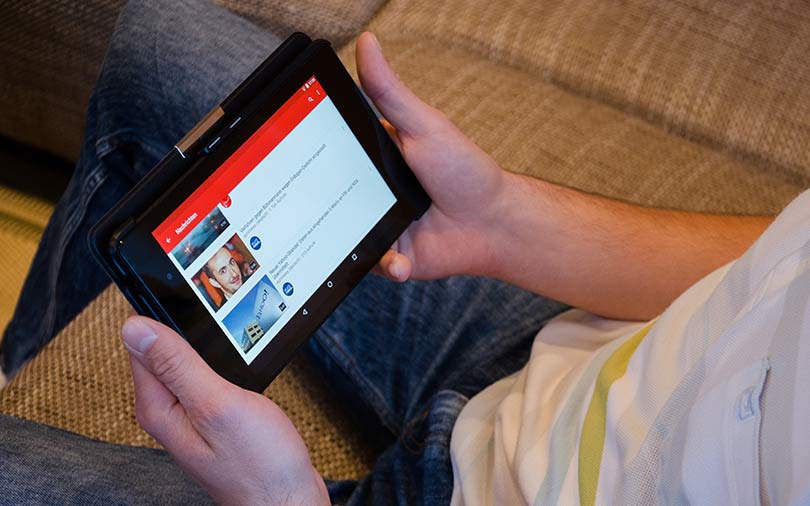 News and content aggregator Dailyhunt is planning on upending the entertainment industry with high-quality bite-sized video content intended for "the next billion" – mostly rural folks whose online experiences overwhelmingly take place on cheap mobile phones and rock-bottom data packages.
As president Umang Bedi sums it up, "Our mission is to be the largest Indic content platform and the largest media platform empowering the next billion Indians to discover, socialise and consume content that informs, entertains and enriches in multiple formats."
For its new avatar, Dailyhunt (formerly Newshunt) has replaced the deck of cards announcing top news with auto-play videos, and the company aims to launch "immersive" videos a few weeks down the line. "In a news feed environment, you have autoplay video, which provides a lean-forward experience, where you scroll through it. In this immersive video platform, you are in a lean-back experience, where you will get short, snackable video content. We are not doing long-video content," says former Facebook India head Bedi who joined Dailyhunt in February. The autoplay feature uses artificial intelligence to personalise the feed of the user based on his/her browsing history.

That said, the pivot to video seems essential for any platform to reach the Indic language users. Gaurav Jindal, principal at Boston Consulting Group (BCG), says, "The video form of entertainment is the fastest growing in India – expected to be a $5 billion opportunity in the next five years from $500 million in 2018, a growth of 10 times."
He adds that it's one of the most exciting and fast-paced areas of growth, considering the time spent watching videos by Indian consumers (primarily on mobile phone). "The overall space in video is already very congested – from nine players in 2012 to 32 players in 2018," he says. A report co-authored by Jindal estimates that 50% of internet users by 2020 in India will be from rural India, leading to a growth of over-the-top (OTT) content platforms.
Why video?

The reason for Dailyhunt's pivot is clear from the way the content market in India is shaping up and how users are sticking longer to videos than any other form of content. The launch of immersive video and autoplay video is expected to raise the time spent by users on the platform.
"When we launch our immersive video zone in a few weeks, we will see the time spent by our daily average user increase from 27 to over 30 minutes per day," says Bedi, adding that the launch of autoplay video alone has led to 1.1 billion views per month, apart from 10 billion page views a month.
It is also notable that on Dailyhunt, around 90% of content consumption is in local languages and the platform currently supports 15 languages. This makes a case for the move to a video platform, which includes content beyond news.

"We are creating a platform ecosystem around content. News is not more than 50% of the consumption on the app. The rest is lifestyle, Bollywood, astrology, cricket, cooking, health, divinity," says Bedi. He adds that the focus is on short videos and the platform does not intend to get into the OTT game for long videos, where players like Hotstar, Netflix and Amazon Prime Video compete with each other.
Who is making the videos?
Dailyhunt's video strategy will be different from those of other short-video apps, which primarily cater to the Tier-II and Tier-III markets and rely on user-generated content.

"We have licensed arrangements for the content and none of it is user-generated. Because of this, our content is brand-safe and we do not have illegitimate, racy and raunchy content. Because of this, there is brand safety for advertisers and brands," says Bedi. He adds that the platform has tied up with 1,500 large publishers and 15,000 registered content creators and stringers to grow its content library on a revenue-sharing basis.
Monetisation
With the focus on video content, Dailyhunt will introduce pre-roll and mid-roll advertising. The platform works directly with close to 1,000 brands in retail, banking, fast-moving consumer goods, e-commerce, education and others. The company has also built its own ad-tech platform.

"This reduces our dependence on ad networks and the CPMs (cost per thousand: a metric used for pricing web-ads) remain in our control," says Bedi. The company has also employed a 65-member sales team and has a self-serve product for small and micro businesses to target users through pincode-based hyperlocal ads.
Jindal of BCG says, "From an ad-tech perspective, it (watching videos on OTT) creates two great opportunities: One, for all OTT players, it allows to target the right consumer at the right time; and two, it creates some very interesting opportunities to combine with ads on TV, especially as a new common currency across platforms gets finalised."
The numbers

Dailyhunt has raised money that may go towards fulfilling its video ambitions. In September, TechCircle had reported that Bengaluru-based Dailyhunt, run by Ver Se Innovation Pvt. Ltd, has raised over $6 million (Rs 42 crore at exchange rates then) in what is believed to be the first tranche of a larger Series E funding round from New York-based hedge fund Falcon Edge.
Funding aside, the company has set ambitious targets. "From 157 million monthly active users now, we plan to grow to 270 million by June 2019 and 325 million by December 2019. We are a $40-45 million business in revenue today, which will grow to $75 million by the next financial year," says Bedi.
With these targets, Dailyhunt hopes to fuel the content platform's video ambitions.
---