Entrepreneurship is a full-time job. No time for angel investing: Bhavin Turakhia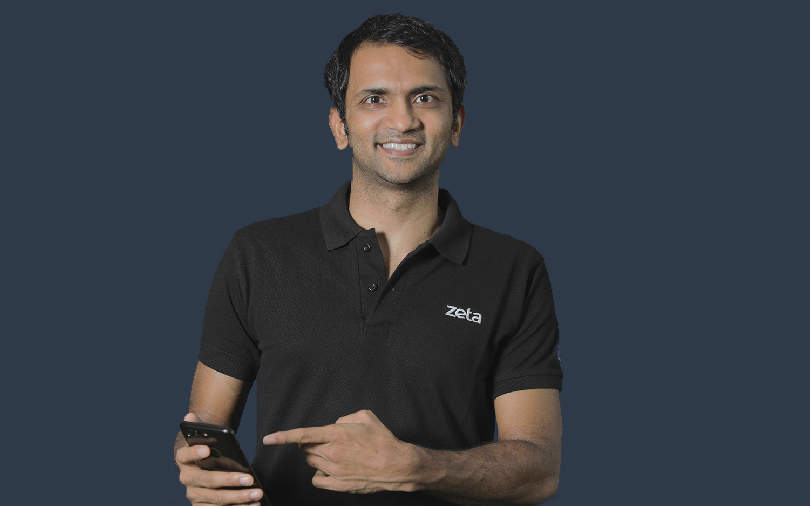 About a fortnight ago, serial entrepreneur Bhavin Turakhia's enterprise payments venture Zeta merged its employee benefits business with Sodexo, the French food services and coupons company. Just prior to the merger, Sodexo had also invested an undisclosed sum in Zeta as part of a Series C round that valued the latter at $300 million.
Turakhia founded Zeta in 2015 with Ramki Gaddipati. The two earlier worked together at Directi, the first venture that the Turakhia brothers, Bhavin and Divyank, started back in the late nineties. In 2014, Directi sold its web business to US-based Endurance International Group for $160 million.
Since Directi, Bhavin Turakhia has gone on to start Flock, an enterprise collaboration platform, and Radix, a registry for internet domain extensions, apart from Zeta.

In an interview with TechCircle, Turakhia, 39, spoke about the investment from Sodexo, the first time he's raised external funding for any of his ventures, his ambitions for Zeta and Flock and why he eschews angel investing.
Edited excerpts:
Why did you decide to go out and raise external capital for Zeta? Why Sodexo?

With Zeta, the goal that Ramki (Ramki Gadipatti) and I have for the company is to create substantially larger scale than Directi or Radix. We anticipate that while we are generating revenues, in order to accelerate growth, we will need a larger capital pool.
I went and spoke to a few investors, both financial and strategic investors, but the eventual conversation with Sodexo turned out to be very meaningful on multiple counts. They (Sodexo) have not only invested money in the company but also combined the benefits businesses of both entities, which we now jointly own.
Sodexo has also committed a global volume of business across all the countries in which they operate. We (Zeta) can power their technology. This also set a specific tangible external valuation for the employees of Zeta. We can talk internally about valuations, but validation from an external entity makes a big difference.

In the past, you've always bootstrapped your ventures. Are you changing strategy with Zeta?
I have never been against external funding. It's just that people who get over-funded tend to substitute creativity with cash. They tend to lose focus and hire too much and even reduce the standard of hiring good engineers. That's my concern about the general external funding that is prevalent in the ecosystem. Funding should be for building a sustainable business and creating meaningful long term value. For Zeta, we had approached three venture capital firms as well as three strategic investors including Sodexo.
What are your ambitions for Zeta?

I believe that Zeta will scale to a large global business and the Indian market is going to be a small fraction of that business. We are in the process of launching in 6-10 different countries. In India, we continue to maintain a dominant market share. Our goal is to provide our payment platform to various legacy banks. In the next 18-24 months, we intend to acquire meaningful market share in that segment. In parallel, we plan to launch products in other similar markets with actual business starting up in those countries. With this capital, we are going to double our team size in 18 months to almost 1,000 people.
Could Sodexo's investment be a precursor to an acquisition at a later stage?
That would not be meaningful for either party. Zeta is providing only one of its products to Sodexo. We have more than 15-20 products, which are not relevant to Sodexo. There is no strategic advantage to either party. Zeta has got an entire payment suite, which any bank can use. So there is no point in one issuer buying us. It would be like saying a bank should buy Infosys!

Are you working on any new ideas beyond Zeta and Flock?
Just to clarify, these two companies have me as a mutual shareholder but have no correlation or overlap in operations. Currently, no such plans (to work on new ideas). My goal is to grow these companies and over the next 5-7 years make them 10-15 times bigger than anything I have built in the past. Both these companies are going to keep me occupied for a while.
You recently restructured the operations at Flock. How has that worked out?

Yes, you can call it a restructuring. Essentially, we did not want to operate from three different locations -- Mumbai, Bengaluru and Delhi. In the early stages of the company, it is important that everybody is at one location as you that the team forms bonds to improve outcomes and output. We took a hard decision to move everything from Delhi to Bengaluru. We had about 50-60 employees in Delhi and we gave them an option, with bonus payouts, to relocate to Bengaluru. Around 65% of the team accepted and for the rest, we helped them to find roles in other companies. The centralisation of operations has seen our productivity increase by up to 50%.
Any plans to bring in external funding for Flock as well?
There is no process of looking for external investors for Flock. But at some point, like in the case of Zeta, when we reach a strategic size where it makes sense, I would explore external funding. We now have a large sales and marketing office in Boston and growing. We are investing a lot in the go-to-market strategy to aggressively grow to million-plus users by the middle of next year.
With Flock, how do you plan to compete against players such as Slack in North America?
In my opinion, our user interface is substantially better than Slack in terms of the user interface or user experience. We have seen a few people move from Slack to our platform as we are cost-effective too. Slack is meant for smaller teams but we are more of a company-wide messenger with an employee strength of a few hundred to a few thousand. This is not a winner-takes-all market and is much like the CRM (customer relationship management) software market. We have just started actively pushing out in the market. We will see meaningful movement in the next 18 months or so.
Any plans to explore the inorganic route for growth?
Yes, we are looking at the inorganic route to grow. We are aggressively scouting acquisition targets for Zeta. Whether it happens or not is a separate situation.
Has your approach to entrepreneurship changed since your first venture?
Now, I have an opportunity to take bigger bets, solve bigger problems and make a bigger impact. The drive and motivation are the same because I have a long way to go in terms of opportunity. While there is much better talent now, it has also become difficult to get or retain them because of the competition.
Most entrepreneurs who have had exits turn to angel investing. Why haven't you done the same?
I do meet entrepreneurs and try mentoring them but I don't invest in other companies. I don't have any intention to either in the near future. I simply don't have the time. Entrepreneurship is a full-time job. You can either be an entrepreneur or an investor. But doing both at the same time takes away time from one or the other. I like to build something myself rather than give capital to someone else to build something. I still deep dive into the product, sales and marketing for my companies.
---