Analytics is the trump card to crack India's OTT market: Rajneel Kumar, ZEE5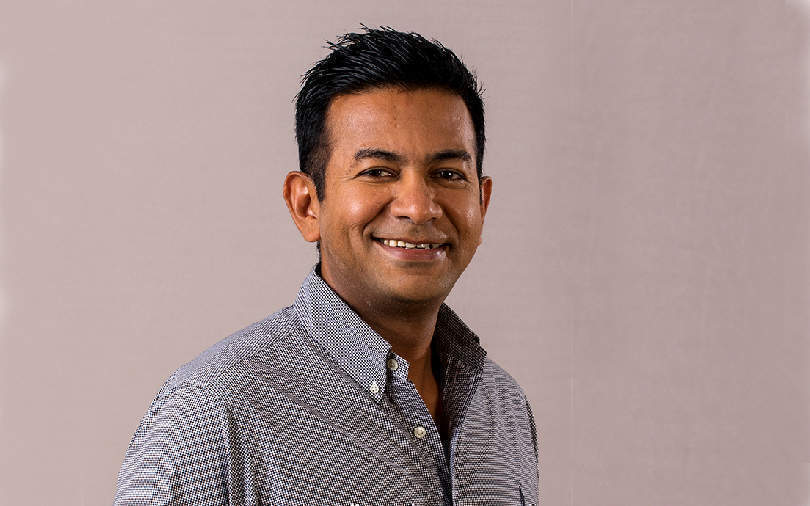 Mumbai-based ZEE5 is one among nearly 40 OTT platforms vying for viewer attention in a market that's projected to grow to $823 million in about three years. Owned by Zee Entertainment, a part of the Essel Group, the video streaming platform, which launched in February last year, primarily serves regional content in more than 12 languages.
The platform competes with OTT heavyweights such as Netflix, Hotstar, Eros Now and Amazon Prime. An Assocham-PwC study says that at a CAGR of 22.6%, India's OTT market is growing at more than double the pace in global markets. OTT or over-the-top media refers to streaming media services offered to viewers on the internet, bypassing traditional content distributors such as cable and satellite television platforms.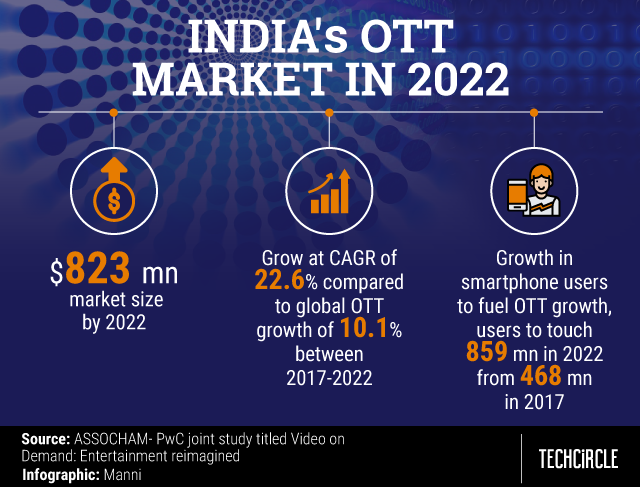 Given the competitive environment in which it plays, ZEE5's strategy to get an edge over rivals rests on technology, chiefly Big Data. The company has already partnered with close to 15 Israeli startups that cater to specific insights that the platform uses to optimize content and provide the most relevant recommendations at the right time. As of March 2019, the platform has close to 61.5 million active users. It claims that its users usually spend an average of 31 minutes on the platform.
In an interview with TechCircle, Rajneel Kumar, business head -- expansion projects and head of products spoke about how the platform is using different tools to gain insights on consumer behavior and optimize their back-end and front-end processes and making sure that over 1 lakh hours of content is available on tap to all users, even those with low-cost smartphones.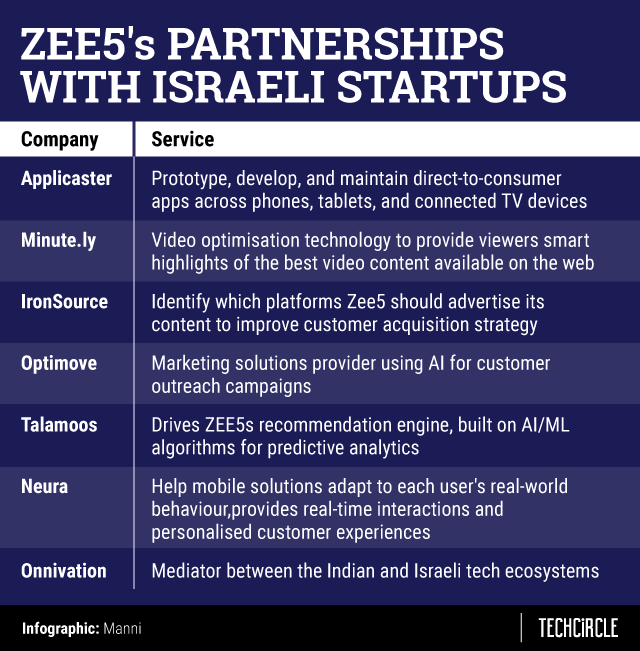 Edited excerpts:
What processes take place in the backend to ensure that the most accurate content is showcased to the end-user?
The OTT space is an extremely complex and competitive space. Users are now used to a seamless experience because of the proliferation of the Youtube experience and other OTT platforms that they are using. ZEE5 focuses on a seamless experience by making specific improvements in this whole journey and we have engaged in multiple partnerships with different startups to take it forward.

The simplest way to understand this is by looking at a mobile app from the time that the app is launched, finding something interesting to watch, and closing the app after it has been viewed. The technology comes in when the platform recommends next video series you are most likely to be interested in. The interesting point is that the recommendation could be given while the user is on the platform or off it.
As simplistic as it sounds, the recommendation is a complex process. Similar to mobile devices, the application should work holistically and seamlessly with the right recommendations across multiple channels such as laptop, desktop and smart TVs.
You recently got into a partnership with cloud based media SaaS platform Applicaster? What specific requirements do they address for ZEE5?

It is incidental that most of the startups that we have partnered with come out of Israel but it is also based on the fact that there are many innovative startups from Israel who are solving consumer facing problems that ZEE5 could leverage to our advantage.
We have partnered with Applicaster, a global cloud platform for media application development. We are moving from the native platform to the Applicaster platform for a faster deployment of newer features and the ability to make changes on the fly.
Traditionally to make any changes to the platform, it requires to go back to the product development cycle, testing cycles and a host of other processes before it is released to the consumer. Applicaster helps us push all the development to the server side and make faster changes in the front end. ZEE5 will also have a completely new UH/UI interface which is more proactive in understanding the consumer's viewing needs.

The changes to the front end is not a one-time exercise, there has to be constant innovation and testing to understand the changing needs of the user, with Applicaster we are able to conduct multiple tests on the front end and understand consumer needs more quickly, thus helping to deeply personalize each user's viewing experience.
Tell us more about the Talamoos partnership.
Talamoos has partnered for our recommendation engine, which works by combing inputs from a user's behavior and patterns from other users with similar interests in video. We have launched the engine recently and the increase in numbers that we are seeing is extremely encouraging.

Content is king, but context is God. How do you provide the right context for your consumers?
Providing the best recommendation for content or for internal communication all depends on data. We have about 15 different tools on our platform so you can imagine the quantum of data that is being generated.
All of the data collected is first sent to a data lake where a library or a repository of the user is created. This is then used by the tools to be able to continuously understand the preferences and evolve.
Let's say a notification has to be sent out to 100 users, the criteria to note are what type of notification and content needs to be sent, the second is to know what time of the day is the notification to be sent to the user. If we have sent one notification every two days for the past month, we can gauge what time would be most accurate to send a notification from the 15-odd notifications that were already delivered. The third criteria is to know whether the user watched the recommended content or not.
The bottomline is that it is not a simple push notification mechanism, but we are constantly using the inputs from each user to enhance and keep learning about them. Our machine learning layer is observing and learning from each of these inputs on how to understand user behavior.
How do you counter bandwidth issues and cater to audiences who might be interested in the regional content but may not be tech-savvy to access them?
Reaching out to a larger audience in India becomes a challenge as we go deeper into the country. Our content is optimized to be consumed right from an I-Phone all the way to an Rs.3000 smartphone.
The question to address is to how to reach audiences in a more seamless manner. We have been constantly working on optimizing the application, reducing the data consumption and the CPU memory requirements. is how to cater to the web oriented users who do not have to download any application.
The other journey is the type of streams that we deliver to the user. We are in a constant state of optimizing the way how content is ingested and transcoded. We transcode with an AWS service called elemental. On elemental we constantly create new profiles of streams where we keep testing on the optimum methods to deliver content.
The third part of the optimization journey is to decide which of the streams are to deployed on each of the platform. We have to decide on how do we stream to a user watching video on a car screen, all the way up to a user using a large HD screen smart TV at home.
Even if you choose the right kind of stream, the ability to optimize it has to come from compression using various compression technologies to deliver better bitrates at lower bandwidth.
We have also engaged in real time monitoring with Comviva (previously Mahindra Comviva) where we observe the behavior on what parameters each stream is being delivered on which we have alerts to optimize the experiences.
---