Most consumers now prefer interacting with chatbots and voicebots compared to real human interactions, according to a new Capgemini study.
The study pointed out that consumers preferred bots, especially when it came to researching products, understanding new services and even following up on queries after purchasing a product.
The report, titled Smart Talk: How organizations and consumers are embracing voice and chat assistants, surveyed over 12,000 consumers who use voice/chat assistants as well as 1,000 business executives to understand how the ecosystem views conversational platforms.
Almost 70% of the respondents expect their interactions with voicebots to replace retail purchases (visiting retail stores) or banking interactions within the next three years.
As many as 76% of the respondents also said they have realised quantifiable benefits from voice or chat assistants with 58% saying that the results met expectations or exceeded them.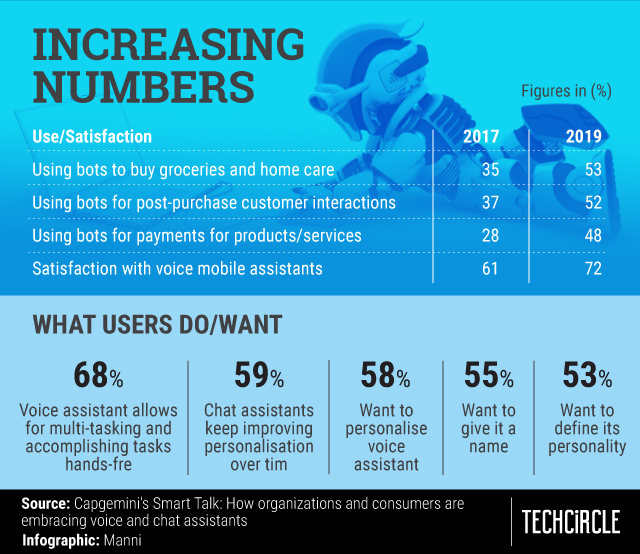 Among executives, 76% said they had seen a 20% decrease in customer service costs and a similar percentage increase of consumers beginning to use digital assistants.
While the enthusiasm was widespread, the adoption of voice and chatbots seems to be on the lower side with the study finding that less than 50% of the top 100 companies in the FMCG, BFSI and automotive sectors have deployed chat/voicebots.
Using chatbots for payments increased from 28% in 2017 to 48% in 2019 while consumers who bought products or groceries increased from 35% to 53%. Customer service interactions also increased from 37% to 52%.
Customer satisfaction in using chatbots/voicebots also increased from 61% in 2017 to 72% in 2019, the study found.
"This research establishes that conversational assistants are the future of customer interactions, valued by consumers for their convenience and by companies for the operational efficiencies they enable," said Mark Taylor, head of customer engagement, Capgemini Invent.
Stan Sthanunathan, executive vice president, Unilever, said chatbots or voicebots should not be seen as a one-stop solution for all customer-facing problems but to view them as a supplement to human intelligence.
"These interfaces eliminate anywhere between 20% and 30% of issues reaching the human agents because they are answered then and there. And even when the issue is guided to a human being, it is actually a lot more purposeful," added Sthanunathan.
---