Video-based content is becoming the most preferred in India with more than 68% choosing it over text-based content.
Vernacular has also surfaced as a key ask by the Indian consumer with more than 70% of consumers preferring content in regional language over Hindi and English, finds a consumer survey by global management consulting firm Zinnov.
The report, Future of Internet Content Consumption in India - Frictionless Consumer Experience for Mobile-only India and Bharat, analysed the consumption patterns of over 500 smartphone users in the country and highlighted a growing appetite for personalisation in content moderation. Almost 36% of the respondents preferred recommended content over searching for content on their own.
As many as 80% of the respondents acknowledged they check their phones as soon as they wake up, providing a unique window of opportunity for content platforms to push relevant and targeted content in terms of news, videos and fitness content, the report said.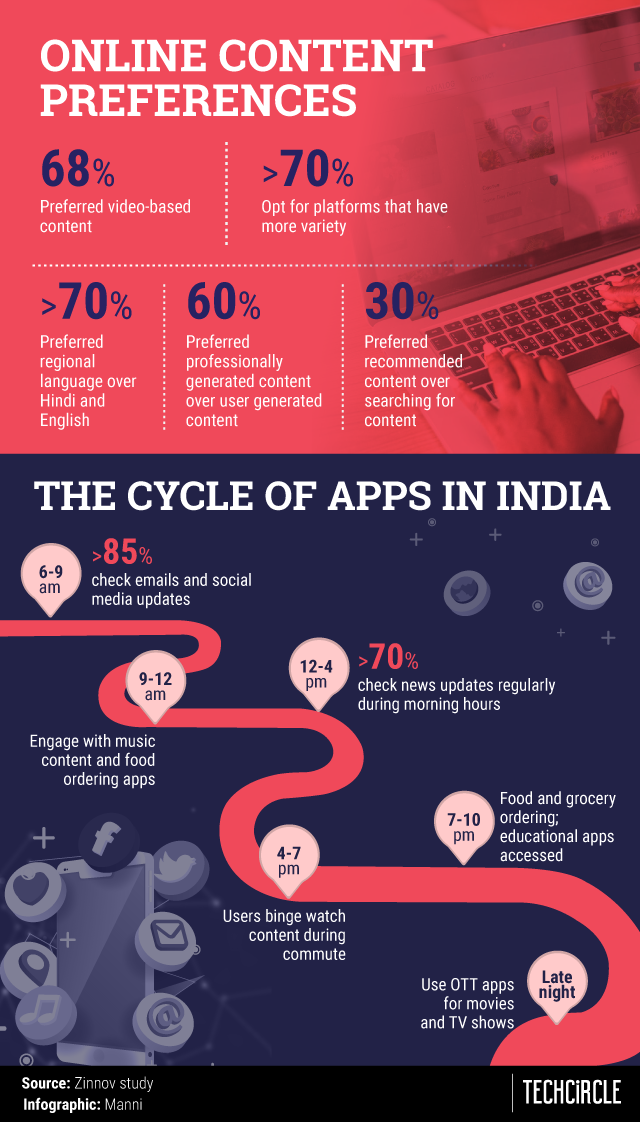 Google-owned YouTube continues to witness a rise in the number of content creators in Hindi, Tamil and Bengali in tier-II and tier-III cities in a competitive market flooded with inexpensive 4G tariff plans.
India's internet frenzy
"The increasingly affordable high-speed internet available today is bolstering the number of 4G subscribers in India, making it a strategic priority for both global and local platforms," Praveen Bhadada, global head, digital transformation, Zinnov said in a statement.
India is second only to China in terms of internet users. Of its 451 million monthly active users, 385 million are over 12 years of age and 66 million are in the age bracket of 5 to 11 years, according to a report published by the Internet and Mobile Association of India late last month.
"Today, for content platforms to scale in India, it will be crucial to understand the winning imperatives of innovation and localisation. Strategic planning will be key for content platforms to evolve in tandem with mobile users' changing preferences," Bhadada added.
Indian content platforms are leveraging global venture capital investments to diversify their offerings with original, video-first, vernacular content, gaming, and an intersection of content and commerce.
Other key findings
4G user base in India is estimated to increase from 600 million in 2019 to about 900 million by 2022
Indian content platform players, growing at a rate of 2X-5X, outperforming global players growing at about 1.1X-2X
---