Meet the 12 Indian startups in the second cohort of Sequoia Surge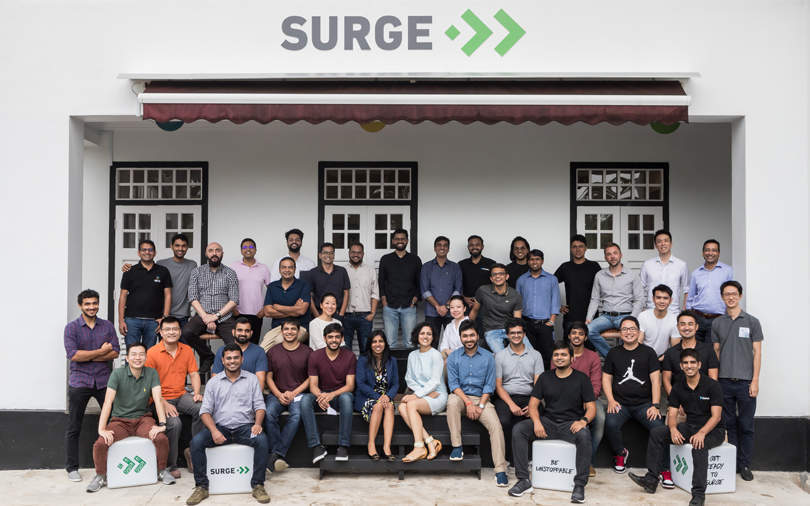 Nine months after it launched its accelerator programme Surge for startups in India and Southeast Asia, Sequoia Capital India unveiled the second cohort of startups for the 16-week programme. Out of the 20 startups that make up the second cohort, 12 are from India.
"When we launched Surge at the start of 2019, we noted that it's never too early to talk to Sequoia… we're doubling down on that with Surge 02. Six of the startups in Surge 02 2019 are pre-launch – or were pre-launch when we selected them for the program," the venture capital firm said in a blog post.
The second cohort got underway on September 23. The startups in this cohort span sectors such as consumer internet, edtech, agritech, clean energy, social commerce, fintech, SaaS and robotics.

The 16-week programme helps startups with mentoring and networking, among several other support areas. In addition, Surge invests $1-2 million in each startup at the start of the programme. At the end of the programme, the startups also get an opportunity to raise more capital from a curated set of investors through a week-long initiative called UpSurge.
The programme's first batch consisted of 17 startups, out of which eight were from India. Recently, Surge graduate Khatabook raised a $25 million Series A round from an investor consortium that included Sequoia and Tencent Holdings.
Here's a quick look at the 12 Indian startups from the second cohort:

Bijak: The Gurugram-based B2B trade platform for the agricultural sector enables traders, wholesalers and food processors to keep a ledger of their transactions, access transparent pricing, optimise logistics and improve their working capital cycles. The company was founded in May 2019 by Daya Rai, Jitender Bedwal, Mahesh Jakhotia, Nukul Upadhye and Nikhil Tripathi.
Brick&Bolt: The Bengaluru-based startup was founded in January 2018 by Arpit Rajpurohit and Jayesh Rajpurohit. The startup's ecommerce platform claims to use cutting edge technology and state-of-the-art systems and processes to make home and commercial construction absolutely simple, transparent and reliable for customers.
Classplus: The Noida-based startup was launched in January 2018 by Bhaswat Agarwal and Mukul Rustagi. It's a mobile operating system that lets coaching institutes take their brick-and-mortar setups online.

Freewill: The Jaipur-based startup was founded in August 2018 by Mohit Yadav and Rahul Yadav. The company creates custom hair products based on each individual's unique requirements, lifestyle habits, and environmental conditions.
Hevo Data: The Bengaluru-based startup was founded in August 2017 by Manish Jethani and Sourabh Agarwal. Hevo is an automated unified data platform that helps companies understand their users and customers better. Using Hevo, companies can build a 360-degree view of their customers by combining data from multiple disparate data sources and applications including sales CRM, advertising channels, marketing tech, financial system software and customer support products.
InVideo: The Mumbai-based startup was founded in March 2019 by Harsh Vakharia, Pankit Chheda and Sanket Shah. The company has developed a video creation platform that lets users create high quality videos. It's web platform allows anyone to create videos from scratch, convert existing pieces of static content into videos and even add automated voice-overs in native languages.

Juno: Juno is still at the pre-launch stage. Founded by Varun Deshpande, Siddharth Verma and Ratnesh, the startup is a neo bank that aims to give users across the world high yield accounts to grow their savings. It's set to go live in select markets next year. The founding trio is also the creator of crypto-banking platform Nuo protocol and had earlier founded fintech platform BeeWise, an alternate credit analytics platform which was acquired in 2017 by Aditya Birla Money.
Klub: The Bengaluru-based startup was founded by Anurakt Jain and Ishita Verma in August 2019. It's a fintech platform that provides growth financing to high-affinity brands. The startup is also currently in stealth-mode.
Log9 Materials: The Bengaluru-based startup was founded in April 2015 by Akshay Singhal, Kartik Hajela and Pankaj Sharma. It is a nanotechnology company that aims to revolutionize the energy sector with an innovative zero emission, low-cost aluminium-air fuel cell. The company has developed a fuel cell prototype that can power an automobile for 1,000 km with zero waste and zero emissions.

Quolum: Quolum, founded by serial entrepreneur Indus Khaitan, is in the pre-launch stage. It is a SaaS product that will help enterprises better manage risk and compliance. Prior to Quolum, Khaitan built enterprise software startup Bitzermobile, which was acquired by Oracle.
Rheo TV: The company was founded in August 2019 by Prakash Kumar and Saksham Keshri. It is a game streaming platform that aims to make professional game streaming a mainstream career option in India, by building an entertainment ecosystem that drives engagement and monetisation. Its mission is to bring gaming into the same league as that of cricket and Bollywood in India.
Trell: The Bengaluru-based startup was founded in August 2017 by Arun Lodhi, Bimal Kartheek Rebba, Prashant Sachan and Pulkit Agarwal. The company is building a lifestyle-community platform for internet users. The community on Trell shares original videos and blogs on new ideas, experiences, product recommendations and reviews with each other in multiple Indian languages.

---