SC scraps plea to link Aadhaar with social media accounts; Govt to invest more in startups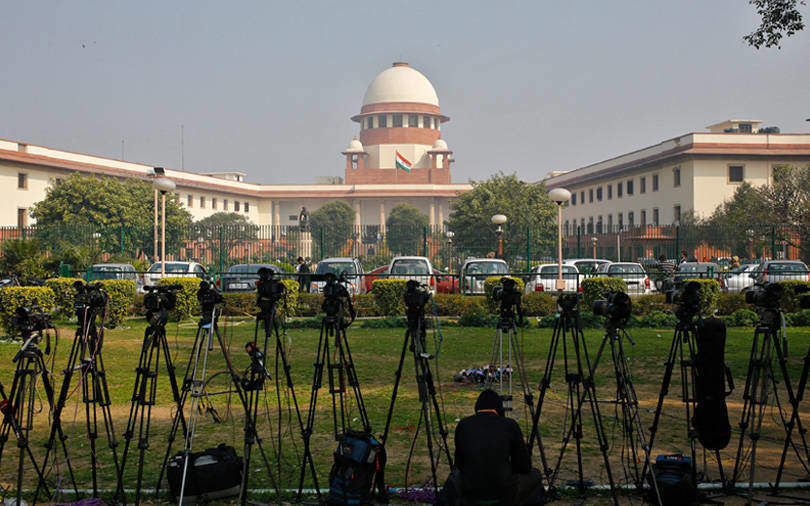 No mandatory Aadhar linking with social media accounts. Indian government wants to increase funding in startups.
SC scraps plea seeking to link Aadhaar with social media accounts
The Supreme Court has scrapped a petition seeking mandatory linking of social media accounts with Aadhaar, the Economic Times reports.

The bench, headed by Justice Deepak Gupta, asked the petitioner to approach the High Court on the issue.
The petition sought a direction to the government to link profiles on social media platforms with Aadhaar and also a direction to the Election Commission and Press Council of India for suitable steps to control fake and paid news, the report said.
The apex court is looking into the possibility of regulating social media and had asked the Centre to frame guidelines for it within a definite time-line, it added.

Top NPCI executives Bharat Panchal, Sanjay Saxena quit
Two executives of the National Payments Corporation of India (NPCI) have exited the firm, the Economic Times reports.
Bharat Panchal, chief of risk at NPCI and Sanjay Saxena, the chief financial officer at NPCI have resigned from their positions, the report said.

Panchal has joined payments technology company FIS Global as its chief risk officer-in-charge of India, Middle East and Africa, whereas Saxena has joined Paytm Payments Bank as its chief financial officer, it added.
Government to increase investments in startups
The Indian government wants to increase investments in startups by increasing the amount allocated to the Fund of Funds for Startups (FFS), reports the Economic Times.

The Department for Promotion of Industry and Internal Trade plans to propose the idea of increasing the corpus of the Rs 10,000-crore FFS to the finance ministry, the report revealed.
The DPIIT has written to the finance ministry for more funds this year and has also asked for a fairly high amount next year, an official told the Economic Times.
The department also plans to hold quarterly reviews with startups to assess their needs, the report said.

"We're also planning a national convention of startups because it has been four years since it was done. Some time by February, we plan to do the major event," the officials said.
Medikabazaar, CBC Japan join hands to launch first dental lab in India
Medikabazaar, a business-to-business (B2B) online marketplace for medical supplies has partnered with CBC Corporation India, a wholly-owned subsidiary of the CBC Group, to establish the first state-of-the-art dental laboratory in India with the help of Kawasaki, Japan-based Zoo Labo's technology.

Zoo Labo is a Japanese dental laboratory with over 40 years of experience in manufacturing crowns, bridges, and other dental supplies.
Zoo Labo will offer its expertise and technological know-how to Medikabazaar. With the help of Zoo Labo, Mumbai-based firm will manufacture dental crowns made from Zirconium, which has similar characteristics to that of titanium.
"The dental market in India is on a steady rise and is expected to grow at 20-30 % due to a number of investment groups coming forward with multispecialty hospitals and both general and specialist dental treatments. With over 5000 dental laboratories and 250 dental institutes spread across the country, it is predicted that India will become amongst the largest single country markets for dental products and materials," said Vivek Tiwari, founder and chief executive officer, Medikabazaar.
Uber inks deal with medical consultation platform DocsApp
Ride-hailing giant Uber has partnered with medical consultation platform DocsApp to provide free doctor consultations, subsidised prescription medicines and lab tests, to its driver and delivery partners across Uber rides and Uber Eats platforms.
Under the deal, Uber's driver and delivery partners will be able to get medical assistance at a nominal cost for self and up to 5 family members, the company's said in a joint statement.
"DocsApp aims to make quality healthcare accessible to all without any constraints. This partnership with Uber India will enable us in furthering our vision to fruition," said Satish Kannan, co-founder and chief executive officer, DocsApp.
The company's revealed that over 50,000 Uber India driver-partners have already registered on the online doctor consultation platform.
Perpule strengthens leadership team with two new appointments
Omnichannel retail-tech company Perpule has appointed Raag Agrawal as vice president of small business and Praveen Prabhukumar as vice president of delivery.
Agrawal will be responsible for driving growth and leading the company's expansion into newer markets. He has also worked with Reliance Jio and played a key role in establishing and driving the operations of Jio point stores across the rural market.
Prabhukumar will be responsible for streamlining Perpule's after-sales efforts. He will also work towards establishing higher service quality standards and driving consolidation in the point-of-sale (POS) systems market. He has served in several roles for Genpact for over the last decade.
---