Mumbai-based Rebel Foods, which operates cloud restaurant brands such as Faasos and Behrouz Biryani, nearly doubled its spends in the financial year ended March 31, 2019, in its quest to stay ahead of the competition in the crowded cloud kitchen market.
The company's total expenses grew 97% to Rs 441 crore on the back of higher costs across almost all operational heads -- staff, advertising, power and fuel, rent, utilities and outsourced delivery. Employee expenses grew 46% to Rs 92 crore, rental expenses grew 50% to Rs 15 crore, power and fuel costs increased 66% to Rs 10 crore, and utilities and delivery costs more than doubled to Rs 19 crore.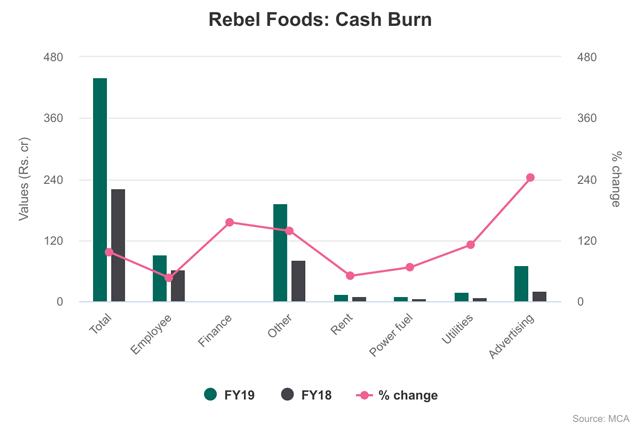 Among non-operational expenses, finance costs grew 155% to Rs 3.1 crore, regulatory filing shows.
Rebel Foods' higher spending paid off as its revenue jumped 108% to Rs 310 crore. However, losses widened to Rs 130 crore in FY19 from Rs 74 crore a year ago.
The company, however, is confident of turning profitable soon. "The board of directors is confident that the company will breakeven soon and have high growth rate in the years to come," it said.
In FY19, Rebel Foods raised $35 million in tranches from venture capital firms such as Lightbox and Sequoia Capital India, Sistema Asia Fund and Mauritius-based Kersiwood South Asia.
Although the data on net additions in online restaurants and cloud kitchen were not available, the company added kitchen equipment worth Rs 21 crore in FY19.
As per information on Rebel Foods' website, the company has 2,100 online restaurants and 275 cloud kitchens in 28 cities in India. Other than Faasos and Behrouz Biryani, the company owns eight brands including Ovenstory, Lunch Box, Mandarin Oak, The Good Bowl.
The company also plans to expand its overseas operations in Southeast Asia and the Middle East. In August this year, it raised $76 million in a growth round led by technology focused hedge fund Coatue Management. It has also invested $4.9 million in Bengaluru-based online beverage delivery startup DropKaffe Food and Beverages.
Rebel Foods competes with delivery platforms such as Zomato, Naspers-backed Swiggy and Lightspeed Venture Partners backed FreshMenu. Recently, Zomato investor Info Edge India said that the restaurant aggregator and food delivery platform has managed to halve its cash burn in March to $45 million from $20 million.
---