Camden Town Technologies, the Bengaluru-based company that owns and operates digital lending platform ZestMoney, has raised $15 million in an extended series B round led by new investor Goldman Sachs, the company told TechCircle.
Returning investors in the round were South African internet conglomerate Naspers, Bengaluru-based venture capital firm Quona Capital and Redwood City, California-headquartered impact investor Omidyar Network's fintech investment spin-off Flourish, ZestMoney said in a statement on Thursday.
The latest infusion takes the total capital raised by the company so far to $61.4 million, based on disclosed investment rounds reported by TechCircle.
"The capital we've raised in this latest round will enable us to accelerate product development, grow our strategic partnerships and scale our platform further to help support the dreams and aspirations of an ever increasing number of Indian households," co-founder and CEO Lizzie Chapman said.
The micro-loans marketplace had last raised $20 million as part of the ongoing Series B funding round led by venture capital firm Quona, in April.
"We see this investment in one of the country's leading consumer lending fintech companies as fostering much needed access to affordable consumer credit to Indian households. We look forward to leveraging our global experience and network for the continued growth of ZestMoney," Philip Aldis, a managing director at Goldman Sachs, said.
The New York headquartered investment bank joins other marquee investors such as Ribbit Capital, Xiaomi, Quona Capital and Flourish (Omidyar Networks) in the company.
Founded by Chapman, Priya Sharma and Ashish Anantharaman in 2015, ZestMoney is an AI (artificial intelligence) driven EMI (equated monthly instalments) financing platform.
The platform's machine learning capabilities facilitate small-ticket loans and disburse the credit without any manual human interference, it said. It targets people with limited access to credit cards and insufficient credit history.
With over six million registered customers in India and a net promoter score of over 75, ZestMoney can be used by consumers to pay for purchases of any amount up to $3,000 at over 3,000 merchants, many offering interest-free financing options with no hidden fees, it claimed.
Brands including Flipkart, MakeMyTrip, Paytm have integrated with ZestMoney as a payment option at checkout, it added.
Consumer credit penetration in India is amongst the lowest in the region with less than 5% of adults owning a credit card. There are as many as 600 million people in India who are credit worthy but are not offered loans by traditional financial institutions, according to ZestMoney estimates.
The Naspers-backed fintech expects to cross an annual run rate of over $1 billion in disbursals in less than 18 months.
Losses deepen in FY19
ZestMoney's business was far from realizing any profits in its most recent financials.
Camden Town said its losses after tax widened to Rs 95.4 crore in the financial year ended March 31, 2019, from Rs 27.4 crore a year earlier, in filings with the Ministry of Corporate Affairs.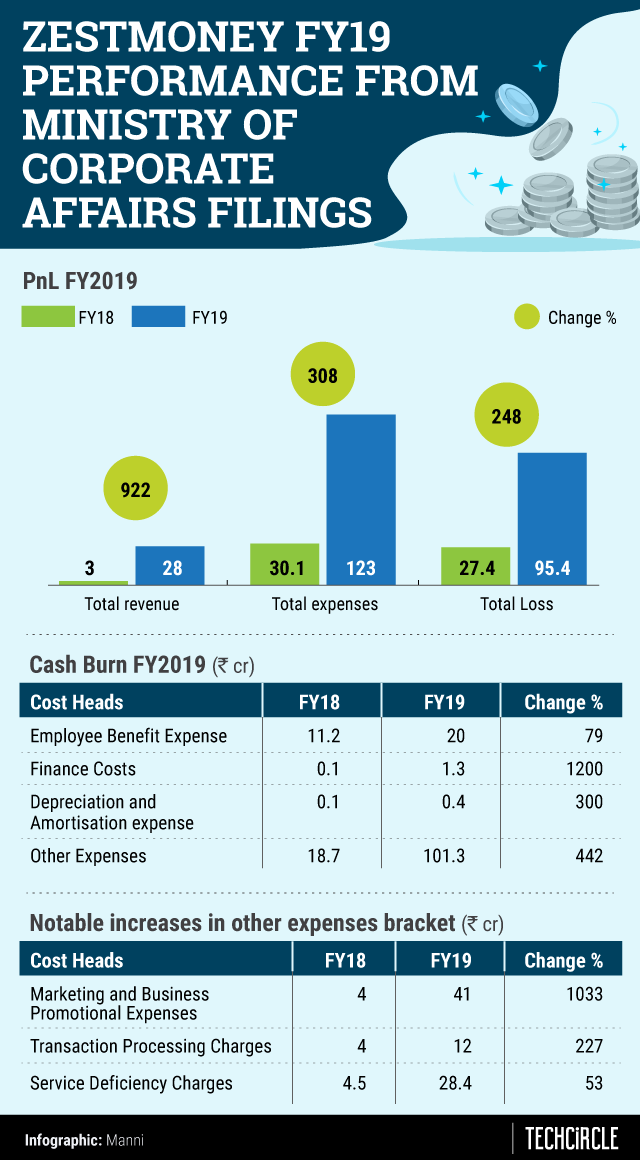 "The company has incurred loss as it is in the initial years of operation and will need some time to stabilise its operations," a letter from its board to shareholders read.
On the other hand, revenues vaulted over ten-fold to Rs 27.6 crore in the reported period.
The company has taken steps to secure future growth momentum by aggressively working towards setting up customer base and catering to them in the pursuit of achieving desired results in the coming years, the letter further said.
---