The way banks do business is changing rapidly. The shift from traditional banking to open banking is the need of the hour. Today, financial services have been cued-up for the same technological transformation that has revolutionized many other industries. Thanks to the use of technology, banks have been trying to democratize and are willing to move beyond their traditional role.
With the banking system moving towards open banking in India, traditional banks are largely collaborating with fintechs to bring in the desired revolution. A report suggests that emerging economies like China and India are likely to have better economic indicators in the future, owing to high technological adoption, increased smartphone penetration, and a rising number of cost-effective solutions provided by the vendors.
As per a report by PwC, the Asia-Pacific region is expected to witness notable growth in neobanking in the future.
Stimulated in part by the growth in online or virtual banking, a newer banking model beyond the provision of simple access to a legacy financial institution is required. One that not only transcends the traditional banking industry but better aligns with the way we will be doing business in the emerging digital age -- neo and challenger banks.
A neo bank is an institution that is 'digital', meaning that there are no physical locations. A challenger bank is a smaller, more nimble financial institution. The latter's focus is servicing the client needs that are usually overlooked by larger institutions.
While there are differences between these two emerging models, they share a similarity. They are technologically innovative and advanced. Part of the reason for their superiority is their freedom from the shackles of the legacy technologies that dominate the infrastructure of their long-established counterparts.
In short, neo and challenger banks are the epitome of disruptive innovators.
A report by Allied Market Research states that across the world the neo and challenger bank market is registering a CAGR of 50.6% during the forecast period 2016-2020. By leveraging technologies like what the neo and challenger banks are using, organizations will understand how moving away from legacy payment methods such as cheques – which have a high cost from a processing standpoint -- to more efficient and instantaneous electronic payment methods will provide significant returns. Besides improving the customer-facing experience, a seamless and streamlined payment process will bolster supplier relations. With the latter, the benefits go well beyond lowering transaction costs.
According to an automotive industry study, supplier satisfaction has a direct impact on end-product quality. Being paid on a timely basis through a seamless process is a major factor contributing to supplier satisfaction.
Innovation is one of the main reasons why these banks are winning continued customer loyalty and acceptance. As they are digitally led, these banks are far more agile for customers than a legacy bank. Also for the fact that these banks are mobile first, they have been able to drive financial inclusion. A mobile first bank allows reach to deeper pockets where a customer can easily utilize banking services without having to visit a branch. Also, neo banks save a lot of customer time by avoiding cumbersome application processes and utilizing faster sign-up forms and automatic checks.
One of the biggest benefits of the neo banks is the low fees associated with them, as there is no cost involved in the physical setup of the banks. This cost benefit is easily passed on to customers and services become affordable for users.
A segment of society that is increasingly making a mark for itself and should not be neglected as a business opportunity is the gig economy in India. As per a report published by Mastercard, the gig economy in India is poised to grow at the rate of 17.4% CAGR from today through the end of 2023. This fast-growing segment in the country needs faster and easy access to the banking system to be able to effectively manage their accounts. Neo banks unlike the traditional banks have the required expertise for this segment of the society. Some of the easily accessible services to freelancers provided by a neo bank is the facility to open a current account with easy to raise invoices that are GST compliant, automated accounting and collecting payments.
It is interesting to witness the change that neo and challenger banks are driving in India. However, it is important for the organizations to follow their digital transformation path. Organizations need to transition into the digital age and successfully compete on a global stage. They must move beyond their legacy systems and emulate the innovators in critical business areas, starting with their payment processes and technology.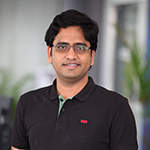 Ramki Gaddipati
---
Ramki Gaddipati is co-founder and CTO of Zeta, a fintech in the business of providing a full stack, cloud native, API-first neo-banking platform. The views in this article are his own.
---