The first chapter of enterprise digital transformation in the past decade was characterised by the rapid adoption of cloud-based technologies and data from more sources to serve clients better, provide a competitive edge and accelerate growth. And yet, only 20% of the workloads have moved to the cloud.
By the second half of 2019, we started witnessing the next chapter in digital transformation, aimed at modernising and bringing the value of cloud to the 80% of applications and workloads that remain on-premises.
Such a shift needs a better approach for developing and deploying across a hybrid and multi-cloud world — an approach that offers choice without sacrificing visibility and control.
Further, the cloud market is growing beyond the public IaaS (infrastructure-as-a-service) market. Enterprise today view the cloud opportunity as one that can incorporate their on-premises facilities, private clouds and public clouds. Most analysts expect the hybrid approach strategy and leveraging of multiple clouds to accelerate in major companies in the next decade.
We are seeing this combination address major enterprise concerns as they move more of their applications to the cloud, including security concerns, data protection, and protocols, availability and cloud management. In the more regulated industries, such as banking, healthcare, telecom and government that comprise half of the global economy, the cloud mix is likely to tilt more towards private cloud than public cloud. In industries that face fewer regulations, the mix will sway the other way.
To expedite the digital transformation of their business and elevate customer experience, enterprises will continue to bet on hybrid multi-cloud strategies to deploy applications in 2020. They will persist with state-of-the-art tools and encryption to protect their cloud environments. Emerging technologies like edge computing will help them increase their technical footprint and improve their security.
Next year, businesses in most industries will adopt automation tools for better control of their complex cloud environments.
We anticipate the following trends in cloud computing in 2020:
Automation: Automation will drive hybrid multi-cloud, as hybrid multi-cloud are inherently complex and managing this complexity will serve as a key metric of success for the enterprise cloud strategy. However, enterprises need not worry on this front as automation tools, powered by AI (artificial intelligence), will proliferate in 2020 to help them manage the complexities. Besides the automated tools, a single pane of glass view for cloud operations will emerge as an essential tool for administrators. These will allow enterprises to reduce cost, drastically improve security and encryption, and above all, enable them to deploy the right workloads in the right places.
Metamorphosis of SOCs: In 2020, security operations will become centralised, as more tools to discover security insights and respond to incidents faster become available to CISOs (chief information security officers). More importantly, the conventional security operations centre will morph into a command centre as security will remain a major concern in the era of the hybrid cloud. A more connected security ecosystem will be in play, as is seen in the rise of DevSecOps, a concept where security is embedded in the development process.
Mainstreaming of Kubernetes: Today, enterprises realise the significance of open source technologies, particularly for cloud environments, modernise their infrastructure and quicken their adoption of hybrid multi-cloud. Next year too, enterprises will leverage tools that can support the rapid deployment of applications that give them the competitive edge of digital transformation. These trends indicate that the continuous delivery paradigm, where organisations adopt DevOps to bring about the rapid build, test and deployment approach, will flourish in 2020. The continuous delivery model is mushrooming alongside the rapidly-rising development of cloud-native applications deployed through containers and Kubernetes.
Modernisation of information architecture for self-service data platforms: Organisations across the world are challenged with the need to modernise their information architectures to keep up with the growing scale of data and analytics needs in their businesses. They are looking for hybrid data management, unified governance, and integration, data science, and business analytics combined with a cloud-native architecture to help them embrace AI. The need for an enterprise-wide information architecture strategy will improve offerings or services for end-users.
In 2020, organisations will adopt capabilities that are specifically tailored for data scientists, business users, data engineers, CDOs or CIOs, data stewards and application developers.
With cloud-based consumption of data and insights derived from a secure self-service data platform on the rise, each of these users can benefit from purpose-built and role-focused capabilities that are pertinent to their daily tasks and implemented in an integrated, meaningful way. This will lead to innovation in terms of new products and services along with arriving at newer business models. The evolution of an 'insight-driven' organisation in an era of real-time analytics is inevitable.
IBM has been investing to address these issues, with IBM Cloud Paks focused on data, applications, integration, automation, security and multi-cloud management. It is these innovations that are driving IBM's $20-billion hybrid cloud business. The acquisition of Red Hat accelerates our strategy and positions IBM to be a leader in the emerging $1.2-trillion hybrid cloud opportunity by 2020.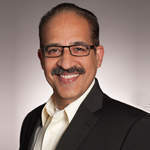 Vikas Arora
---
Vikas Arora is vice president, cloud and cognitive software and services, IBM India/South Asia. The views in this article are his own.
---