We are living in the digital age, driven by data. Our lives currently and in the foreseeable future don't just revolve around data but are in a way commandeered by it. Data has captured our lives byte per byte. That makes data centers one of our most important assets.
Here are some key trends that will shape the data center industry in 2020:
The rise of co-location
In 2018, Gartner said that 80% of enterprises would shut down their traditional data centers by 2025. This means that there will be a massive decline in private data center solutions and a rise in co-location. Data centers of today are not just storage places but spaces where the data is collected, analyzed and processed for further business purposes. They need constant technological updates to keep them relevant here and now, which requires a high time and cost investment. With co-location, enterprises can leverage the best technology, expertise and save time and energy that can be then focus on the core business.
As the technology space starts getting more and more complex and the size of data keeps increasing, it will make sense for most to co-locate rather than own private data centers.
Growth of hyperscale data centers
What most businesses are looking for in a data center is not just storage facility but its ability to handle high volume traffic and heavy computing workloads. Hyperscale facilities are large enough to serve the needs of tens of thousands of organizations at once and benefit greatly from economies of scale.
Some of the biggest technology giants of the world have been investing heavily in hyperscale data centers. Switch Communications has undertaken one of the largest projects, a 17.4 million square feet facility. Facebook is building a 2.5 million square feet data center in Fort Worth, Texas, that will cost approximately $1 billion and sit on a 150-acre plot of land. One of Microsoft's most recent investments is a 3.2 million square feet data center cluster in West Des Moines, Iowa, which cost the company a combined $3.5 billion.
This trend is catching on in India with domestic players such as Yotta launching a large hyperscale data center facility in early 2020 and the Adani Group announcing its foray in this space.
Operations that are run on the cloud, tasks like 3D rendering that are massive power eaters, virtual reality workloads, AI (artificial intelligence), machine learning, big data analytics, and many other emerging technical advancements require massive computing power. Hyperscale data centers can do all this and more with their capacity to do horizontal as well as vertical scaling.
Edge computing
Edge data centers, which are typically the size of a shipping container, are placed at the base of cell towers or as close to the origination of data as possible, to provide local storage and real time processing capacity at the edge. This reduces the need to transfer data back and forth between centralized computing systems such as the cloud.
While still in its early stages, edge computing is already proving to be a more efficient method of data processing. For example, Tesla cars have powerful onboard computers. Edge computing allows low-latency data processing (in near real-time) for data collected by the vehicle's dozens of peripheral sensors. It provides the vehicle with the ability to make timely, autonomous driving decisions.
The global edge computing market is estimated to touch $34 billion by 2023 as per the CB Insights Market Sizing tool. Telcos will have a major role to play in this area. They have a number of aggregation points (small container data centers) near to the last mile connection.
Beyond the buzz of IoT, AI and ML
Gartner predicts that there will be 26 billion IoT (internet of things) units installed by 2020, and by that time, IoT providers will earn incremental revenues of more than $300 billion, especially in services. The rapid proliferation of IoT devices will lead to better and more efficient data center architectures.
Currently, data center architecture is designed to support large amounts of data flowing out to enterprises. With IoT, we will see an influx of humongous amounts of data generated by multiple small and big devices into the data center facility on a regular basis. An increase in the data bandwidth for inbound data will then become imperative for data center owners to consider.
Gartner claims that more than 30% of data centers that don't deploy AI and machine learning won't be operationally and economically feasible by 2020. AI in data centers is currently being deployed to handle various tasks ranging from server optimization to equipment monitoring. Our data driven world will require data center owners to deploy AI to stay ahead of the curve.
Software defined data centers (SDDC) and network virtualization
The coming year will see a massive growth in SDDC platforms. By design, SDDCs offer potentially unlimited scalability, with greater efficiency and reduced cost. Increasing storage space or adding functions is extremely easy with SDDCs. While SDDC transformed computing infrastructure with server virtualization, NVF (network functions virtualization) has made network architectures much more robust and reliable. NVF uses software defined applications running on virtual machines to manage different aspects of network infrastructure. The fact that one can chain multiple NFVs makes them much more reliable and flexible than physical network infrastructure components.
2020 will pave the way for a more dynamic and stronger data center market. It is the year where we will see the market growing exponentially.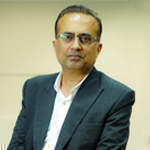 Manish Israni
---
Manish Israni is head of IT operations and CIO at Yotta Infrastructure. The views in this article are his own.
---