Coworking has been gaining popularity in the past couple of years. As many as 13 million people are expected to work out of such offices across India by this year, as per a JLL report. However, relatively, the coworking movement is still very young and the sector is constantly evolving to adapt and empower the new-age workforce. As we enter 2020, we will see constant innovations and significant changes in the way coworking is perceived in India.
Some of the key trends that will shape the evolution of coworking are:
A home for startups: Initially, coworking was seen as a logical transition from cafes, home offices and traditional offices for startups and young entrepreneurs. However, as competition increases, coworking spaces will offer members a lot more than just an office space. Many players will now offer consultation services, networking opportunities, and resources needed for new businesses. There will be an increased focus on offering members valuable additions that will enable them to prosper.
Diverse community: Coworking players take immense pride in offering their members a community of like-minded individuals that help people professionally as well as personally. In 2020, this trend will continue and members can take advantage of the diverse coworking community with a good mix of large teams, small and medium enterprises, freelancers and startups. At 91springboard, we believe in offering an ecosystem that fosters joy, learnings, and collaborations. This will pave the way to a massive coworking movement. 2020 will also see major investments in technology innovation that will allow people to reach out to a wider community across India.
Flexibility: An important aspect of coworking communities is that they offer flexibility across plans, amenities, locations, services and much more. For startups, it is critical to have access to workstations whenever possible. Many coworking players will now offer 24X7 access as part of the membership plan at no additional cost and with all amenities intact. With technology innovations and the changing behavior of the new-age workforce, co-working spaces are all set to offer more flexible options to people than are available today.
Increase focus on work-life balance: Coworking spaces have reshaped our equation with work. Generally, people spend nearly 8-12 hrs of their day at work and it is only logical to offer them a space that they can call home surrounded by people they can trust. Coworking spaces will increase emphasis on combining the feel of a professional environment with a stress-free atmosphere. The solutions will be to invest in an artistic theme and design, more games and recreational spaces, more fun and interactive events, facilities such as nap rooms, yoga, swimming, et al. The idea is not to complicate the space with over-the-top concepts but to give them a reminder that they're at a place that offers them comfort and warmth.
With its constant innovations to provision for changing demands of the new-age workforce, adapting to new technologies and exploring new markets, coworking is here to stay.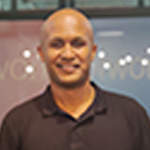 Anand Vemuri
---
Anand Vemuri is co-founder of coworking space provider 91Springboard. The views in this article are his own.
---