Amazon CEO Jeff Bezos announces $1 bn investment for India by 2025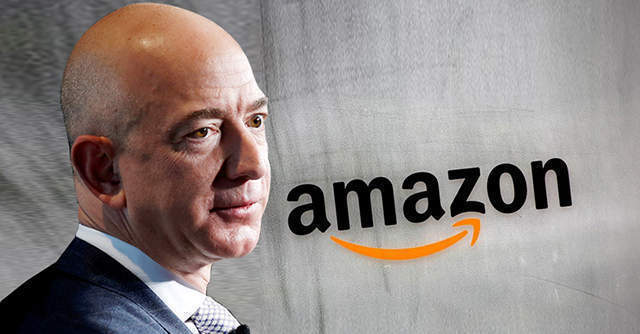 Seattle-headquartered ecommerce giant Amazon will invest $1 billion in India over the next six years to onboard and digitise MSMEs (micro, small and medium enterprises) on the platform, CEO and founder Jeff Bezos said.
The platform, which currently has 5.5 lakh sellers, aims to increase the number to a crore by 2025.
"We are going to use Amazon's global footprint to export $10 billion of Make in India goods," Bezos, addressing sellers and employees at the Amazon Smbhav summit in New Delhi, said. He added that the "investments in India were working" and the additional investment would help the company double down on this market.

Bezos had in 2016-17 committed to investing close to $5.5 billion in the company's India operations, which includes multiple subsidiaries such as Amazon Seller Services that operates the marketplace, payments vertical Amazon Pay, and food retailing businesses Amazon Retail and Amazon Wholesale.
According to reports dated October 2019, the company's marketplace platform Amazon Seller Services alone accounted for $4.25 billion investments since 2012 when the company set up shop in India.
Separately, a day before Bezos commenced his India visit on Tuesday, the company infused a total of $242 million into two of its business units in the country, show regulatory filings. Amazon Pay, the ecommerce platform's digital payments vertical in India, received the largest chunk of the investment, pocketing $191 million from Amazon Corporate Holdings Singapore and Mauritius registered entity Amazon.com.incs.Limited.

The two entities also injected $51 million into Amazon Wholesale India, the local B2B (business-to-business) arm of the Seattle headquartered ecommerce major.
Bezos' announcements come at a time when Amazon and its biggest rival in India, Walmart-backed Flipkart, are facing close scrutiny over business practices by the government.
Trader bodies have alleged that the ecommerce marketplaces are in violation of FDI (foreign direct investment) rules and the country's Competition Act, 2002, on grounds of predatory business practices. Recently, the CCI (Competition Commission of India) also ordered an investigation into the practices of the marketplaces. The Confederation of All India Traders held a protest at Jantar Mantar in Delhi on Wednesday, during Bezos' visit.

During a fireside chat with Amazon's senior vice president and country head Amit Agarwal, Bezos called climate change naysayers unreasonable. He added that Amazon in India will do away with plastic use by June and that it had acquired one lakh electric vehicles for its global operations.
"We humans have sent a lot of probes to all planets and this is the good one. There are no other good planets in the solar system and we have to take care of this planet," Bezos said, adding that his aerospace manufacturing venture Blue Origin was aimed at bringing down the cost of space entrepreneurship.
---