CCI orders probe into alleged competition law violations by Amazon, Flipkart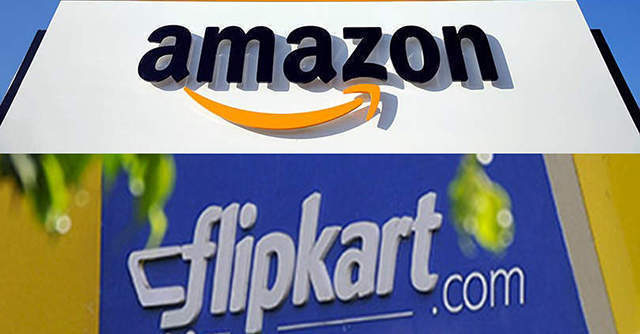 Acting on a complaint by traders body Delhi Vyapar Mahasangh (DVM), the Competition Commission of India (CCI) has ordered an investigation into violations of the Competition Act, 2002, by ecommerce companies Amazon India and Walmart-owned Flipkart.
The order for the investigation into the complaint, dated January 13, 2020, lists out four alleged malpractices by the Flipkart and Amazon marketplaces, including the exclusive launch of mobile phones, preferred sellers being incentivised by the marketplaces, deep discounting and preferential listing and promotion of private labels.
The directions by CCI for prima-facie violation of the Act says, "...It needs to be investigated whether the alleged exclusive arrangements, deep-discounting and preferential listing by the OPs (other parties referring to Flipkart and Amazon marketplace) are being used as an exclusionary tactic to foreclose competition and are resulting in an appreciable adverse effect on competition contravening the provisions of Section 3 (1) read with Section 3(4) of the Act," according to a copy of the order reviewed by TechCircle.

Arvinder Khurana, president of the All India Mobile Retailers Association (AIMRA) and DVM said that the complaint was filed after losses piling up. The association claims to represent the interests of over two lakh offline mobile retailers across India.
"We met the minister of commerce in October 2019 and submitted the proof we have. He had asked the Department for Promotion of Industry and Internal Trade (DPIIT) to enquire into the matter which violates the rules laid down in Press Note 2. DPIIT back then had asked for a list of top five sellers from the ecommerce marketplaces," Khurana told TechCircle. He added that the minister had further assured that the practice of predatory pricing would not be tolerated.
Khurana alleged that of the 30 exclusive handsets launched around Diwali last year on Amazon and Flipkart, none made it to offline stores. "When questioned by DPIIT, the marketplaces said that the mobile phone brands were the ones funding the discounts and initiating exclusive launches online," he said.

CCI recently came out with a study on ecommerce in India, suggesting a list of self-regulatory measures for greater transparency.
In 2018, CCI had given a clean chit to Flipkart on a complaint by the traders body, All India Online Vendors Association (AIOVA), which alleged that the marketplace abused its dominant position in the market. The association had subsequently appealed to the National Company Law Appellate Tribunal in May 2019.
The Confederation of All India Traders (CAIT) had also filed a writ petition against Flipakrt and Amazon in Rajasthan High Court for the violation of the foreign direct investment policy in October 2019.

---