There is an evolving enterprise-wide disruption where technology is fast becoming the prime enabler of new business opportunities. We, at ThoughtWorks, call this Tech@core and it will make or break most enterprises in the next 5-10 years.
The big question is not how an enterprise can transform, but whether it can continue to evolve at the required pace.
I would advise every far-sighted enterprise leader (on the digital transformation path) to visualise the five building blocks that make up an ideal state modern digital business: frictionless operating model, platform strategy, experience design and product capability, intelligence-driven decision making, and engineering culture and delivery mindset.
Of these five blocks, I have placed the spotlight on building digital product capabilities. Here's why -- it is when modern digital businesses view their technology assets as multiple products (not multiple-point solutions) that they can evolve the products to meet dynamic business needs and become responsive to external environmental changes.
Building digital product capability
Getting a winning product or service into your customers' hands begins with your proven value proposition. What follows is your product evolution strategy for enhancing, scaling or transitioning your product over time.
This approach takes businesses down the path of building strong product innovation capabilities that ensure the continued refinement and reinvention of the product. For organisations that are thinking along these lines, the question is: "What does my end-state look and feel like?" and "How will I know that I have arrived?"
My recommendation when trying to answer these questions is to look at the progression across four parameters -- architecture, infrastructure and deployment, product excellence and organisational design.
1. Architecture
Agile practices like continuous delivery help organisations rapidly react to market changes. However, putting them into practice when armed with a big legacy monolith application can be difficult. Over time, the industry has come up with different ideas to solve this problem. And microservices, pushed by companies like Netflix or Amazon, is one such approach.
2. Infrastructure and deployment
Most organisations have already adopted infrastructure automation tools and dynamic private or public clouds. However, technology alone cannot help IT respond quickly and reliably to changing opportunities and challenges. At worst, the ability to rapidly spin up new infrastructure could lead to a number of poorly maintained systems.
IaC (infrastructure as code) manages infrastructure by leveraging software engineering practices. Companies like Facebook and Etsy are exploiting the IaC approach and can incorporate changes far more frequently while upping the reliability, security and quality of their IT services.
3. Product excellence
Once businesses have proved their value proposition to customers, it is time for leadership to think about the product evolution strategy for enhancing, scaling or transitioning the product over time.
At its core, product thinking involves a shift from the traditional approach to development, where software or products are built to order and are 'handed off' to a more expansive, holistic process, defined by continuous ownership and improvement.
Applying the right resources to a customer problem can be a delicate art. With customer value being the ultimate goal, customer-centricity is the defining characteristic of the product mindset. This course works best when everyone involved in the product cycle, designers to C-suite, occasionally serve on the front lines and involve themselves in customer interaction.
4. Organisation design
I believe Martin Fowler said it best when he said, "Don't run it like a city." His analogy goes on to describe the similarities between the 'projects-mode' and how cities are run. A city has to keep the lights on across departments such as water supply, sanitation, transportation, law and order etc. The people that work in these departments are the equivalent of ops (run) teams. When a new metro line is to be introduced, the city funds them as projects and contractors execute them, the equivalent of build (change) teams.
Traditional enterprise IT has followed the two-pronged city model of permanent 'run' teams and on-demand 'change teams' i.e. the 'projects' approach, and have paid the price in terms of responsiveness to the business. Digital-age businesses can ill afford to be sluggish in responding to feedback from business stakeholders or the market. Business-capability aligned teams need to have access to funding, staffing and the authority to pivot their approach to a problem on the fly.
Traditional enterprises are in the habit of developing several point solutions and then integrating them vertically to form an end to end service or product for their customers. But, they are fighting for their place in a world where the digital natives are thinking product-first.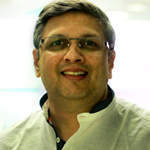 Sameer Soman
---
Sameer Soman is managing director at ThoughtWorks India. The views in this article are his own.
---