Over the past couple of decades, India has rapidly changed and so has its consumers. In today's digital world, evolved and aspirational consumers opt for the best offerings, something that's convenient, suits their needs and requirements, their ideologies, taste and style, and comes at good value for money.
Consequently, many industries have evolved to cater and accommodate the demands of a rising millennial population. Right from traditional long standing, brick-and-mortar fast-food chains, who are now reaching out to their end-consumer via mobile apps, websites as well as third party delivery platforms, to the rise of online shopping and household services platforms, digital is the way forward.
However, what's more compelling in today's fast-paced ecosystem is disruptive innovation that helps us identify, understand and retain our consumers better. One such industry that's particularly going through a 360-degree transformation by embracing digital technologies as well as driving key innovations is the tourism and hospitality ecosystem in India.
In 2020, here are a few technologies that are set to reshape the hospitality industry, thereby making it future-ready for the next generation.
Advanced analytics: In an industry that caters to diverse consumers, across demographics, age, gender and geographical boundaries, especially in a culturally rich country like India, the top priority of the hospitality industry is to bridge the gap between consumers and the product or service throughout the customer journey, right from the discovery stage to customer retention.
According to PwC's Global Artificial Intelligence Study, 45% of total economic gains by 2030 will come from product enhancements and stimulating consumer demand as AI will drive greater product variety, with increased personalisation, attractiveness and affordability over time. Therefore, to serve today's digital traveller, the hospitality industry is harnessing the power of AI-enabling technologies like machine learning, predictive analysis, among many other emerging innovations.
One such solution is enhancing communication through a subset of AI that enables computers and systems to communicate with people in their preferred language, known as natural language processing (NLP). In a country like India that boasts of 22 official languages, such technology is crucial to connect with consumers at a personal level.
Additionally, investments in building technologies that assure efficient and reliable security systems, complete transparency, innovations in customer relationship management (CRM), point-of-sale (POS) tools, hotel inventory management software and more are set to enable a seamless and delightful consumer experience.
What's important to remember is that in the long term, businesses are bound to reap the benefits of tech-backed investments, resulting in voluminous growth and most importantly, brand loyalty.
Delightful customer experience strategy: Brands that make consumers' lives easier, simpler and convenient will win the hearts of future consumers. Therefore, 2020 will continue to be the year of personalization. In a competitive landscape like hotels and hospitality, consumers are on the lookout for unique propositions that a product or service has to offer.
Today's consumers are tech-savvy individuals, who wake up to alarms on their phones, calculate their calorie in-take through their smartwatches, consume content via digital platforms, book their travel and stays online. While every organisation today boasts of a technological edge over others, it is important to walk the talk when it comes to offering the best consumer experience.
Like we understand the importance of tech-enablement, we also need to stress on reliability. Consequently, in the future, driving positive customer experience throughout the customer journey will be of essence. Right from the initial stages, the brand must ensure embedding cutting edge technology across functions. For instance, when the customer interacts with a product for the first time, a seamless user interface for discovery of properties determines the next step.
Other ways to enhance experiences are through reliable transaction facilities, availability of pre-payment options, providing real-time information and synergies between the Internet of Things, etc.
Powered by data, but driven by people: While technology is transforming the hospitality industry, human support is imperative to ensure that these innovations are leveraged to its maximum potential. Given that experiences in the hospitality industry comprise memories, human touch and connection; it is essential to build a delightful experience, create meaningful customer service interactions and tackle more complex issues with guests that cannot be easily automated with technology.
In conclusion, technology is reshaping the hospitality industry faster than ever before. Today, organizations need to continuously re-engineer technologies to fit the needs of the ever-evolving consumer momentum, right from mapping the customer journey to the smallest detail and providing moments of delight at each step.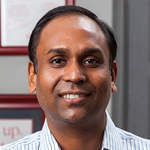 Anil Goel
---
Anil Goel is group chief technology and product officer, OYO Hotels & Home. The views in this article are his own.
---