India is the third largest startup ecosystem in the world with 1,300 new startups being added in 2019 alone. Startups generated an estimated 60,000 direct jobs and 1.3-1.8 lakh indirect jobs, and the ecosystem has rapidly grown to become one of the key drivers of India's economy. From transport and ecommerce to deep tech and sustainability, Indian startups thrive on innovative, disruptive, often technology-driven solutions for real life problems.
Cloud computing, with its infinite scalability, lower costs, and op-ex driven pricing models is just what startups need to take their innovations to the global market.
But what kind of cloud infrastructure is best suited for startups?
Of all the emerging technologies, I consider cloud to be the most powerful as it not only lies at the heart of any digital transformation effort but is also a key driver of other emerging technologies such as IoT (internet of things) and AI (artificial intelligence).
The cloud market in India is poised to grow three-fold to $7.1 billion by 2022, according to a Nasscom report. The cloud is a natural choice for most startups as it offers a cost advantage and flexibility that is invaluable for them as they begin their innovation journey.
Research indicates that almost 60% of startups prefer public cloud services and it is easy to understand why. Most startups are strapped for cash and a public cloud platform eases the infrastructure burden leaving the organization free to invest in talent, marketing and more. It is also easily scalable as per business needs, allowing the business to innovate and go to market faster and compete with large enterprises in the market. In addition, all the major public cloud platforms provide incentives in the form of usage credits to startups to ease their on-boarding to their respective cloud offerings.
However, the question remains whether the public cloud offerings remain a viable option once the business establishes itself and embarks on its growth journey, particularly from an economic standpoint.
Despite all the advantages it offers, the public cloud is not without its issues. From customer preference for specific public cloud platforms different than the choice of the startup, to security and data privacy concerns and even increasing costs basis a pay-per-use model, particularly when advanced resources like GPUs are utilized, the public cloud presents significant challenges for a startup as it consolidates and grows its business.
This is where a hybrid cloud platform could prove invaluable. A hybrid cloud leverages both public and private clouds in one consolidated platform with the ability to go back and forth to optimize costs, ensure security and manage workloads per the demand from a single pane of glass.
A hybrid cloud solution with leading public cloud providers offers startups the flexibility to work securely across any cloud. The consolidated cloud offering is made available through a common platform that can be managed with existing teams and processes, eliminating the need for additional resources or new processes.
To put it simply, the hybrid cloud approach empowers startups with the ability to put sensitive information on a secure private cloud while leveraging the flexibility of the public cloud to ensure on-demand access to data and applications on a single platform. Startups using hybrid cloud platforms can easily move workloads between private and public clouds according to the demands of the business. This ensures continuing scalability and flexibility for the organization, helping deliver innovative solutions.
Research indicates that the hybrid cloud market is expected to grow from $44.6 billion in 2018 to $97.6 billion by 2023. India is not far behind in hybrid cloud adoption. The secure flexibility of the hybrid cloud coupled with the innovation quotient of startups can spell a new era of development and inclusive growth in the country. From education and healthcare to financial inclusion and better governance, we can expect to witness unprecedented progress in most sectors in India largely driven by innovative and disruptive offerings from start-ups leveraging cloud, mobile, AI/ML and other emerging technologies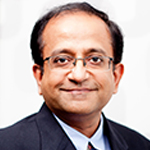 Ramkumar Narayanan
---
Ramkumar Narayanan is vice president, technology, and managing site director, R&D, at VMWare India. The views in this article are his own.
---