UPI (unified payment interface) transactions on online payment gateway service provider Razorpay rose by a massive 885%, the company said in a report on Monday.
The usage of credit and debit cards and net banking showed degrowth in 2019, in contrast to the heightened usage of UPI on Razorpay. The UPI mode made up 38% of the share, up from 17% a year earlier.
On an overall basis, Razorpay's year over year digital transactions grew by 338% in 2019, findings of the report titled 'The Era of Rising Fintech,' showed.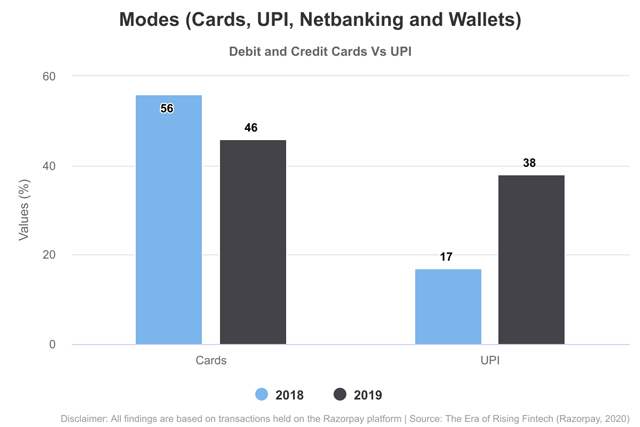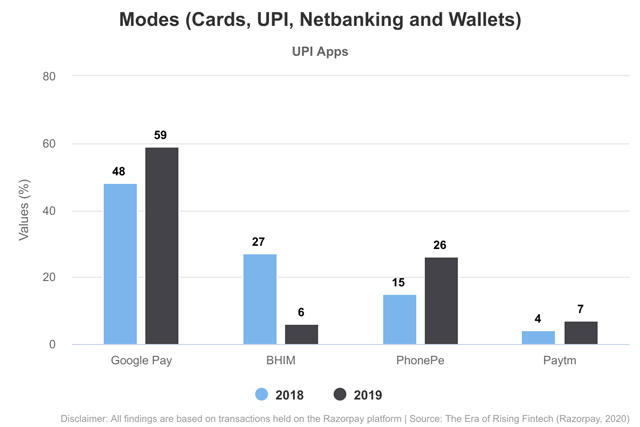 "In 2020, trust will be bigger than convenience in digital payments. From banks to fintechs and government bodies to payment networks, all these forces will need to collaborate to build unique solutions aligned to amplifying customer trust, so that together we can make India the most exciting digital payments laboratory in the world," Harshil Mathur, co-founder and CEO at Razorpay said in a company statement.
Among wallets, Amazon Pay was the most preferred mode with 33% consumers opting for it. In 2018, Freecharge had figured as the top wallet with 41% share, it however failed to appear in 2019's top three. Amazon Pay was followed by Ola Money and PhonePe.
Bengaluru continued to fare as the platform's top-most performer in digital transactions value, holding about 23% of the nation's chunk in value, followed by Delhi and new entrant to the list, Hyderabad. However, Bengaluru's percentage share reduced from about 29% in 2018.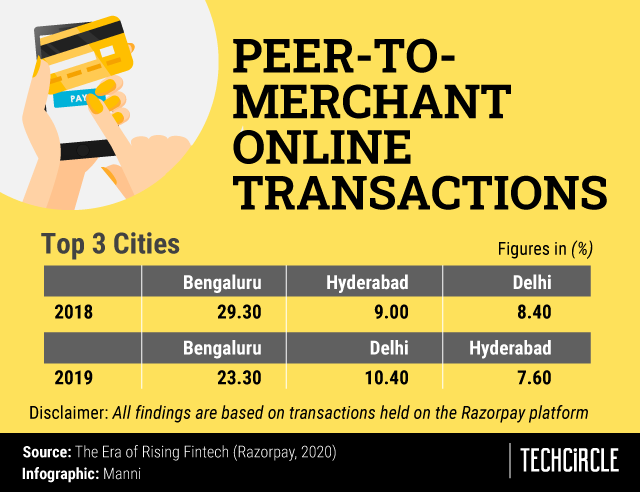 In 2019, Karnataka saw the highest adoption of digital payments followed by Maharashtra and Delhi NCR (National Capital Region).
The top three sectors in digital payment adoption for 2019 were food and beverage, financial services and transportation.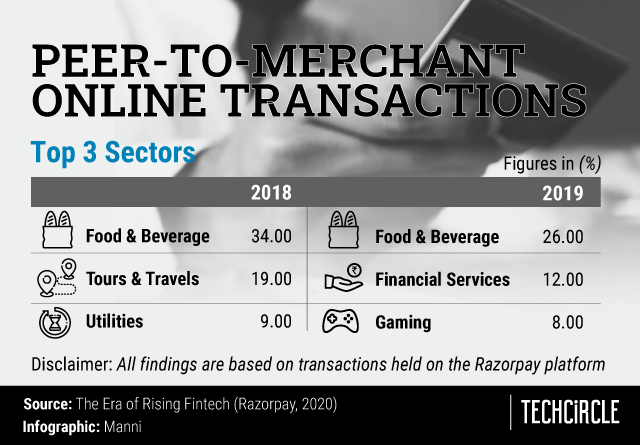 Founded by IIT Roorkee alumni Mathur and Shashank Kumar in 2014, Razorpay touts itself to be a neo-banking company that enables payment solutions for Indian businesses. It shot to fame as the second Indian company to be a part of one of Silicon Valley's largest startup accelerators, Y Combinator.
Also read: Razorpay buys payroll management startup Opfin, announces new services
The total number of UPI transactions in India sequentially peaked by 7% in the last month of 2019. The figure jumped to 1.31 billion in December 2019 from 1.22 billion in November 2019. The total transaction value had also increased by 7% to Rs 2.03 lakh crore (about $28.5 billion), sequentially.
---