The world is on the cusp of a digital revolution that is not only making our lives more advanced and seamless but also creating new avenues, boosting industrial efficiency and transforming the socio-economic landscape of countries.
The year 2019 witnessed disruptive and innovative technologies emerge to shape the future such as AI (artificial intelligence) which became vital to assist humans digitally with services such as chatbots and voice bots. Other new generation technologies, such as ML (machine learning) to identify trends, make predictions and support us to make informed decisions; cloud technology for SaaS, CaaS cutting down fixed costs significantly and making data accessible from anywhere, anytime; IoT (internet of things) that encouraged better communication between devices for connected healthcare, smart mobility and smarter cities, brought immense value into our lives.
These technologies will continue to impact lives and businesses in 2020 and understanding the key patterns will empower businesses to plan and embrace opportunities in the future.
The trends outlined here will be the major contributors that will continue to shape the future in the age of digital transformation.
Rise of the machines: Advanced machines will create new avenues for robots and human beings to work collaboratively and make each other's jobs more seamless. This will comprise of software and hardware robotics which will impact the medical technology and retail/CPG industries the most.
Ubiquitous AI: Artificial intelligence is expanding in various fields by leveraging deep learning and this year, it will begin to weave itself into core enterprise processes. Enterprises will begin investing in core AI platforms that can set the foundation for a pan-enterprise intelligence strategy.
Deep automation: This will be a prevalent theme across industries. One of the biggest macro trends in technology today is a rapid transition from humans managing software systems to machines running and managing them. Algorithmic processes will offer non-linear automation opportunities to organizations that are seeking intelligent automation tools to solve their business challenges, increase accuracy, efficiency and productivity.
Mixed reality and enterprise use cases: This year will see mixed reality technology make a visible effort at moving primarily from consumer experiences to enterprise use cases. This new-wave technology that combines the aspects of both AR and VR (augmented reality, virtual reality) will aggressively take a lead with players like Microsoft bringing forth their mixed reality technology to new enterprise frontiers.
Digital banking: The banking and financial services industry will get most disrupted with the rise of digital only or digital primary challengers. New competition will emerge in the digital banking space, giving further impetus to digital transformation agenda across the sector and beyond.
Industrial IoT: IoT has become pervasive over the past few years, establishing a realm where everybody is connected to everything via the web. IoT, especially industrial IoT, will be among the top three programmes in the manufacturing industry as part of the continued progress of the industry 4.0 initiatives. The manufacturing industry will delve deeper into streamlining production and logistics functions via analytics and data collection.
Blockchain: The crypto currency phenomenon which has been going up and down the excitement curve across the world will create a path to offer serious interest in blockchain opportunities. Supply chain digitization will be among the key areas where blockchain technology and architecture will demonstrate its highest impact.
Cloud-first strategy: Cloud adoption has been expanding swiftly where significant organizations have successfully adopted a cloud-first strategy for new systems. Cloud adoption in the enterprise sector will continue to grow at a very fast pace while retail, ecommerce, media will continue to be the biggest adopters. Laggards such as financial services will begin to open up to large scale cloud adoption as well.
Telecom 5G impetus: The telecommunications industry will witness a huge transformation by broadening its consumer and IoT strategy powered by 5G launches. 5G will not just support major network performance improvements over the previous inventions but is expected to streamline various service dimensions beyond traditional voice and data with the help of enabling technologies such as IoT, AI, AR/VR and many more.
DARQ: The post-digital age is DARQ, which is the next set of massive disruption changes comprising of distributed ledger technology (DLT), AI, extended reality (XR), and quantum computing. It promises to drive incredible opportunities to re-imagine the human future – the way we play, interact and work.
The new decade in 2020 promises great opportunities and will invite greater challenges. As we continue to move forward, the lifecycles of technology products are plummeting while the intake of disruptive technologies are intensifying considerably. This will require technologists to hustle even harder and make it possible to gain insight, anticipate needs and continuously learn from data to adapt quickly.
With path breaking technologies emerging to shape the future market, industry heads are placing big bets on new-age technologies to continue to push the boundaries, enabling a digital way of life.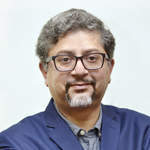 Puneet Gupta
---
Puneet Gupta is CTO, APAC, at GlobalLogic. The views in this article are his own.
---